Just upgraded to Windows 10 and wondering where the hibernate option that used to be in the start menu went?  This tutorial will show you how to add the hibernate option to your windows 10 start menu and shutdown options. By default, the hibernate option is disabled in windows 10 and you cannot find it in places where it used to be in older versions of windows.
After upgrading to the newer version of an operating system, the new UI and the other changes are likely to cause confusions among users. This is a common scenario and we have you covered on this.
Windows 10 is a totally changed operating system when compared to windows 8.1. The user interface has been redesigned and many other significant changes have been made. The settings, for example has been grouped and brought under relevant categories and this has created some confusion for the old users who were used to a different setup.
So, if you have upgraded to Windows 10 recently and wondering how to add the hibernate option to your shutdown options in the start menu, we'll show you how to do that.
If you check the Shutdown button in your windows Start menu, you will find only 3 options, Shutdown, Restart and Sleep.
We will show you not just how to add the hibernate option but even remove it or the other power preset options present from the power options list. Shutdown and Restart options cannot be removed anyway. This tutorial can be called a bidirectional guide since it will show you how to add as well as remove these features. Hope this comes handy.
Enabling Hibernate mode in Windows 10
Step 1: Click on the Start button and choose Settings.
Step 2: From the settings panel, Click on System.
Step 3: Select Power & Sleep settings here; click on Additional power settings.
Step 4: Now click on 'Choose what power buttons do'
Step 5: Click on 'Change settings that are currently unavailable'. This will make the grey options in the bottom accessible.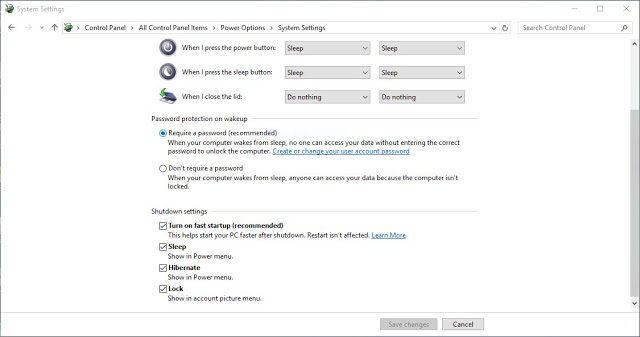 Step 6: You can now check your preferred options under the Shutdown settings and they will be displayed on the power options from now on. If you wanted to hide any of the options from the shutdown menu, simply uncheck them here. Once enabled, this will add the hibernate option to the start menu as well as the shutdown menu.
So that's how you can add or remove the hibernate or other power options to your shutdown menu.