Gamers just can't get enough of RGB and that's a well established fact that we all acknowledge. If you're a gamer, you wouldn't need an introduction to Nanoleaf. These are serial LED lights with advanced capabilities like being controlled remotely through a smartphone app or even voice and music.
Each light panel is connected together using an SD Card like connector chip called 'linker' along with the main panel that has to be connected to a power outlet and acts as the controller.
The light panels are normally sold in starter kits that have 9 pieces, with extra expansion packs sold separately. Nanoleaf light panels can be used as wall decor in any pattern that you can imagine and looks amazing for any kind of home or office setup, especially gaming rooms and studios. You can even use them to add a touch of vibrancy to your drawing room.
Today, we are looking at some of the best gaming room ideas using the Nanoleaf panels. Here are the top 10 designs that we found absolutely gorgeous.
1. The 90's video game bug design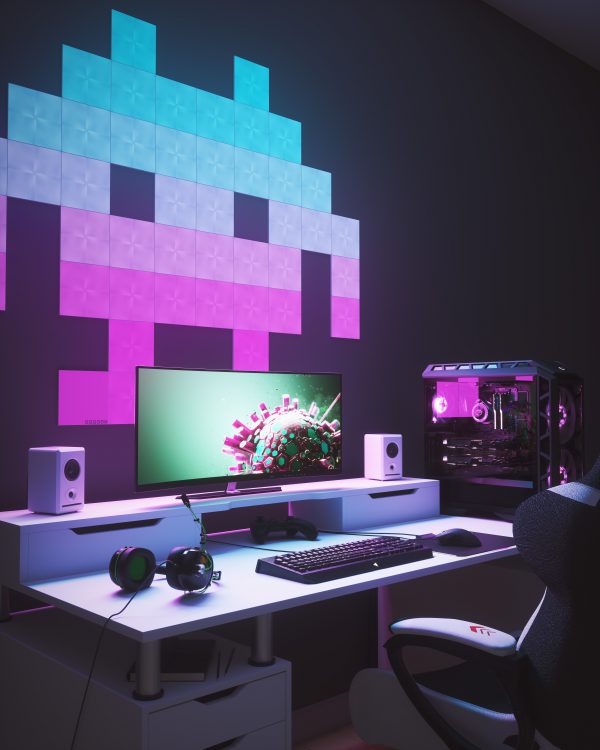 As a fan of shooting and arcade games from the 90's era, I liked this Bug design setup that has been done with Nanoleaf Canvas light panels.
Canvas is made out of edge-to-edge touch sensitive light squares, which are reactive to sound and music. It can also be voice-controlled with Siri and Alexa.
Each light square is 5.9" x 5.9" with ½" thickness. The panels weigh just about 6 ounces and can be attached to the wall, ceiling, or any other surface using double-sided mounting tape. The individual squares can be joined together using the included "linkers" in many different types of configurations and patterns.
2. The simple one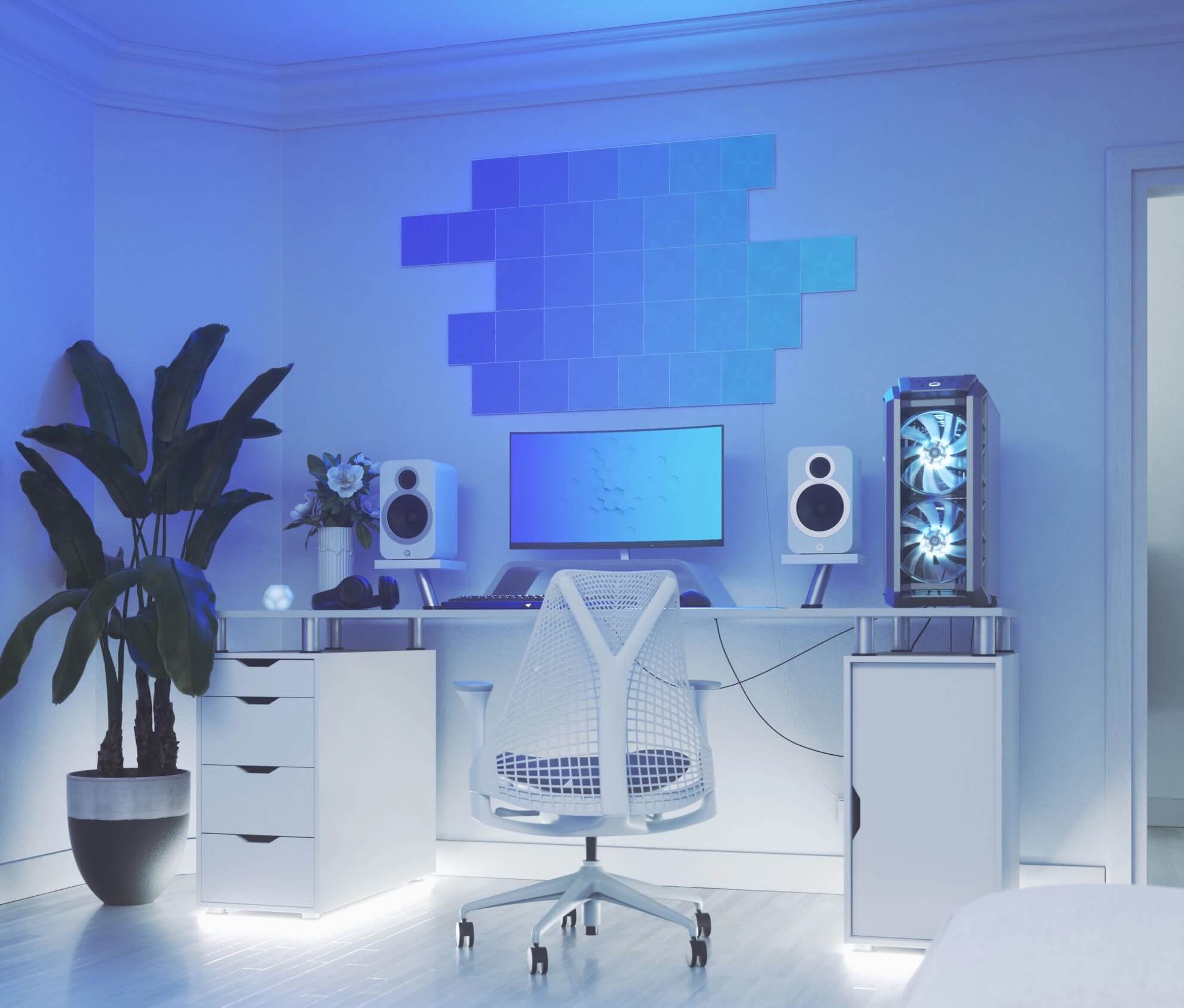 Another gaming room design using Nanoleaf canvas, this is an easy one for the artistically handicapped! Being one myself, I loved this design for its simplicity. And yet, with the help of the app, you can mirror the game colors onto these panels and convert your gaming room into a full-fledged battle station.
3. The lit-up battle station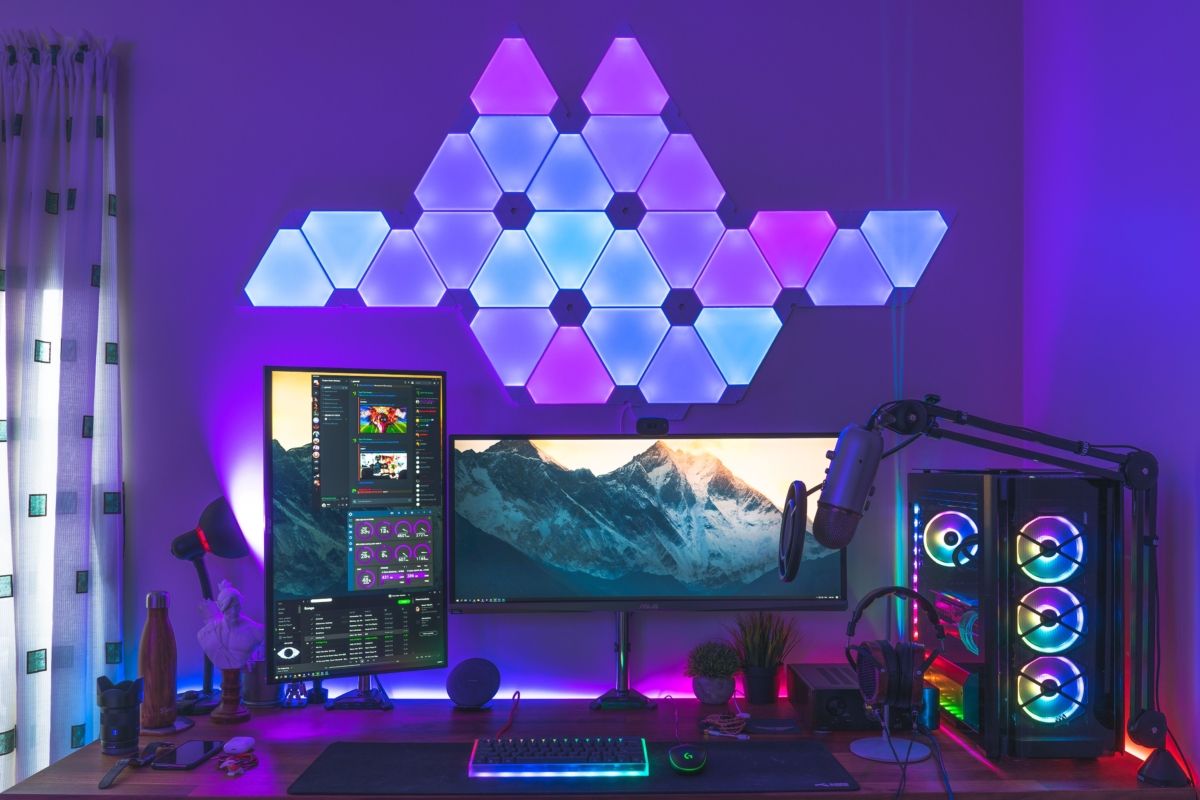 Another Nanoleaf product is the Aurora Wall Panel series. It is a modular, wall fixture lighting system, designed to be arranged into countless geometric configurations without the requirement of an actual fixture.
The fully customizable triangular units (up to 30, with a common power supply), operate in unison with a variety of color options.
This is home-kit enabled, which means along with the app and through Siri/Alexa you can brighten/dim the lights, change the colors or even switch them on/off. This design is from the Aurora series.
4. Another battle station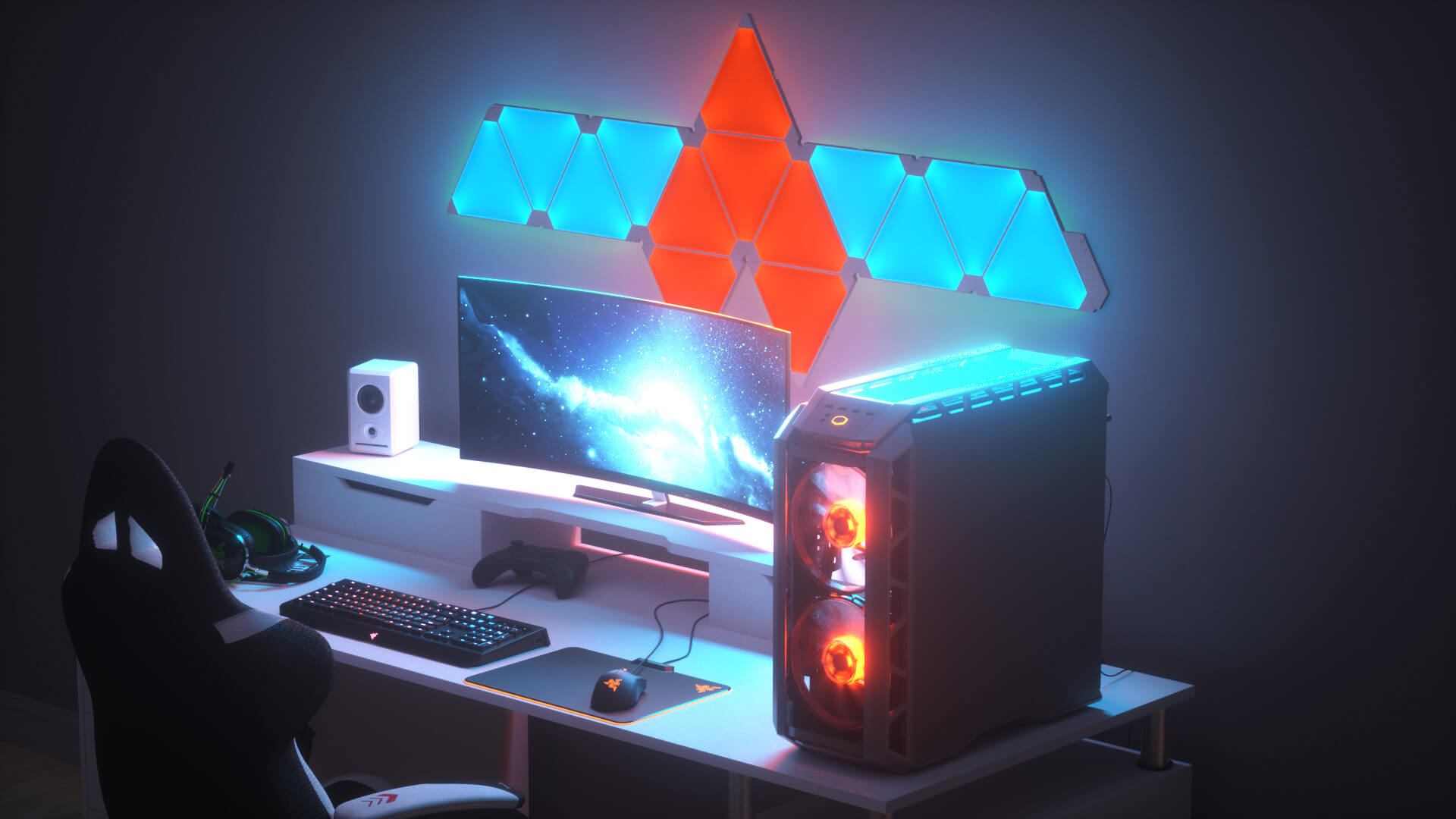 Similar to the one above in design, here comes another minimalistic battle station. This is also made out of the triangular shaped Nanoleaf light panels with the standard 9 panel pack along with some extra pieces.
5. The one with Baby Yoda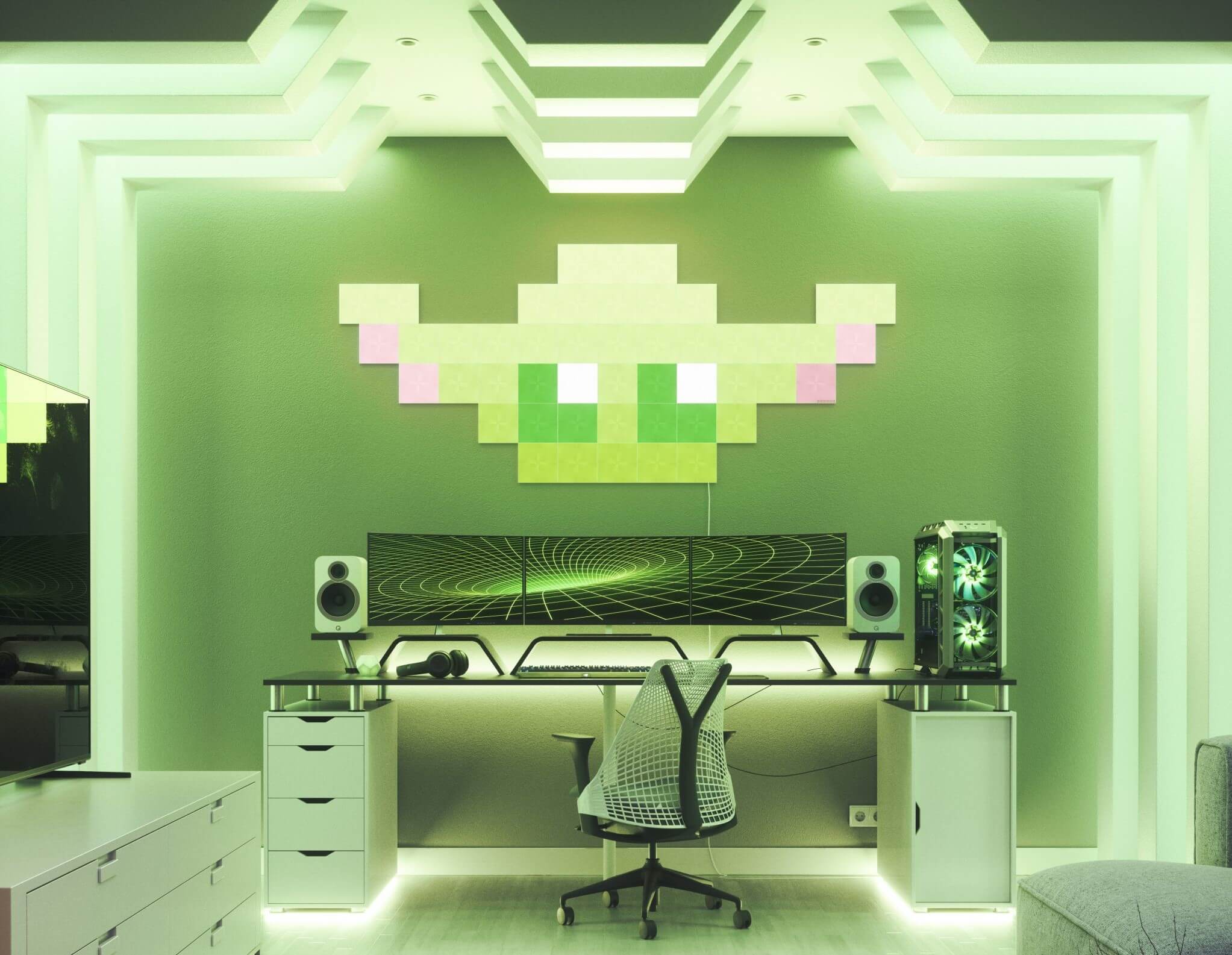 This one made from Nanoleaf canvas is for all the Star Wars fans and more recently, the Mandalorian fans out there. Using canvas, you can create any memes or famous character design and tastefully liven up your gaming room. Being a Yoda fan myself, this one is a personal favorite.
May the Force be with you to transform your gaming room!
6. Another retro one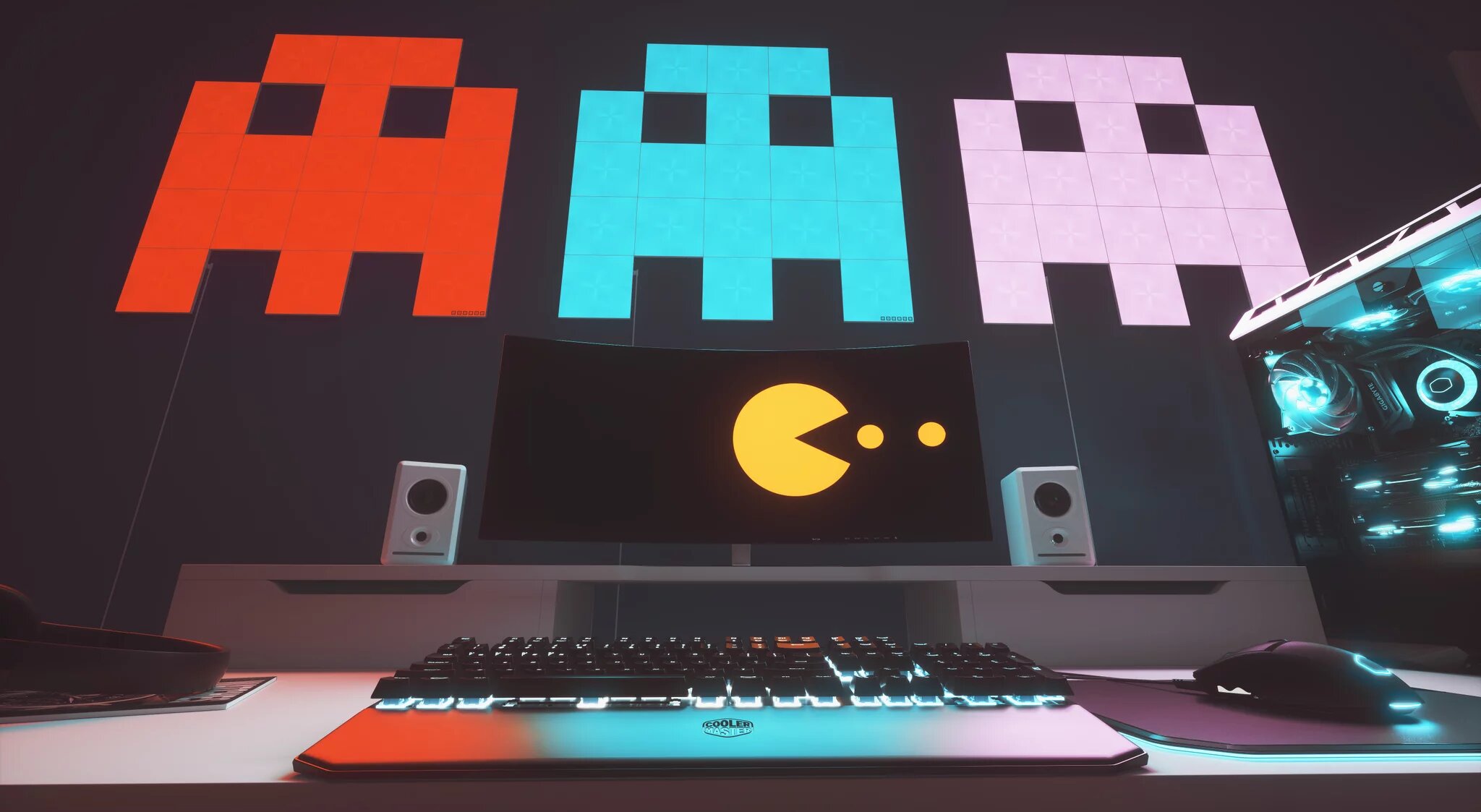 I somehow do seem to keep going back to the 90s. Well, what can I say? Those were the good 'ol days.
This design is inspired from the 90s PC game PAC MAN. Again, this has been made out of the Nanoleaf Canvas. This design is definitely going to give some of us the nostalgic childhood feels. Use this design to level up your gaming space.
7. The flashy one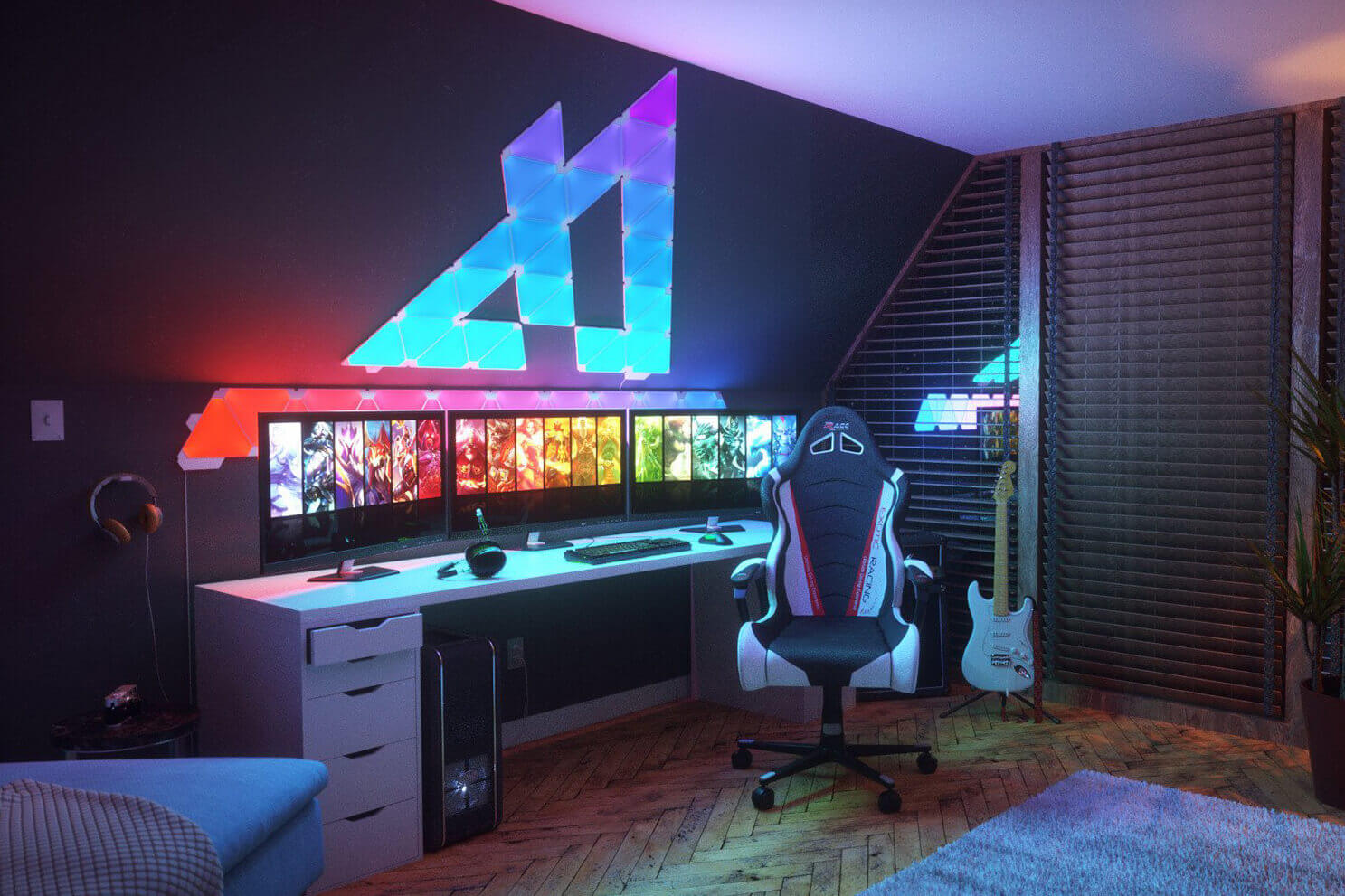 For fans of flashy lighting out there, this is perfect for you. Made from Aurora Nanoleaf wall panels, these lights will turn any gaming room into a disco party with the lights moving to every second of the music beat.
8. The game den one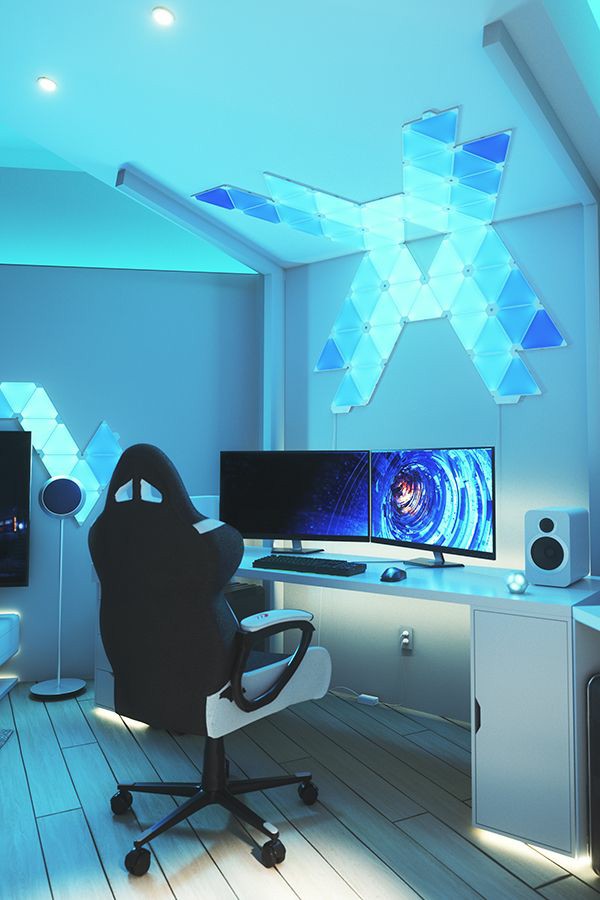 Looking for the perfect lighting to convert your gaming set up to a gaming den?, Or you can even surprise the gamer in your life with this very cool design.
The sleek profile gives a minimalist design while the RGB lighting control gives a blast of color. All you need is the Nanoleaf LED lighting panel starter kit along with some additional panels to do an extended design. You can take your gaming room to the next level with this pretty easy design. Have fun playing around while making something like this one.
9. Another simple one
This is yet another simple pattern made from Nanoleaf LED lighting panels. It is elegant and classy and gives your gaming setup a cosy feeling.
Based on your mood, you can always select what colors you want the lighting to be. And there's never a shortage of options when it comes to that!
10. Another flashy design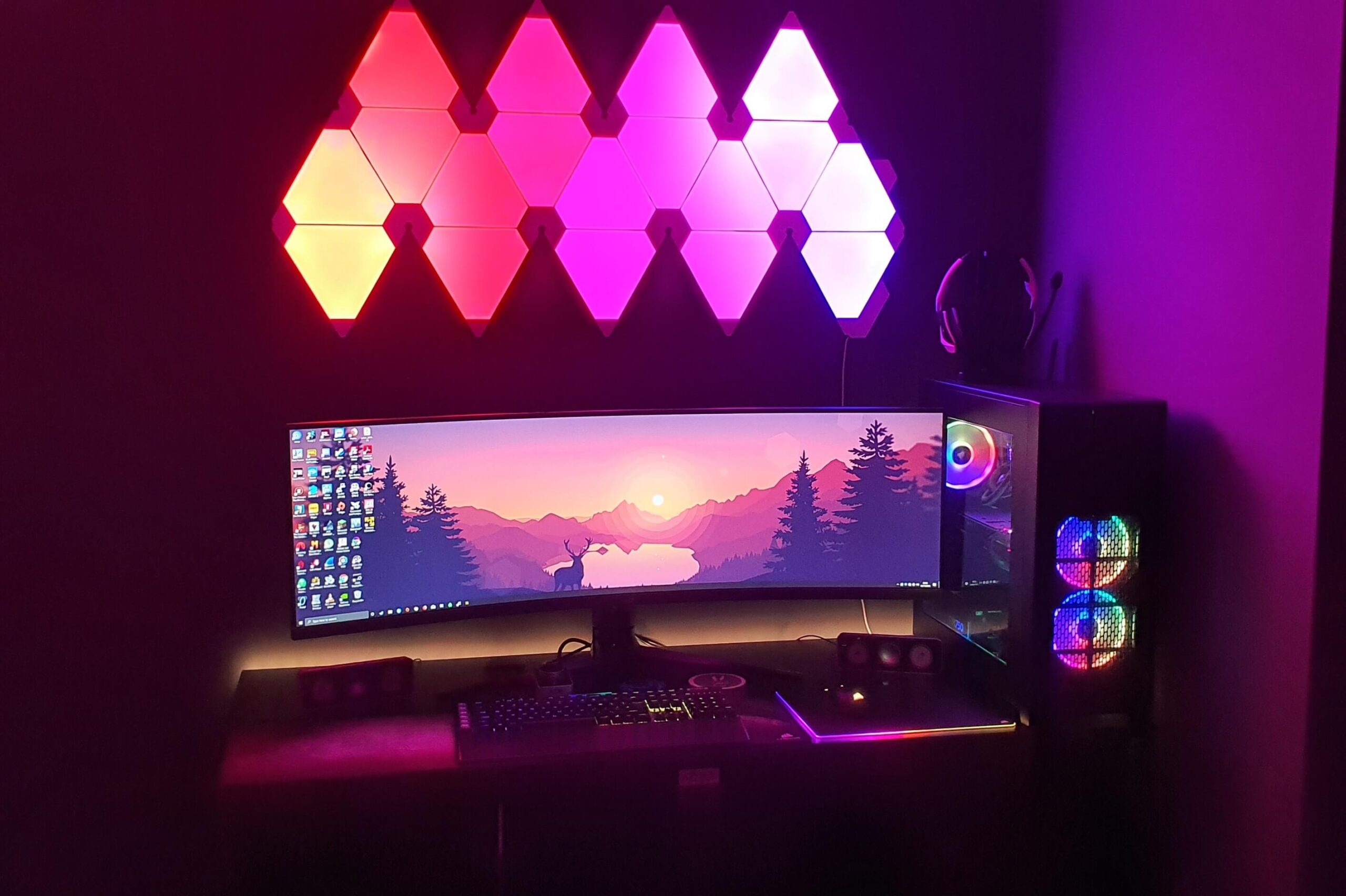 For the math, geometry lovers, this is one for you. Another design made with Nanoleaf LED light panels, you can use this for a perfect corner in your gaming room or right behind your monitor setup.
This design is also easy to make and you can pick the colors or use melt mode from the Nanoleaf App to have them change automatically.
How do they work?
To use the Nanoleaf, all you have to do is download the Nanoleaf app to your smartphone and give it WiFi Connectivity. The Nanoleaf App has control of displaying the light colors and pre-configured color patterns for the light show. There should be a power outlet close by to the light panel which will act as the controller.
The best part about Nanoleaf lights are that they are drill free. It comes with 3M command tapes which is removable yet pretty stable. It also comes along with a stencil that can be used as a guide for the perfect fit on the wall.
If you want to know more details about Nanoleaf, you can always head to their website. Nanoleaf panels are also available to buy on Amazon.
Looking to light-up your gaming room with Nanoleaf?
I hope you liked the Nanoleaf designs we presented above. These lights may seem a little pricey, but for the glitz and glamour that they bring into any room, I would say they are absolutely worth it.
Nanoleaf light panels are perfect a if you're looking to transform your gaming room aesthetics to the next level.
With smart features like ambience syncing, music, voice and app control, touch sensitivity etc., there's no way you can run out of cool design ideas with them. And if you do get bored of one design, it's pretty easy to pull them off the wall and arrange in a different pattern; they're basically Lego for lights!
You can buy Nanoleaf starter kits from the links below:
Nanoleaf Rhythm Edition Starter Kit with 9 light panels (Triangle)

Nanoleaf Canvas Starter Kit
with 9 light panels
(Square)
Image credits: Respective copyright owners on Reddit and Pinterest