If you are a 'photo addict', then it is obvious that your iPhone's camera roll would be filled with selfies, memes, screenshots,  wallpapers and what not! If you're looking for the best app to delete duplicate photos on iPhone, there's still one more challenge – Segregating between the ones you would keep and the ones you no longer need. So why not let a smart app make these chores swift and simple for you?
A few things to keep in mind before you start:
The photos deleted by iPhone photo management apps will end up in the Recently Deleted folder in the Photos app. Unless you empty this folder, you will not be able to re-claim the space created by thrashing the photos from your phone.
In order to automatically get rid of these deleted photos permanently, all you have to do is first open the Recently Deleted folder in the Photos app. Then tap Select at the top right, then Select Delete All in the bottom left. Photos from this folder would then be cleared, including those that are in it since 30 days.
Remember that you should first look at all the photos and other media that the app consists of for bulk deletion, and also to ensure that no important files get deleted.
While deleting files from the iCloud photo library, you will have to be extra careful, as once the photos are deleted from the iCloud photo library, they cannot be regained, and will also be deleted from all your Apple devices.
Here are some of the best apps for bulk photo deletion:
Remove Master for Camera Roll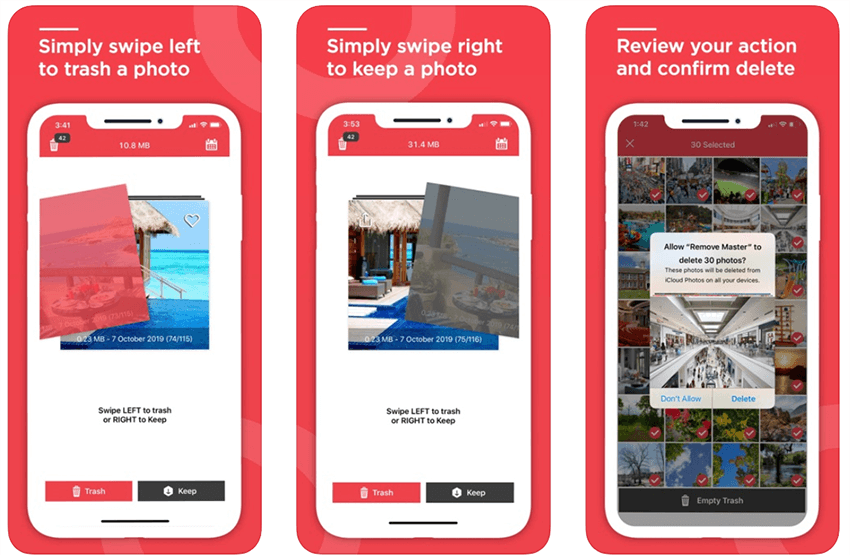 This is hands down one of the best photo cleaner apps for iPhone! And guess what, its user interface is inspired by Tinder. Once installed, all you have to do is scroll through your photos and start swiping. Swipe right to keep, and left to delete. The next photo pops up automatically once you have swiped. This iPhone gallery app allows you to swipe photos by month and thus makes the boring chore of decluttering easier.
Remo duplicate photos remover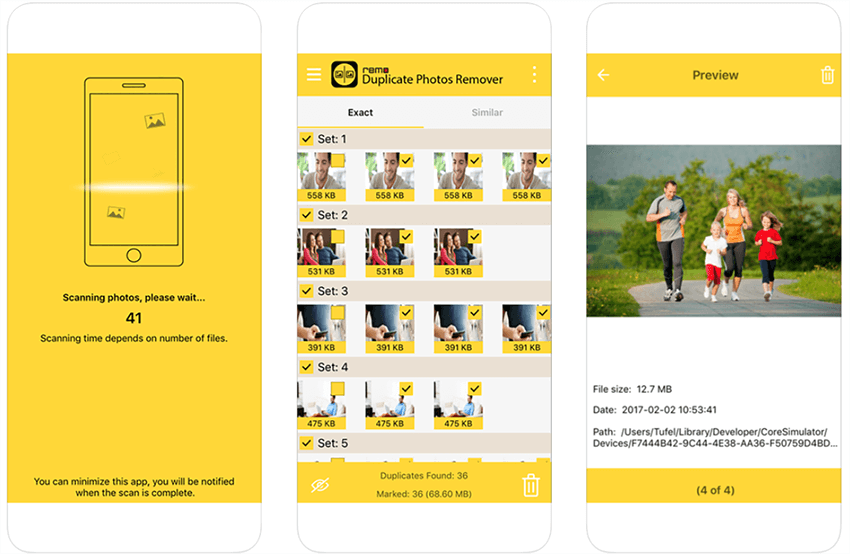 Once you have scanned through your photo library, this app gathers all the exact duplicate photos together in one tab, and all the similar photos in another tab. In both the tabs, you can select or deselect the pictures individually before you delete them. You do not need to worry about dumping all the photos in a single album without any meaning to it. Remo will stop you from doing that with an error message.
If you wish to exclude some pictures and albums while scanning your gallery in the future, then Remo has the feature of marking that media as exceptions and notifying Remo of your choice. You also might want to customize the threshold of how closely you would want Remo to match the photos. This can be done in the app settings.
Remo is a free, hassle-free and simple app to remove duplicates and similar pictures in bulk.
Gemini Photos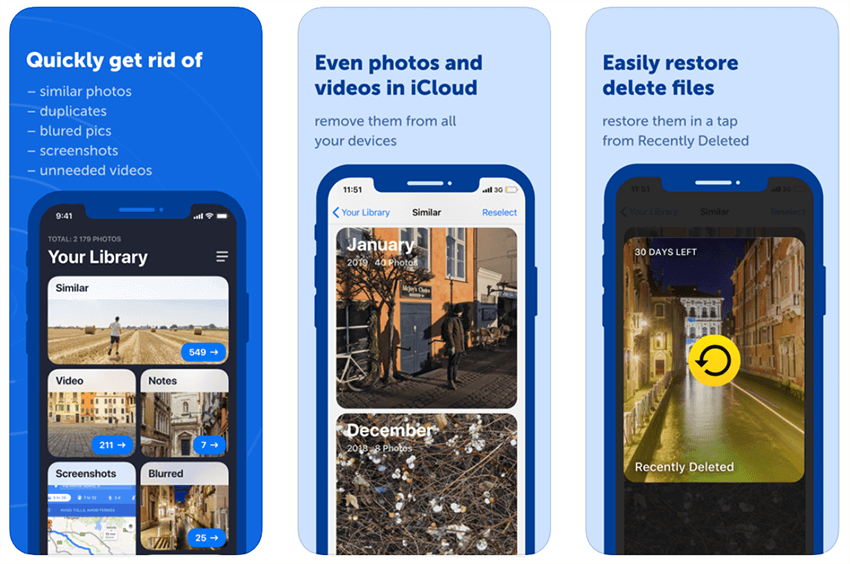 You would be surprised to know that the Gemini Photos is associated with the duplicate file finder Mac app, Gemini. The developer of Gemini, MacPaw, came up with the idea of cleaning up your iPhone's camera roll. Thus, Gemini Photos came into existence.
This app automatically selects the bad photos covering space in your iPhone and immediately sends them for review. The blurry photos, duplicates of screenshots, and the photos with texts on them are collected together in a single file. Now whether you delete them or keep them, that is your decision.
Duplicate Photos Fixer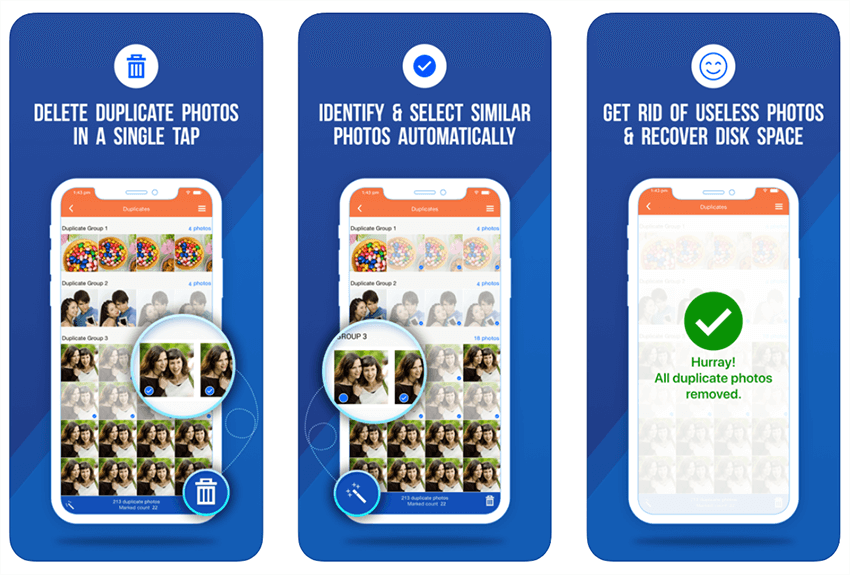 Duplicate Photos Fixer is a great alternative to Gemini Photos. This app collects all the useless photos, screenshots, burst photos, and videos that are covering excess space in your phone. As soon as Duplicate Photos Fixer scans through your photo library, the photos are categorized as tabs. The photos meant for deletion would already be selected automatically. The app also shows you as to how much space you may be able to recover after the bulk deletion.
Duplicate Photos Fixer is not just any regular photo decluttering app. It does a lot more than that like doubling as a contact finder, a storage maintenance app, and also, a Photo Vault. So, you can also hide your pictures in the vault which you do not want anyone else to see.
Bulk Delete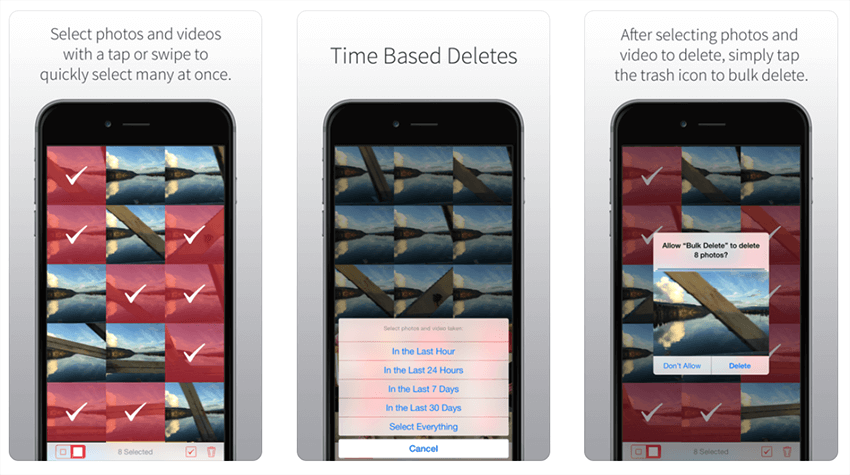 This app permits you to select photos by swiping them and then deleting them in bulk, similar to what the Photos app does too. But there are some differences. Bulk delete makes it easier to discern between the selected and the un-selected photos. Another cool feature is that it allows you to delete your entire photo gallery, in case if you wish to start again with a clean slate.
The best benefit of this app is that it is a time-based deletion. For example, with this feature, you will be able to choose and delete photos of the previous 1 hour, or last 30 days.
You're all set
If you're looking to declutter your iPhone gallery and reclaim the storage space, these apps have excellent solutions to offer. It's just a matter of finding the app that'll best suit your specific requirements and you're all set.
Make sure you check out these iPhone accessories for Vloggers if you love taking pictures and videos with your iPhone.