Google Maps is used by most of us almost every day to travel to places and while it is helpful you also must remember that Google and Facebook store your location history and even holds on to this information almost indefinitely.
What do they do with location data?
Technology giants like Google and Facebook have admitted to tracking users' locations.
Google: Google apps track users whereabouts and locations even when they have turned off location data. Upon receiving criticism, they updated the Help Page, clarifying that it does track location data in order to "improve Google experience".
The Help Page said: "These settings do not affect other location services on your device, like Google Location Services and Find My Device. "Some location data may be saved as part of your activity on other services, like Google Maps and Google Search".
The reasons for saving such data, when you turn on settings like Location History or Web & App Activity, the data can make Google products more useful for you—like recommending a restaurant that you might enjoy, or helping you pick up where you left off on a previous search, or saving driving directions.
Facebook: Facebook has definitely lost trust over the past year with the exploiting information scandal and is now working to rebuild its image. Facebook has now launched new location control settings for Android which allow users more control over how much information they share with Facebook.
The "Check In" feature lets you share your travel location or favorite weekend pub to let your friends and family know where you've been or what your favorite places to check into are. And you can also use Facebook to let your friends know where you are right now using the Nearby Friends feature.
Without realizing the consequences, if you allow it, Facebook has the permission to keeping tabs on your every movement. The Wall Street Journal recently found out that this "data" is being used for more than just helping you get in touch with your friends.
So, for those who want to be more cautious, the option to delete your location exists, if you are not comfortable with giving Google or Facebook all this access to your location data.
How to auto-delete location history on Google Maps
Step 1: Open Google Maps and go to the menu icon at the top left corner
Step 2: Then, Go to "Your timeline"
Step 3: Now, Tap on the top right corner icon with the three dots
Step 4: Click "Settings and privacy"
Step 5: Keep scrolling down and tap the "Automatically Delete Location History"
Step 6: Now, three options will appear on your screen.
Keep until I delete manually
Keep for 18 months
Keep for 3 months
Choose as per your wish (Basically choose a time limit for how long you want your activity data to be saved, whether 3 or 18 months, and any data older than that is automatically deleted from your account on an ongoing basis)
Step 7: Tap "Next"
Step 8: Now they will ask you for a confirmation, hit confirm and you are good to go!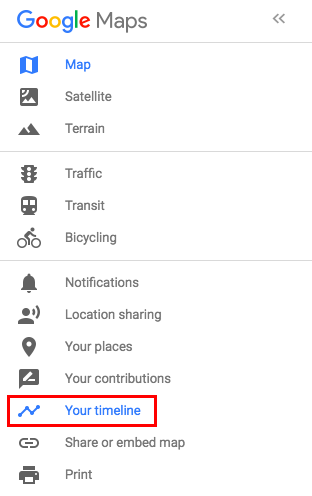 You may not have the option to delete your location data/history immediately or on a regular basis, and it is going to be there for three months at least. However, deleting your Google maps history after three months is still a small step towards protecting your privacy.
How to disable location tracking by Facebook on iPad and iPhone
If you want to completely block the entire Facebook location tracking ability, the easiest way is to disable the location tracking for the Facebook app.
Go to the Settings app on your iPad/iPhone
Tap on Privacy
Tap on Location Services
Tap on Facebook
Tap on Never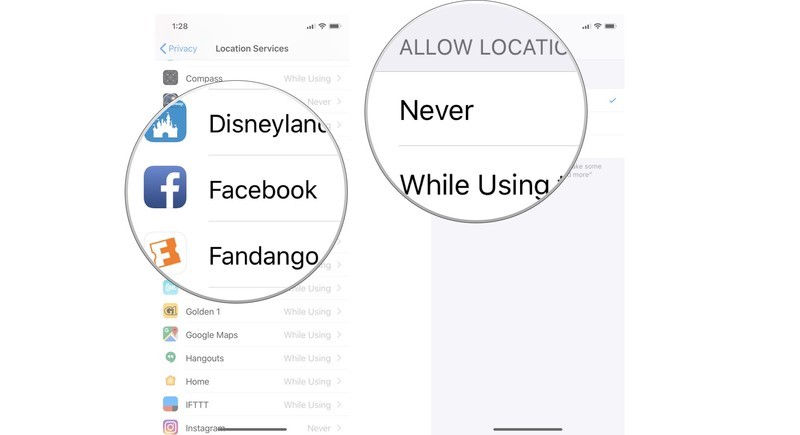 How to prevent Facebook from storing your location history
Do you like the check-in feature and the Friends Nearby features? Well, this can cause you to leave the location tracking on (or set it to Only While Using the App) and turn off the history saving. But this is where data miners tend to get the most useful information from you.
Go to the Facebook app on your iPhone or iPad
Go to the More tab in the bottom right corner of the screen
Scroll down and click on Settings
Tap on Account Settings
Tap on Location
Turn off the Location History switch

How to erase your location history from Facebook on iPad and iPhone
If Location History has ever been enabled on your iPhone, that history is stored with Facebook, so delete your location history to ensure it's no longer stored with Facebook.
Go to the Facebook app on your iPhone or iPad
Click the More tab in the bottom right corner of the screen
Scroll down and tap Settings
Tap Activity Log
Tap Filter
Tap Location History
Tap Clear Location History
Tap Confirm
This deletes all of your stored location histories. If you want to keep location tracking at any point, you'll probably want to do this every once in a while.
How to stop sharing your location with nearby friends on Facebook on iPad/iPhone
Love the Check-In feature of Facebook's location tracking, but don't really want your friends to know that you're nearby? Turn off or disable this Nearby Friends feature, while still allowing Facebook to track your location (and store it if you don't want to disable Location History).
Go to the Facebook app on your iPad/iPhone
Click on the More tab in the bottom right corner of the screen
Scroll down and click on Settings
Tap the Account Settings
Tap Location
Tap Nearby Friends
Turn off the Nearby Friends switch
Although Google has said that "Location History" is a Google product that is entirely opt-in, and users have the controls to edit, delete or turn it off at any time, just turning off Location History doesn't serve the purpose. In Google Settings, pausing 'Web and App Activity' may do the trick.
Unfortunately according to Google's Activity Control page, "Even when this setting is paused, Google may temporarily use information from recent searches in order to improve the quality of the active search session".
To ensure your location be kept private, you need to indicate this preference through the 'location history' setting. You need to decide if you want to place yourself in the shoes of a consumer and respected the setting, managing consent and meet user's expectations or instead choose to be in the shoes of the vendor, if you don't mind sharing data.