Worried about your privacy on Facebook to the extent that it's killing your fun on the social media? It's time to calm down, facebook has now improved their privacy options to ensure that you don't over-share your personal information on their platform. Thousands of complaints about account security are being made on Facebook everyday. So, it's high time that you make a visit to the settings area and ensure everything is under control. Through this post, we will highlight some of the important tips for maintaining your privacy and security on facebook.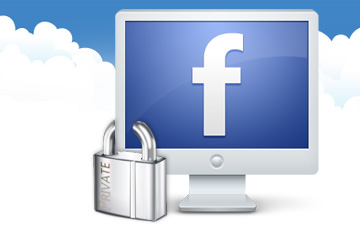 Use a really strong password:
The first and basic thing is to use a strong password. Use Alphabets– Capital (ABC…) as well as Small (abc..), Numbers (0123..), Special Charters (@#$…) and even Space in your Password. Make a strong and easy to remember password. Never write your password anywhere, don't disclose it to any one, ever. Also, never use a password which is a dictionary word, use something that doesn't make any sense. Using something that makes absolutely no sense will eliminate the risk of someone figuring out your password by mere guessing. In addition to all these tips to make a strong password, here is how you can use these passwords to change your habits.
Know if someone accessed your account:
It's been a long time since facebook introduced a new feature to alert you when your account has been stolen or accessed from an unknown computer. When your facebook account is accessed from an unknown location and device, facebook will notify you with the details. You will receive an email and/or SMS if you have activated your mobile number on Facebook. This is the best way to monitor your Facebook account.
You can activate this feature by going to 'Account Settings'. Now click on 'Account Security' and select "yes" to enable this feature, if you want text messages also, check on 'SMS' and click 'Submit.'
You can now register your computer with your facebook account, and if someone else accesses your account from some other location or computer, you will be notified.
Show minimal information to strangers:
On facebook, you are provided with the ability to create and share a very detailed profile that includes everything from your street address, mobile number, birthday, your school-job information and much more. This info is sufficient for somebody to steal your identity. And identity theft is a serious problem that you should avoid at any cost. Only show that information which is enough for your real friends to identify you. You can always use the Privacy settings to restrict what others can see.
For this, go to Account & Privacy Settings at the top right corner. Now apply those that you want to keep private and shared with your Friends. There is also an option for switching back to Facebook's default settings if something goes wrong.
Enable privacy settings for apps:
Some of your profile info can be accessed by some applications and websites, it is better to restrict the access of such apps. Even if you don't use these apps yourself, your info may be accessed when one of your friends uses them.There are so many lame apps on facebook that you should steer clear from, for privacy and for peace of mind.
Per-post privacy settings:
You can also set per post privacy on Facebook. Per-post privacy can be used to specify whether a post will be visible to your friends, friends of friends or everyone. Click on the 'lock' icon below the message composition box and select any of the options. For showing your post only to a few of your friends, select the Customize option.
Secure your Email accounts
It's a no-brainer that anyone who has access to your email accounts can reset your facebook password as well. So, you should also make sure that your email accounts associated with the facebook account are secure. You should also not use the same password for different online accounts, this is because an attacker who gets hold of one account will try the same password on your other accounts. Never click on suspicious links that you get by email as this is the most common way people get their accounts compromised.
Use a good Anti-virus
Viruses can do a lot more than just mess your computer up, there are viruses that can steal passwords that you saved in your browser or log your keystrokes and send it to back to the one who made it. If you want complete security of your online accounts, you will have to secure your computer or any other device you use to access these accounts as well. Just having an anti-virus won't do it alone, you have to keep the virus definitions up to date and still be cautious while downloading files from unknown sources.
Safety and caution on the social media can avoid complications later, so it's to better make use of the security and privacy settings on Facebook to make your experience better and safe.