VLC media player is nicknamed as the 'Swiss army knife' of all media players and that's so true considering the all-powerful nature of it. We know that it can play even the strangest sounding media files with ease, but that's just one thing and there are many more things that VLC does simply well. We've all wanted to record our computer screens at some point of time for various reasons like creating a tutorial, to capture online video streams or to record our favourite video game action.
There are countless paid and free software available for the same purpose on the web. But why should you buy or download new software when your favourite movie player can do it for you? You heard me right, VLC media player can record your pc screen in high frame rates and does it just as good as any other premium tool. All you need to get started with this tutorial is to have VLC media player installed in your windows pc. So here we go.
Before we begin, just make sure you have the latest version of VLC media player and update if you don't.
Using VLC media player as a screen recorder
• Open VLC media player and click on 'view' from the menu bar. Now click on 'advanced controls' if it's unchecked and you will see an additional set of buttons appear in the VLC media player interface.
• Now go to 'media' which you can find on the menu bar. (You can alternatively use the shortcut CTRL+C) A new window with capturing options will appear.
• In the new window that just popped up, change the capture mode to 'desktop'.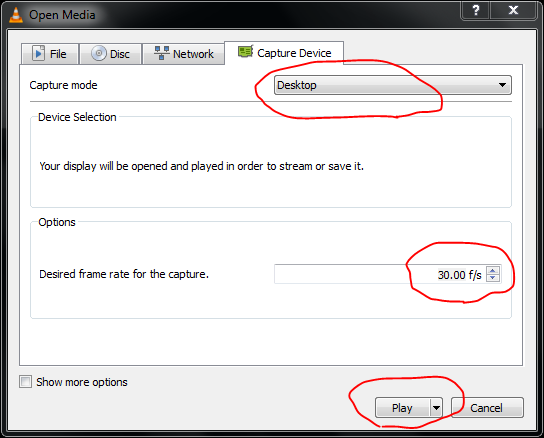 • You can now choose your desired frame rate for the screen capture, but remember higher frame rates will make the output file bigger in size. 10-30 fps should give you decent quality video.
• Now click on the play button and you will see an endless loop of VLC windows, this is okay. Just minimize VLC media player into the smallest possible size.
• Now your minimized VLC media player window is screen recording capable. You can start recording your desktop anytime by clicking on the 'record' button on the VLC media player window.

• To stop recording and save your video file, just click on the same 'record' button. VLC media player will save your screen recording as .avi file in the videos folder of the current user account.
The quality of screen capture is especially great with the VLC media player's screen recorder, but it is only recommended if your screen capturing needs are basic. For serious projects, it is better to use some dedicated screen recording software like camtasia. VLC cannot record your microphone along with the screen capture and you will have to record and add an audio file separately if you want it.
Another drawback is that it records the entire desktop with no option to record independent windows or screen areas. This will obviously result in huge video files even if the video is short. However, you can reduce the fps value and resolution of your screen to tackle this problem. So go ahead and try this cool screen recording feature of the VLC media player. You can also read our tutorial on how to sync subtitles with video in VLC media player.
Got another tip to add on VLC media player screen recording?
If you have more tips on using VLC player as a screen recorder of have queries, let us know in the comments section below.