It becomes easy to recover files when the loss is detected at early stage. More time you take to notice the loss more it becomes hard to recover it. Every time you write on your system hard drive, the chances of recovering lost data become less. Thankfully, there are ways possible to recover your lost data including your precious photos on Windows 10 without using any software. Let's discuss some of these steps here.
Recover deleted files from Recycle bin:
Whenever you delete any file it directly goes to your system recycle bin. Unless you have emptied your system recycle bin the removed file will remain in it. Thus this should be the first place to check when you want to recover some deleted file. To recover files from recycle bin, go to system Recycle bin, scroll through the files to find the file (s) you want to recover, right-click on the file (s) to be recovered and select Restore. This is the simplest way possible to recover deleted files on your system.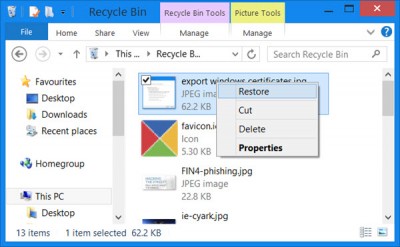 Restore previous versions:
Whenever you delete any file or folder it doesn't destroy completely from your system automatically. Deleted files are simply marked "Deleted" in your system drive's File Allocation Table (FAT) or the Master File Table (MFT). Once it is done, the file will remain there but no longer listed in the folder or place where it was earlier. Thus you cannot locate the file.
You can use "Restore Previous Version" feature to recover files easily. This feature is a part of Windows Volume Shadow Service, where it creates restore points to help you effectively roll back the changes you have occurred. Using this feature you can recover files without downloading any third party recovery software even if you had emptied your system recycle bin or deleted files using Shift + Delete option. Though this function is useful when performed in the early stage of file deletion.
To perform this action, simply go to the folder where the deleted file (s) was once stored. Right-click on the folder and select "Restore Previous Versions" option from the drop-down list. Here it will open another window wherein you can select the file you wish to recover.
If you can't see "Restore Previous Versions" option by right-clicking on the folder, consider following these steps.
• Go to Start menu > Control Panel > System & Security > System > and turn on System Protection (on the left sidebar). It will display all drives with its corresponding protection.
• Now select a particular drive and click on Configure.
• Click on "restore system settings and previous versions of files" and click OK.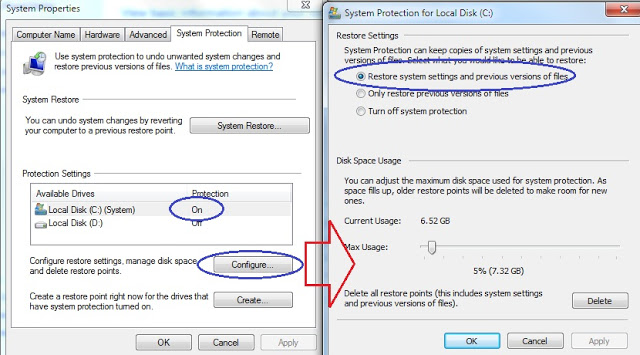 Now you can see the option to recover the particular file.
The backup method:
If you are from those users who rely on data backup then you are on the right track. Data backup can help you recover deleted files instantly. You can take data backup on hard drive, on an external drive or on Cloud servers. Thus keeping data backup makes always sense as it offers an instant solution to your data loss problem.
You can follow these simple steps to recover your deleted photos on Windows 10 without using any software. These steps can help you recover your precious data instantly.
Summary: 
It happens many times when you lose data accidentally or you find it useful after deleting it. You can recover this lost data without using any software by following these few simple steps.