Most people see failed downloads as a dead end, but that's not really true. There is an easy workaround to resume failed downloads in Mozilla Firefox from the point where it failed. Not everyone has a blazing fast internet connection to download huge files quickly without any interruption.
Downloads will also fail in cases of sudden power failure or server issues. If you have a slow or unstable internet connection, it is a common scenario where downloads fail halfway or in worse cases, just when it is at 99%. If you can do a little messing around, you can easily save your time and data and we'll show you how.
When a download fails in Firefox, you would probably click on the retry button which could make things worse by restarting the download all over again. This will only make the download start from the beginning and you will lose your already consumed data and the precious time.
You will also have to bear the extra data charges if you are on a limited data plan. When a download fails, the downloaded file which is incomplete will be retained in your system till you restart Firefox. So this is a simple tip using which you can get that download resume from where it failed. Here we go.
What not to do when a download fails on Firefox?
Most people click on the retry button next to the failed download, do NOT do that.
It is also important that you do NOT close Firefox, just minimize it when the download fails.
What to do now?
Go to the folder where Firefox saves downloads. By default it is saved in C:Users   UserDownloads. (Replace 'User' with your windows username.)
If the file you were downloading was say 'video.mp4', you should see two files in the Downloads folder namely 'video.mp4' and 'video.mp4.part'.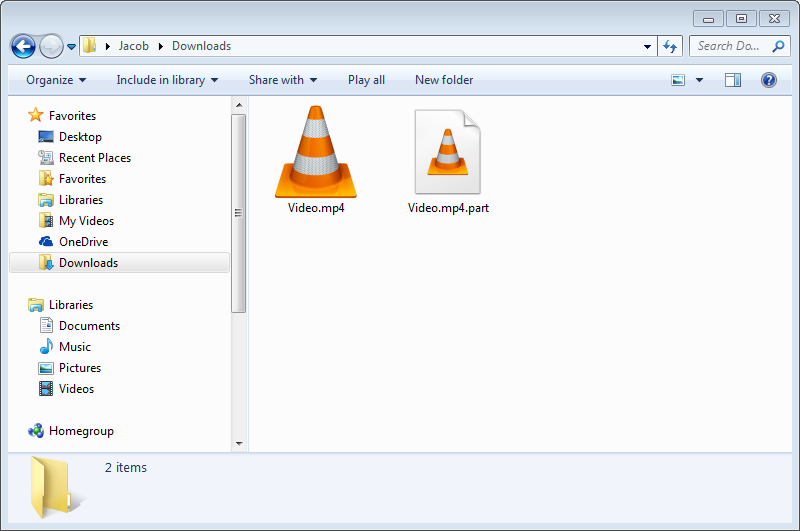 We can simply ignore the file 'video.mp4' since it has nothing to do with our tweak, what we  need is the file that ends with .part.
Make a New folder in the same directory and move 'video.mp4.part' into it.
Now open Firefox and go to the page where the download link for your failed download is available.
Click on the download link and let it download for a few seconds.
Pause the new download after a few seconds and minimize Firefox.
Go to the Downloads folder and you will see that a new 'video.mp4.part' file has been created there.
Now replace the new .part file with our old one.
Open Firefox and resume the paused download.
Bingo! You will see that the new download has resumed from the point where your previous download failed.
This tweak will work for most cases of failed downloads in Firefox. However, some file-sharing sites do not allow downloading of a file using the same download link after a certain period of time. In such rare cases, this might be ineffective. It is a life-saver if your download failed after consuming GBs of data.
Retrieving Unfinished Downloads
In case you don't want to complete the download and just need to retrieve the unfinished file, you can do so by removing the .part extension from the file name and moving it to some other location. This will prevent Firefox from deleting the unfinished downloads. Most video and music files will work even if they are not completely downloaded.
Happy downloading! You can also read our tutorial on how  to resume failed downloads in chrome.