Did you know that you could use VLC media player to convert videos into your desired format? If you are done with trying many video converter applications that were too complicated or buggy, here is your chance to make the most out of VLC media player. Isn't it good to know that you can easily convert videos using VLC player? Everybody is quite familiar with VLC Media Player, and it probably is the best media player out there. The ease with which it plays any media file that we throw at is what makes VLC our favorite.
It's time to learn one of the cool hidden features of this awesome media player which is the ability to convert videos into your desired format so that you could play them on various mobile devices. VLC media Player has a lot more hidden features and you can check out our guide on using VLC player as a screen recorder. Now let's see how you can get your videos converted using VLC without installing pricey software on your computer. VLC player converter supports .mp4, .avi, .mp3, .mkv, .3gp, .webm and many more video and audio file formats. Let's jump right into the tutorial part, so that you can learn how to convert your video files with VLC media player.
How to use VLC Media player as a Video Converter:
Step 1. Open VLC media player on your PC.
Step 2. Go to Media and click on Convert/Save option. (You can also use CTRL+R instead)
Step 3. Now click on the Add button in the new window and choose your video file to be converted.
Step 4. Once you have chosen the desired file, click on the Convert/Save button.
Step 5. A new window will appear. Here you can select the profile/format to which you want the video to be converted and name the destination file.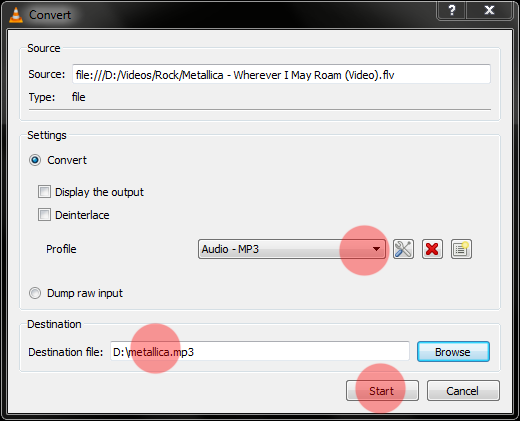 Step 6. Once everything is set to your preference, click on the Start button. The conversion process will take some time. After completion, you can find your converted file in the destination folder you had selected.
The video converter feature in VLC media player is as good enough as any other professional video converters available. You can even edit the video parameters like frame rate, bitrate, codecs etc. Audio formats are also supported; VLC media player can convert video to audio if you set the output file to an audio format like mp3.
VLC media player can be a substitute for professional video converters if your needs are minimal and basic. Of course there are a lot more features available on the dedicated video converters like batch conversion and support for many more file profiles. If you need to convert many video files simultaneously for professional use, it is better to use some other video converter. VLC media player lacks the ability to convert multiple files at once (batch conversion). So, if you want to convert multiple files, you will have to find some other video converter. That's the only drawback of this tool that I noticed, if you are fine with that limitation, you can use VLC media player as your primary video converter.