VoIP providers and phone services help your firm get in touch with your clients systematically and affordably and ensure your lines of communication are always clear. Some providers focus on desktops, and some on mobile devices.
There are services excellent for small businesses, as well as large enterprises. The features they can offer you vary, but the basic ones are always there. So, let's check some of these out.
Here are the best VoIP services you can use in 2023.
1. Ooma
Ooma is an overall satisfactory service for your business voice-over-IP (VoIP) needs. It's great for both small and medium-sized businesses. The starter pack is inexpensive, so if you are running on a budget, you'll appreciate that.
You can commit, too, annually. They update their app regularly, so even if they lack some features, chances are they will implement them at one point or another. They don't have AI or some of the more valuable integrations.
You get what you pay for, though, and Ooma is one of the cheaper options. This is the right tool for you if you don't require much and are happy with the basic VoIP features.
It is simple to use, so you won't have to struggle to learn the ropes of it.
2. Nextiva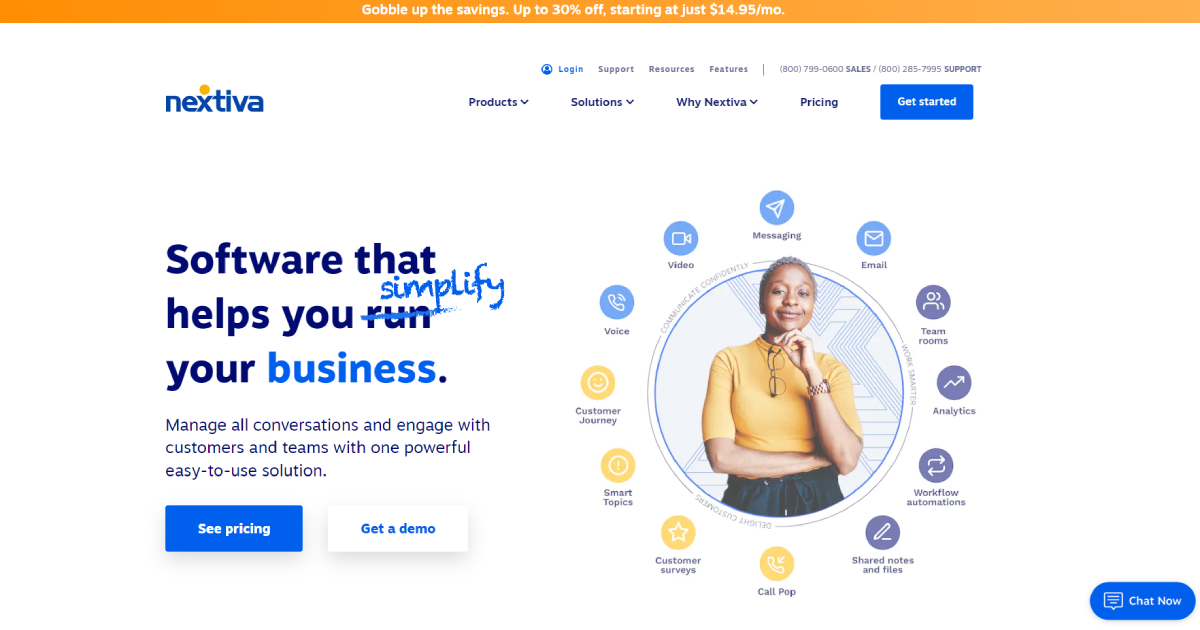 Nextiva is one of the most popular VoIP services you can use if you own a business. It's a tremendous cloud-based tool for communication. The quality of calls is high, even international ones.
Nextiva is as reliable as it gets since it's rarely down. You can save a bunch of time on tedious and mundane tasks as you can easily automate them, so you and the team members have more time to focus on your work.
Various useful integrations are available, such as Oracle, Zoho, Microsoft Dynamics, HubSpot, and many more. On top of that, you get many features, too—unlimited texting, calling, virtual voicemail, auto attendant, and so on. You can also sync your data with Microsoft Outlook and Google contacts.
3. RingCentral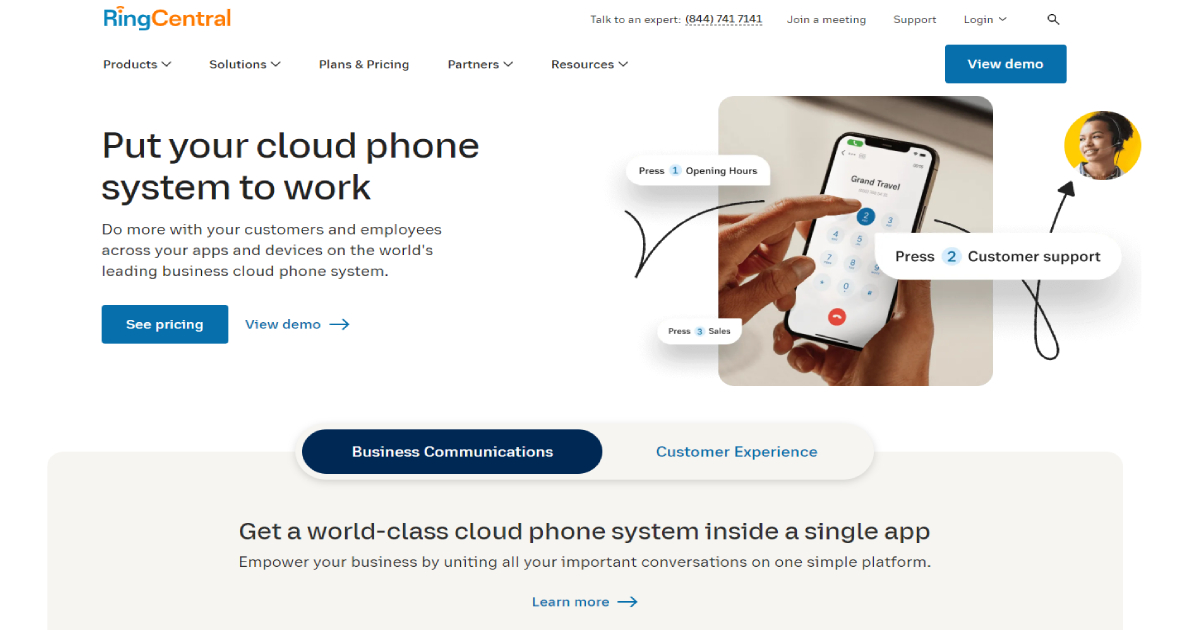 RingCentral is an excellent solution for all of your business communication needs. Each call you make in Canada or the US is completely free. Even the basic plans provide you with visual voicemail.
They have plans suitable for small and large firms, so there is something for everyone. The small plans are affordable. A nifty little feature called call flip lets you switch calls from one device to another without the person on the other side of the call realizing it.
Almost all of the features on a PC are available on iOS and Android devices, so if you tend to use your phone more, this is the provider for you. Its support team is reliable and always available, so even if you do have any problems, they will be more than happy to help.
4. Line2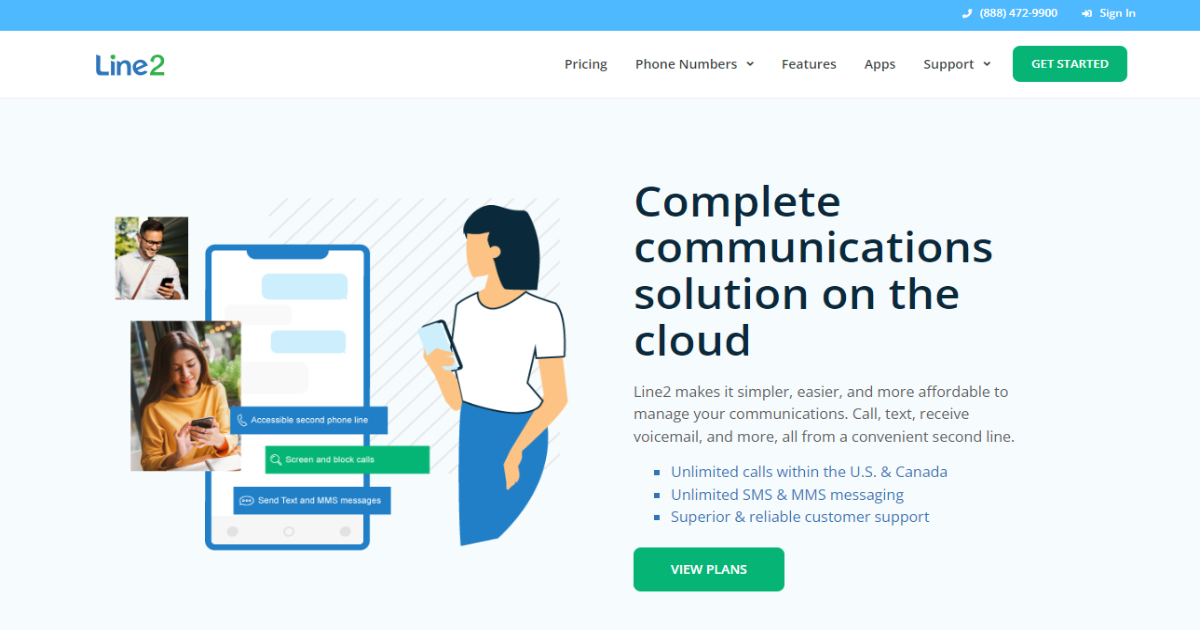 Line2 is one of the most simple VoIP services you can get. Getting it set up is as easy as it gets. However, this simplicity has a downside. It only offers a few of the features some of the other providers do.
For example, it lacks video conferencing. But if you don't require a lot of fancy features and want a simple thing that works, you should check it out. One of the cool features it has, though, is call forwarding.
You can direct incoming calls to any department you'd like. Naturally, every department has its extension. It also provides you with an analysis of your calls, meaning you can have an overview of call logs and check out tracking metrics.
5. Grasshopper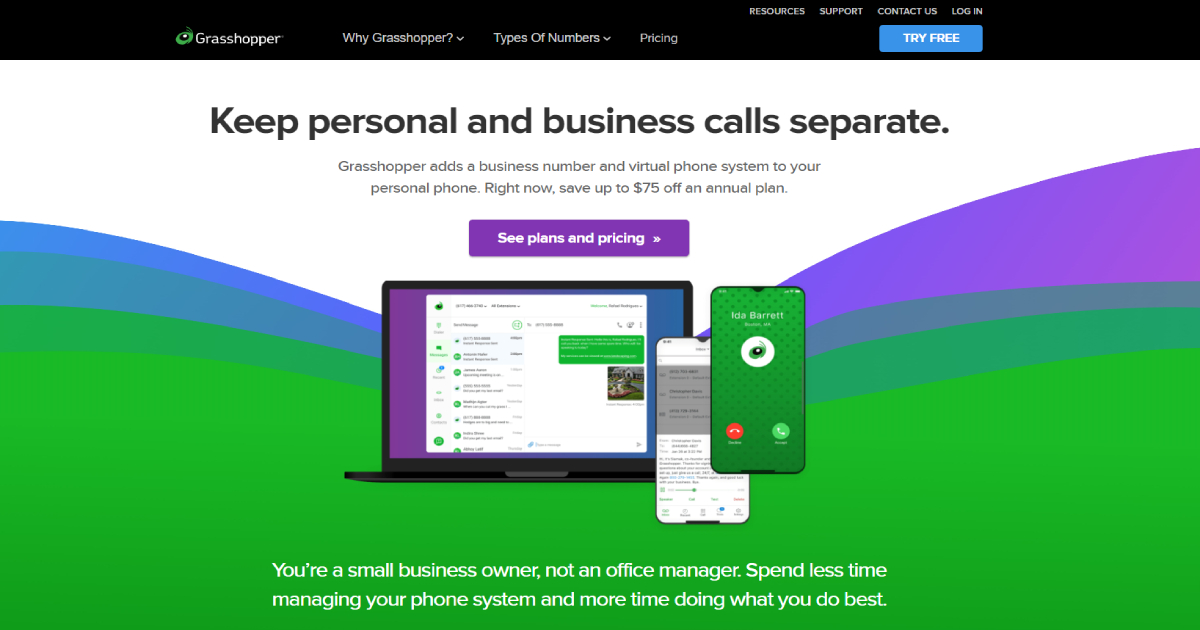 Grasshopper is another service meant for smaller firms. It does have enough features to satisfy your communication needs, though. But it's simple, clean, yet efficient. It's excellent value for money, too.
Grasshopper integrates with a variety of desktop and mobile devices. It also integrates with Skype, Google Voice, and more. With this service, you can switch between mobile data and WiFi and not break the call. Best of all, the help you get from support is as quick and reliable as the service itself.
It's as easy as that. So, if you are looking for basic features such as call forwarding, virtual fax, visual voicemail, customer greetings, and so on, Grasshopper is the right service.
Conclusion
All of the above services are reliable. Multiple plans for you to choose from a guarantee that there is something for everyone.
Keep in mind that if you are a more significant business, you have to look for providers who can offer you more features at an affordable price. If you own a small business, consider getting the simpler and cheaper ones with primarily basic features.