Looking for a way to turn on your Android phone after the power button is broken? Gadgets are prone to damages. Smartphones and mobile devices are no exception. In fact, gadgets like phones can break easily – Sometimes, a moderate drop onto a hard floor is all that is needed to get a high end smartphone bricked.
Even if you take good care of the gadget and make sure not to drop it, the moving parts like physical buttons might stop working at some point of time. The most used button on a smartphone is undoubtedly the power/wake up button. If it stops working, you won't be able to power on or wake up your phone from standby.
It's more like getting locked out of your own house. Of course, phones that use the power button for wake up are more likely to face this problem and majority of Android smartphones fall under this category.  If your phone can be turned on by double tapping on the screen, you are safe.
Those phones that have navigation keys on-screen are likely to become as good as a brick if the power button fails. If you find yourself in the situations plotted above, here are some tips to wake up your android phone from standby.
How to turn on your Android phone without the power button
There is no guarantee that the phone can be turned on without a power button, however these are the best possible options you can try.
The first thing to do is plug your phone into a charger which will obviously charge it up. This is to make sure that the phone has enough charge before trying the other options. Some phones do switch on automatically if connected to the charger, but this is a rare case. You can also try long pressing the volume keys which might take you to a boot menu, again doesn't work with most phones.
Now that your phone has some charge in it, unplug it from the charger and connect it to a PC or laptop via USB. Some phones like the Moto G does boot up when connected to a computer.
If you have enabled USB debugging on your android phone before it was shut down, you can install ADB on your PC and use a command prompt to turn on the device. To do this, install ADB on your PC and connect your android device via USB. Now open a command prompt in ADB and type 'adb reboot' and hit enter. This will turn on your device immediately.
How to wake up your Android phone without the power button
If your power button stops working, never let your phone shutdown completely since you won't be able to turn it on again in most cases. If your phone wasn't shut down or you managed to turn it on somehow, here are some ways you can unlock or wake up your phone every time.
1. Have someone call you
There are many things you can do to wake your phone up without its power key. The easiest is to ask a friend to call you – this will make the display light up and give you complete access to the phone.
2. Plug in the charger
Another way to wake up your device is to plug in the charger. It will also light up the display and you can take control of the phone from there.
3. Use the physical camera button
Well, not all phones have a physical camera button. But if you are lucky enough to have one on your phone,  just long press that camera button. This will immediately open the camera app on your phone and you can close it to use your phone like normal.
4. Use your Volume button as Power button
Power button to volume button, is an android app that does exactly what its name says. It enables you to use your volume button to wake up your android device. This app does not require root access and is compatible with almost every android phone or tablet. To start using the app, you just have to install it from the play store and enable it. When it asks for administrator privileges, grant them and that's it. Before the app can take effect, you must restart your phone. After a restart, the app will start working in a minute and you can press the volume button to light up your screen from now on.
You should also see a "Turn off screen" button in your notification panel which you can tap to put the phone to sleep again. The volume buttons will work just normally while your phone is awake, so you can still control the volume using them.
Power Button to Volume Button is a free app and it doesn't even have irritating ads on it. However, the app might drain your battery if you are running a newer version of Android. According to the developer, there is no fix for this issue as of now.
5. Use Gravity to unlock your phone
Gravity screen on/off is another app that comes handy if your phone's power button is broken. This app intelligently detects when you take out your phone from the pocket or lifts it up from a flat surface and turns the screen on. It relies on the phone's sensors to trigger the event of waking up your phone. When you put the phone back in your pocket or place it on a flat surface again, the screen is turned off. It's like magic!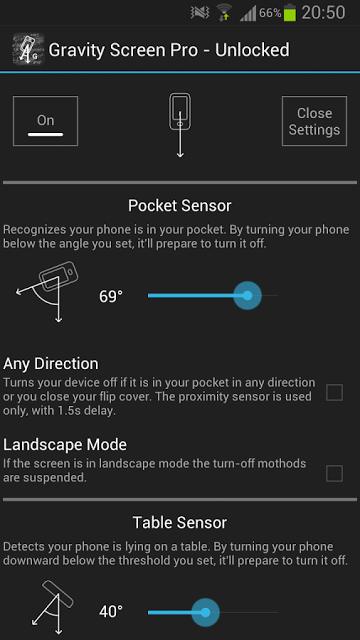 While Gravity Unlock works perfectly on most devices, the accuracy might vary depending on the phone. Some phones have fine tuned proximity and orientation sensors while some others aren't as good. You can play with the app's settings to optimize it for your convenience like adjusting the sensitivity levels and angles at which the phone is awaken.
Gravity unlock doesn't seem to have a serious impact on the battery although it keeps running in the background.
7. Make use of the proximity sensor
Proximity actions is an app that relies on the proximity sensor of your phone to perform specific tasks. If you're wondering what the proximity sensor is, it is the one that tells your phone to turn off the screen when you hold your phone close to your cheek during a call. It is usually found near the front facing camera of your phone.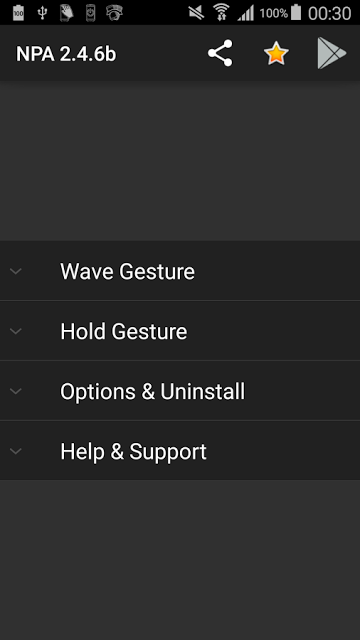 Using proximity actions is easy, just open the app and tap on 'hold gesture'. It will show you all the actions that can be performed which includes waking up your phone. Choose this in the hold 1 slot. That's it, from now on, you can wake up your phone by holding a finger over the proximity sensor until the phone vibrates. You have to remove your finger when the phone vibrates and the phone will wake up. You can also set the app to turn off the screen in the same way.
Some low-end phones don't come with a proximity sensor and the app can't work on those devices, so make sure before downloading the app.
8. Shake your phone to wake it up
Shake screen on off  is the last app on this list. You have probably figured out what this app does, it simply lets you wake up your android phone by shaking it. The app functions by reading the data from the orientation sensor to detect shake action. It also relies on the proximity sensor to make sure that the phone doesn't get accidentally unlocked while it's inside your pocket.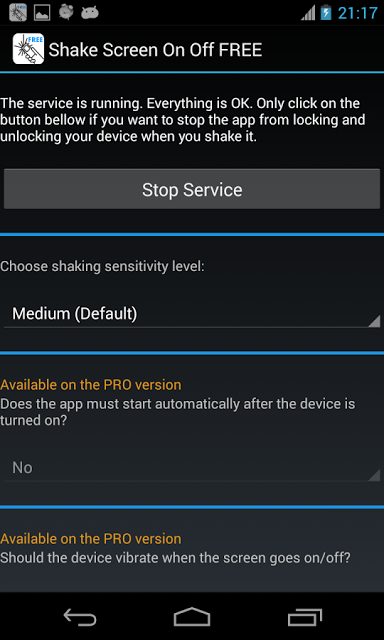 Shake screen On Off doesn't affect your phone's battery life so much and the app is free to use.
Get a permanent fix to turn on the phone
The fixes using these apps should be used as temporary solutions. It is always better to use the power button to unlock your phone since the apps will definitely need their share of your phone's battery. So, try to get your phone replaced or have it serviced by the manufacturer.
If you are a DIY person, you can find tutorials on fixing the broken power button. Spare power buttons can be purchased from ebay for a few bucks. So go for it if you are good at fixing things and your phone is out of warranty. Other these apps that will wake up your phone, you can also use an adb command to wake up the screen if your android is not waking. The above mentioned methods will work perfectly well on all major android device brands like HTC, Motorola, Samsung, Huawei, One Plus, Nokia and Sony.

Check out: 10 DIY projects you can do with an Old Android Phone.