Here are some of the best gaming laptops in 2020 to buy with your eyes closed (but open enough to read our reviews for why). Gaming laptops are swiftly getting more powerful and modern. Once you definitely know what the latest gaming laptops are, you will know which among these will play all your preferred games without compromising the performance.
Like the best gaming laptops, the best laptops in 2020 should cope up with the performance of a desktop PC as are preferred and are evolving rapidly. You can get an RTX gaming laptop these days, and this is what gamers all over the world love the most.
The list below is updated to consist of the best laptops of 2020 so that the most powerful gaming laptop in 2020 will take your gaming experience to a whole new level.
Common Gaming Laptop FAQs
Buying a normal laptop for work or college isn't daunting, anyone can recommend a laptop based on your personal preference. But when you ask yourself what is the best gaming laptop for 2020, you may not hear a lot from everyone. We'll be getting into the details and buying guide towards the top gaming laptop in 2020 at the end. For now, let's get to the answers for some commonly asked questions for gaming laptops.
1. Are Gaming Laptops worth the cost?
A laptop made for the sole purpose of gaming, is always expensive. Nowadays, a laptop which can be worth considering good for gaming would be anywhere above $1500. This raises the question whether they really are worth the money. Well, they excel over gaming PCs in many ways. You get them in one unit, everything is inside it, you do not have to worry about the portability and you can even use some of them as your daily routine laptops if you put in a good amount. Additionally, there are very few chances that you will need to repair certain components inside a laptop. Whereas in gaming PCs, you will be doing one thing or another every month. So, in short, gaming laptops are worth the money you invest.

2. Are Gaming Laptops suitable for other purposes?
Another question that most people ask is, " will my gaming laptop in 2020 also be used as a daily use laptop?"  Well, this depends on the size and form factor of the laptop. You could either go for a sleek and stylish gaming laptop or a bulky one. Some of the best new gaming laptops these days are sleek and portable, but they are expensive compared to those that are bulky in nature. In terms of performance and technicalities, a gaming laptop can be used for anything but the only thing which may constraint it is the size and design of it. In addition to that, people argue about the battery timing. No doubt gaming laptops have a short battery life, but for normal routine tasks they can certainly give you a good battery time.

3. As a beginner, where do I start?
Experts know when, where and what the best laptops of 2020 are as they only want to explore more options and go for the ultimate best in the industry. But for beginners, or let's say first time buyers, this may get a bit daunting. Many experts argue over this, as some say that your first best laptop for gaming should be an ultimate heavyweight in the sense that you should only use it with care and then stick to it for years to come. This way you are future-proof and won't have to buy another one soon. On the other hand, some recommend to go for an average level gaming laptop for now and once you are good to go, you should invest a real good amount for buying high-end gaming laptops. Personally, I think the second option is better because you can always change your mind and have a second chance to go for another brand or some other form factor.
Gaming Laptop Quick Tips
Here are a few quick tips for buying the best laptop in 2020 for gaming, you can always take the time to read the detailed buyer's guide at the end of the page.
Display Size: A gaming laptop having a display size of 15 inches or above is recommended. Anything below this won't be fun as it won't fulfil the purpose of gaming.
Battery Life: Gaming laptops come with short battery life, this is because of the ultimate power they provide. Do not worry about it and simply don't waste your time looking for longer battery life.
Keyboard: Specs of gaming laptops are important, but so is the keyboard. You should really dig deep into it and get to know what features it has and whether or not it has RGB backlighting.
Resolution: Many manufacturers and users brag about ultimate high resolutions like 4 k or 2 k. But the truth is that 1080 p is so far the best resolution, anything above is useless for gaming laptops, it simply can not reach its peak because of the limited power.
CPU: The CPU is the brain inside a PC or laptop and therefore it needs to be fast. Make sure you stick with latest Gen processors and an i7 or above is most recommended.
GPU: The graphics card is an important component when it comes to best gaming notebook, it definitely needs to be a powerful one. You should stick to an RTX series GPU, they are the latest and powerful. However, you can jump a bit back into GTX 1080 or 1070, they too are powerful for most games as of now. But if you are constrained on budget then a GTX 1050 can be a good option, definitely not the best.
Upgrade Later: Things like RAM and storage can always be upgraded later. In the case that you want to compromise on something because of budget, it should be RAM and Storage. Go for 16 GB/256 GB, but do not compromise on GPU or CPU. You can always increase these specs later on, when you have cash in your pocket.
Best Gaming Laptop of 2020 – Reviews
Number 1:  ASUS ROG Zephyrus S GX701 – (Best RTX)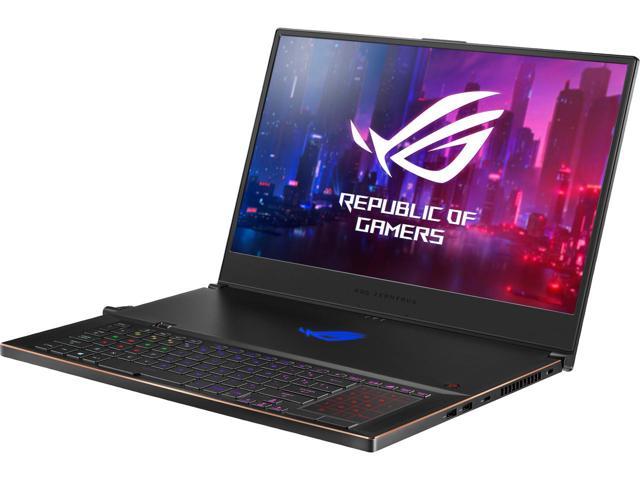 ASUS, once again has topped the list of best laptops in 2020 for gaming and is one of the most praised among gaming beasts. The legendary Zephyrus line-up is famous for its unconventional inner design, where the keyboard comes lower to the palm rest area and touch pad lies on the right of it. A touch sensitive numpad is incorporated into the touch pad which lights up in red. The overall design of the chassis is superb as it is slim and lightweight. You can even use it as your daily use laptop in addition to gaming.
Its Core i7-9750h Hexa-Core processor and RTX 2080 Max-Q GPU, throw in enough power to let you play any AAA title smoothly. RTX GPUs have recently made it to laptops and their performance is exceptional. For storage you get 1 TB PCIe SSD which is the ultimate end and its RAM under the hood is 32 GB DDR 4. What's even better is the display of it, you get a massive 17 inches FHD screen with a refresh rate of 144 Hz. The refresh rate alone is enough to make it a best performing gaming laptop in 2020.
For outstanding comfort, the keyboard on GX701 is what people adore. It offers per-key RGB lightning and the keys are well-placed for gaming sessions. Apart from the good things it offers, the battery of it stays low. It offers 2 hours of battery backup which should have been 3 to  4 hours at least. More, you get a decent set of ports which allow you to almost any sort of outer connectivity.
Number 2: MSI GS75 Stealth – (Best Max-Q)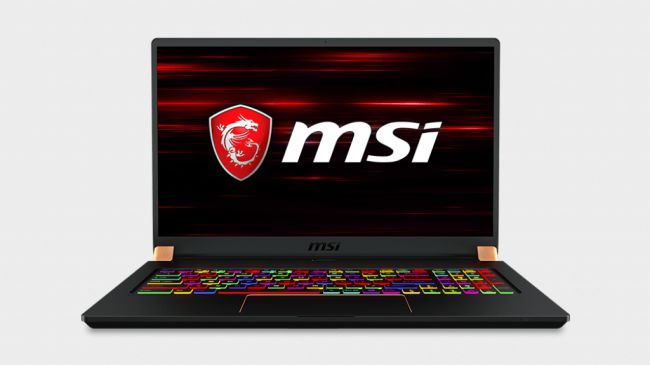 Second on our list of the best laptop in 2020 for gaming is the MSI GS75 Stealth. This is one stunning, sexy looking machine which is sleek, lightweight and clean. Compare it to a clean cut Armani suit, and you're there. There are no unnecessary cuts on the chassis and offers one hell of a performance. Comparing the power performance of this laptop with the Asus GX701 mentioned above, both of them are almost the same. But this one comes with a lower storage and is slightly behind in performance. But with a 17 inches screen, backed by RTX 2080 Max-Q GPU, it can be used for anything you want.
From beneath, it is power by Core i7-8750H processor with 32 GB RAM which makes it good enough to run over 40 Google Chrome tabs without a slight problem. More to it is RTX 2080 GPU which makes it an amazing gaming performer and as a matter of fact also gets it ready for VR use. After all this power from the inside, the battery of it obviously goes down, it gives you a backup of 2 hours and 30 minutes on normal use. And one thing which is a little to worry about is that it runs hot a bit, which should not be the case with such an expensive machine.
Within the optimal range for key-travel at 1.5 mm and actuation at 71 grams, the keyboard for this laptop tells a lot about the ease while using it. Also, each key is individually RGB back-lit which makes it more fun. The touchpad, however, is slightly misplaced than normal and is an elongated one, this will take getting used to. It's 17.3 inches display with a resolution of 1080 p and a 144 Hz refresh rate is something to watch. It is bright and vivid. And the ports, you get almost all the ports needed including an RJ45 and a Thunderbolt 3.
Number 3: Razer Blade Pro 17 2019 – (Best 4k)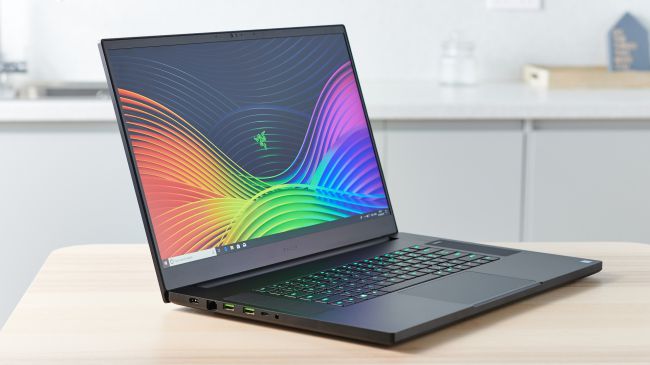 Following its predecessors, Razer Blade Pro 17 2019 still comes with a CNC aluminium chassis, per-key backlighting of over 16.8 millions colors and sleek design as always. Although this is one of the best laptops for 2020, only one reason that prevents it from being ideal is its expensive nature. It costs above $3000 which is a high price for many, but there are no doubts about its fantastic performance, making it one of the best gaming laptops for 2020. The overall design of the laptop is pretty clean, bearing just a logo on the back, which as always is the three-headed snake.
Performance wise, the Razer Blade Pro is a power house, embodying the 9th Gen Intel Core i7 9750H 6 core processor alongside 16 GB RAM and a 512 GB SSD. It also bags the latest RTX 2080 Max-Q GPU which is the most powerful one so far in gaming laptops. The display on this laptop is 17.3 inches with a refresh rate of 144 Hz and 4 k resolution. This configuration makes it hit 80 or even 90 fps in many games. This definitely is going to be one sweet game-play.
Either sides come equipped with plenty of ports to do a lot, including USB 3.2 Gen 2 Type-A and Type-C ports. Usually, a 17 inches laptop will have a full size keyboard with a numpad included in it, but here it's a bit different. You do not get a numpad in it because of speakers on either side of the keyboard. These top mounted speakers are loud and honestly, you won't be needing an external pair. The keyboard of the Razer Blade Pro has a decent space between the keys, with a key-travel of 1.1 mm and actuation of 79 grams, both of these metrics are a bit out of optimal range but they work fine. The battery stays alive for over 3 hours which is good for a gaming laptop of this calibre.
Number 4: Acer Predator Triton 900 – (Best Powerful)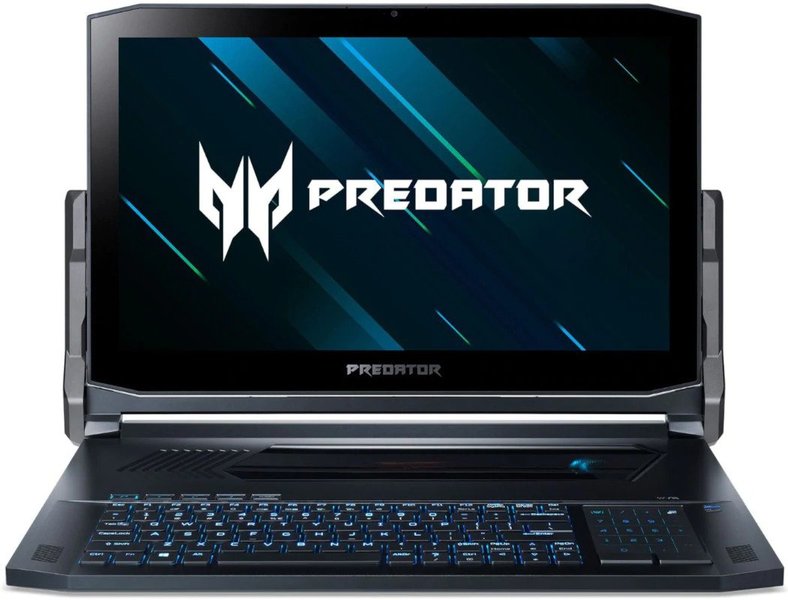 Triton 900 by Acer is one of the best laptops for 2020 to get as its something totally out of the box! The odd flex it has for its screen becomes a positive and a negative at the same time. While people view it as a next gen technological gadget and they buy it straight away, others find it  odd and skip it because it is not a normal laptop. So why it number 4 on our list of best laptops of 2020? The answer to this is the power inside it.
This best gaming laptop rocks an RTX 2080 GPU with full power and a 4 K display which is touch enabled. Not just gamers, it is one hell of a laptop for designing and animation as well. For processing you get Intel Core i7-9750H and 32 GB DDR 4 RAM. And similar to all other massive things, you get 1 TB SSD as well. Its 17.3 inches screen is backed by G-Sync which obviously enhances the quality and decreases tearing.
Despite being a  big sized laptop, Acer has played a visual trick to put in a bigger battery. It only lasts just an hour for video playback.
The good news, however, is that when it comes to the keyboard, this gaming laptop has got some nice keys that feel as if they are from a proper keyboard. You also get other features like per-key RGB backlighting and the touchpad of it lies on the right of the keyboard. But, it's not just a touchpad, it comes with an embedded numpad which you can use whenever needed. The audio performance of it is a bit off putting as the speakers are loud no doubt, but the sound isn't that sweet.
Number 5. Lenovo Legion Y740 – (Best Keyboard)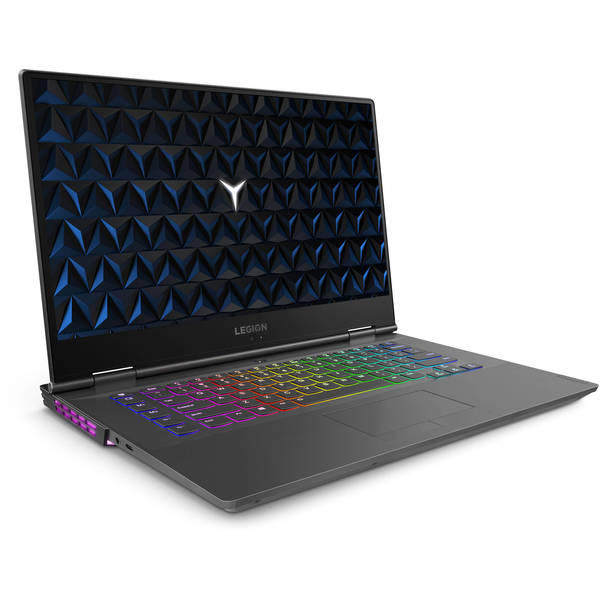 Legion Y740 is an amazing performer and has a relevantly sleek design. But the hardware is not the best and same is the case with its display. It will get you some pretty amazing FPS (frame per second) and ultimate gaming power, but the display of it is not what you are going to like. There is no issue with resolution of the display, rather the lack of brightness, it is dim and is something which many people do not prefer. Apart from this, for gaming, it is an unbeatable gaming notebook.
The keys on the keyboard have 1.2 mm travel and require 69 grams actuation force, this makes it an optimal gaming keyboard. In addition, it has per-key backlighting feature that you can select among many themes which are awesome. Similarly, the touchpad on it is quite good for all gestures. For ports, you get pretty much everything and some of them lie on the backside of the laptop. The battery of Legion Y740 lasts around 2 hours and 30 minutes when used for normal work like browsing, it should have been better.
With an Intel Core i7-8750H Processor, 16 GB RAM, 512 GB SSD, and RTX 2080 GPU on the inside, this definitely means more gaming power flowing down the line. Display of it is backed by Nvidia G-Sync, it is 17.3 inches in size and has FHD resolution. But at the same time, it is a bit dim and the colors are not very accurate. Had it been a better display, this would have been among the top 3 of best laptops in 2020 for gaming.
Number 6. ASUS ROG Zephyrus S GX531GW – (Best Lightweight and Budget Friendly)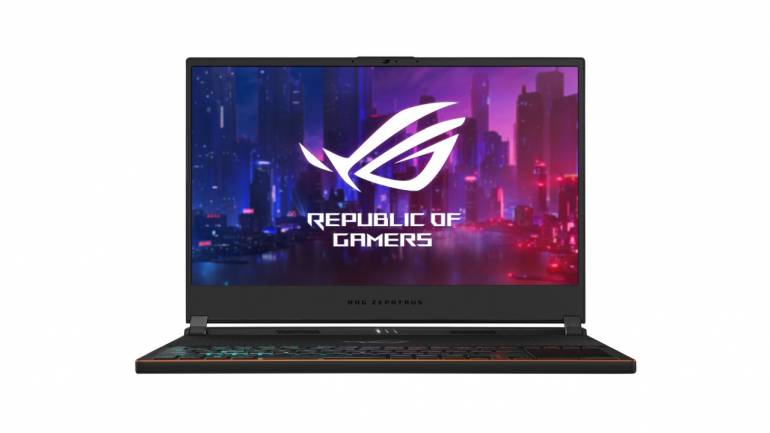 The GX531 has multiple variants, but the GW variant comes up as a powerful yet budget option. Its price remains below $2000 and still has an RTX series GPU alongside a good display and audio performance. Design wise, it can become your daily pal because of its portable nature. It is sleek and is not too heavy either. Also, typical of the ROG Zephyrus, the keyboard has been pushed down towards the palm rest area and the touchpad lies on the right of it.
An RTX 2070 is responsible for graphical power from within, it is second to RTX 2080 in performance and therefore the price of laptop also comes down a tad. This GPU is pretty capable of playing all AAA titles and will give above average performance for normal usage as well. About the specs, you get an Intel Core i7-8750H with 16 GB RAM and a 512 GB SSD. This is same for all good gaming laptop these days. The display you get is 15.6 inches FHD and mind it, it's own nice display with precise colors and brightness.
Keyboard is not the best, as way keys are pressed. But the RGB backlighting on it is simply amazing. Although oddly placed, once you get used to it, this won't be an issue at all. Under normal use, the battery goes 2 hours but not beyond that, this is a bad but because it's a gaming laptop, many won't worry about this. Finally, for connectivity, it has almost everything on it, including USB-C.
Number 7. MSI GV63 8SE-014 – (Best Battery Life)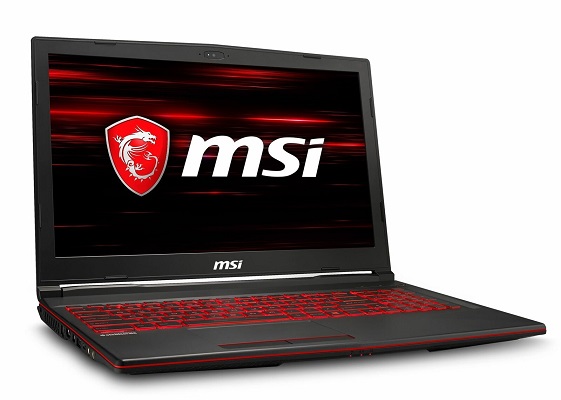 The GV63 lies a bit on the bulky side, it is heavy, not very sleek and so the portability dies there. Well, you can take it around for gaming tournaments or from home to college, but in terms of using it as your daily work laptop, it won't happen. And for this reason it comes at a lower price, also the specs of it are not ultimate. What it hides under the hood makes it an above average gaming laptop but not an ultimate gaming heavy weight, you may face some issues for VR use. Also, it has too much cuts and accents all over the chassis, some may like this and some not.
Speaking of the performance, it heats a bit when under load but there is no drop in the gaming performance at all. Because of the cooling issue, it is better to use it on a table or other surface, not your lap. On the inside you get an RTX 2060 which means you get ray tracing but the graphical performance is not ultimate, although good for many games out there. The specs, you get an Intel Core i7-8750H processor with 16 GB of RAM. 256 GB SSD and a secondary 1 TB Hard Drive.
The screen of it is a good one, it simply can't be ignored. It's a 15.6 inches FHD display with a refresh rate of 120 Hz which is a bonus for such a price. Also, there is no issue at all with the brightness and colors of it. Now comes the best part, the keyboard you get is by SteelSeries which means you really are going to love the way you press them and play your games. Finally, unlike many other gaming laptops this one has a nice battery backup. You can easily hit 4 hours mark by normal use like browsing. An of course for gaming, it needs to be plugged-in so you get max and ultimate performance.
8. HP Omen X 2S 2019 – (Best Dual Screen)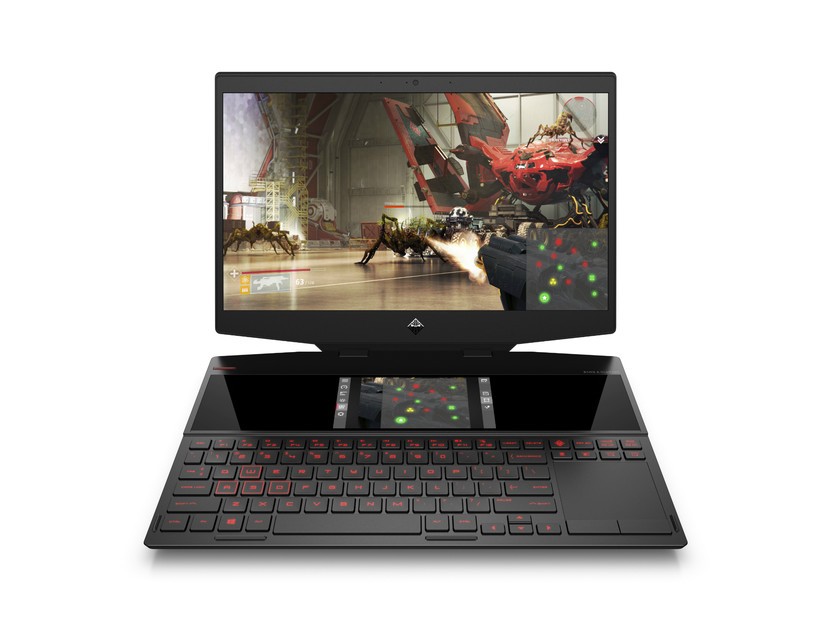 We call Omen X 2S 2019 the best laptop for 2020 as its unconventional. Firstly, because of the design, when you lift the lid, it leaves narrow spaces from the lower body. Secondly, the dual display. Its keyboard has been pushed down and an additional small display has been embedded in there. This display allows you to do a lot without interrupting your primary gaming. Despite all this, gamers aren't yet partial towards but it sure is a fancy new thing in the gaming world, because the secondary display might become a proper standard for gaming laptops in the future.
Talking about the specs, you get an Intel i7-9750H Processor with 16 GB RAM, 512 GB SSD and a new RTX 2070 GPU inside. There also is an RTX 2080 Variant available but the price for that is above $3000. On the contrary, the RTX 2070 variant is around $1900. The display is 15 inches with 1080 p resolution at 144 Hz refresh rate, this is something exceptional. Also, it is bright and colorful. Then comes the secondary display, it basically acts like a dual monitor setup. So play music on one and it won't affect what you are doing on the other main screen.
The best thing about the keys on the keyboard is the nice key-travel, great for gaming. Now, there is always an issue about forward-facing keyboards and it is lack of palm-rest area, but that has been covered as well, HP puts in a rubber palm-rest in the package. About the battery, it can give you a backup of over 2 hours and 30 minutes on normal use, it's not good but isn't bad either for a gaming laptop of this calibre. Although the laptop gets a bit heated, the performance is never compromised at any time.
9. Asus ROG Strix Hero III – (Best Value)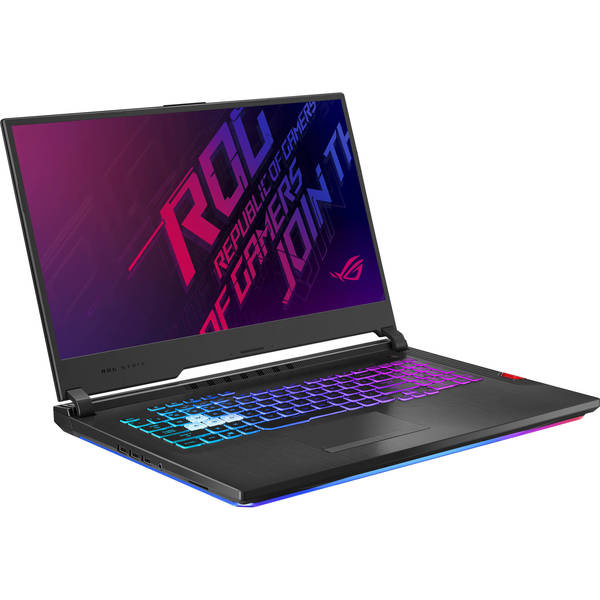 Rounding up the race of best laptops of 2020 for gaming is the Asus ROG Strix Hero III. It provides the best valued and a budget friendly addition while being a heavy weight for almost all games.  Design wise, it is one sexy looking laptop and can be easily used for other purposes as well. It is pretty clean from the outside, which really gives it awesome looks. And even with power hungry components, it manages to give you a good battery time.
Speaking of performance, you get an Intel Core i7-9750H CPU, 16 GB RAM and a 512 GB SSD. This is what you get in other expensive gaming laptops as well, the only thing it lacks is an ultimate gaming graphics card, but it has an RTX 2060 in it which is pretty much capable of giving you good gaming power, it won't be good with VR, but for playing AAA titles it is very much ready. The display you get is 17.3 inches IPS with a resolution of 1920 x 1080, and not to forget, it has a refresh rate of 144Hz.
The keyboard on it is average for gaming purposes, but it comes with per-key RGB backlighting which is an interesting addition in a budget gaming laptop. For connectivity, you get everything that you will be needing these days, even a USB-C. Battery backup on this laptop as mentioned earlier is good, it gives you battery juice for over 3 hours which is impressive for a best value gaming laptop with such power. Keep in mind that iit gets heated a bit and is good to use it on a hard surface like your table when playing games.
Choosing the Best Gaming Laptop
Let's delve deeper  into how to choose the best laptop in 2020 for gaming. A good gaming laptop is only achieved when several important factors are kept tightly in consideration. Compromising on any of these important things can spill water on your efforts towards a good gameplay. So, pay attention to these.
GPU
Graphics card or Graphics Processing Unit is one of the most important components on the inside of a gaming laptop. A good performing GPU will keep up the overall performance of your laptop. But if your graphics card is not up to the mark, you will face difficulties in achieving a smooth gaming experience. So far, the RTX 20-series with Also Read: Turing architecture have made it to gaming laptops, even latest AMD GPUs can be found on many laptops. But when it comes to ultimate gaming laptops 2020, then AMD is left behind and they all pack graphics cards from Nvidia which are mostly RTX or GTX series. For a better understanding, let's break it down based on the usage of laptop.
Entry-level Gaming: If you are a beginner and new to all this, do not compete with high-profile opponents Instead, you need to go with a GPU which is suitable for beginner level. Graphics cards like GTX 1050 or GTX 1060 are most recommended. They are powerful enough to play most games at average or above settings and they won't cost you a big sum either. Gaming Laptops with GTX 1050 or 1060 should cost you anywhere near $1300 or somewhat above this.
Proper Gaming: This refers to mainstream gaming where you can play most games at good settings and have nice gameplay experience. Laptops with GTX 1070, RTX 2060 or above are most recommended here. They allow you to play almost all AAA titles at good FPS and you won't have to put in a very big amount into them either. Such gaming laptops should cost anywhere below $2000.
Ultimate Gaming: If you want a powerful gaming laptop 2020 and your gaming involves the use of VR, then you should go for laptops having RTX 2070 or RTX 2080. This is the highest you can go so far, for now these are the most powerful graphics cards inside a laptop. But mind the price, these laptops will probably cost over $2500.
Display
The display of gaming laptops is an important factor, after choosing GPU. A gaming laptop would not be worth the money or enhance your gaming life, if its display is not up to standards. Aside from the many things mentioned below, it should be colorful, bright and definitely must have an ideal viewing angle.
Size: It has been mentioned before and it is worth mentioning again, 15 inches or above is the recommended size for gaming laptop displays. Anything below this and you won't get the kick out of it. For sure, you can go for a lower size screen if you want your laptop to be portable but 15 inches and above will actually give you a nice gaming experience.
Resolution: Guess what? Resolutions higher than 1080 p makes the cost go up and they really aren't worth it. But Why? Actually, a 1080 p screen maxed out at its best is one hell of a view, everyone loves it. Going beyond this can become a disaster because there simply isn't enough power provided to take them at a better FPS and refresh rate. 2 k or 4 k screens at 60 Hz are simply a waste of money. Definitely, in the future, this is going to become better and high resolution screens will be preferred, but for now you should stick to 1920×1080. And most importantly, do not go below 1080 p either. You will come across some 4 k gaming laptops, but only go for them if you really want to have a UHD screen no matter what.
Touch Screen: Nope, touch screen takes the price higher and are useless if you use your laptop for gaming only. It's not a bad thing to have on your laptop, it might come in handy someday but the only reason you should skip a touch screen because the overall cost goes up with it. You can use those bucks to get a nice pair of headphones.
Specs
To buy the best laptops of 2020, they should have evolved into to have good specs. The three main things to keep in mind  are the CPU, RAM and Storage. The last two can always be upgraded afterwards, in case you are tight on budget at the time of purchase. But the best laptop for gaming should not compromise on CPU at all. You should know the importance of a CPU in the system and this is why you should stick to processors from latest Gen. Also, core i7 and above processors are recommended for best gaming performance, but a core i5 will work good too in case of a low budget. When it comes to buying the RAM and Storage, you should not go below 16 GB of RAM and a minimum of 512 GB SSD is recommended. Just remember an SSD, HDD is good but keep it as a secondary storage option.
Keyboard
Just specs and performance wont do.The gaming laptop you buy only provides value if it is good with a keyboard and audio performance as well. For keyboards, besides these two important things mentioned below, a key-travel of 1.5 mm to 2 mm and an actuation of 65 to 70 grams is recommended. Also, anti-ghosting is an important thing to have on your keyboard, it ensures that if multiple keys are pressed simultaneously, all of them will be registered and the expected action will be performed.
Macro Keys: These are the keys which you program yourself and use them for anything you want. There's usually a built-in software from the manufacturer where you can do the customization. However, this feature is only present in ultimate high-end gaming laptops, not all. So if you are spending a big sum, make sure you get these keys.
Backlighting: It is not an essential thing for gaming. But without it, no gamer would prefer to buy a gaming laptop. This is why you need to keep an eye out for it. Some keyboards will simply glow red, green or blue while others provide multiple colors at once. The latter type can offer multiple colors for specific keyboard zones or even an individual color for each key out there. But truth behold, the better this feature gets, higher goes the price.
Battery Life
There is no second opinion about the battery life of gaming laptops, it is not anywhere near to conventional daily use laptops, the maximum a gaming laptop could go, would be 5 or hardly 6 hours. Most gaming laptops will give you a battery backup of 2 – 3 hours and this is pretty understandable because of the power hungry components they have inside. So, just don't be worried about lower battery life and don't waste any time looking for an 8 or 10 hours battery backup, those gaming laptops simply don't exist. And it's unrealistic when it comes to gaming.
Audio Performance
The cliche while gaming is the preference towards using headphones during gaming sessions but you simply can't ignore the audio performance of the laptop's built-in speakers. Go for those which are loud and top mounted. Sometimes you may need these speakers and therefore they should be top of the line.
Portability
In 1980 to late 1990's laptops used to be bulky and heavy but not anymore. Now, they are thin and lightweight, this is why you can consider your gaming laptop to become your daily use buddy as well. For this reason you need to understand what size would be good to carry around.
17 inches & above: Those with a 17 inches or larger display are not good to be carried around. Their dimensions are not suitable for many laptop bags and they are heavy too. But they provide ultimate gaming performance. So if you want such a big screen, you might as well forget about portability.
14 – 15 inches: This size is most recommended for portability purposes, you can carry them along very easily and at the same time they provide good gaming performance. There are many gaming notebooks with a 15 or 15.6 inches screen which are considered to be good laptops for games and at the same time are very easy to carry around.
13 inches & below: These sizes tend to be most portable, but at the same time the gaming performance goes down. This is obvious, you simply can't place big and high-performing components in this size.
Connectivity
Among many other important things, the ports you get on your laptop are crucial to know beforehand. These days, USB-C and Thunderbolt 3 are most important ports to have on your laptop. Some also use these for charging purposes – in case you are travelling and use a portable charger, besides, they are becoming the future of ports. Some normal laptops even these days come with USB-C and Thunderbolt 3 only, because they do everything for you. But besides these, make sure you have multiple USB-A 3.1, mini DisplayPort or HDMI etc. Also, an SD Card Reader is important for many people.
Brand
Manufactures compete all over the world for the best gaming laptops. But does it even matter? Well, one can not talk about the quality (RTX, Max-Q, 4 k, Powerful, Keyboard, Lightweight, Battery Life, Dual Screen, Connectivity or Portability) straight forward. Each best gaming laptop brand is known for a unique quality. For example, the ASUS gaming laptops have become one of the best as they are sleek and at the same time powerful. MSI gaming laptops on the other hand are powerful gaming conglomerates, but most of the models are big and bulky with huge accents and cuts all over. With aesthetics and backlighting, Razer has got it covered for you, there simply isn't any better backlighting technology than what Razer gaming laptops have. We our review of an Acer gaming laptop you'll see that they are known for affordable prices and good performance, but for most of them the design still is bulky.
Or some of the best laptops for 2020 are from Lenovo and HP, though not very popular, they have a few number of models which really hit the top notch performance. Lenovo has got some serious minimal designs, but HP on the other side still come in large chassis. With this read, hopefully you find yourself the best laptop in 2020 for gaming.