The Marshall Kilburn Bluetooth speaker is a wonderful amalgamation of fantastic vintage looks, mind-bogglingly wonderful sound and modern technology's convenience. This near-flawless speaker is something which every audiophile can fall in love with. Its dreamy, retro styling and spectacular sound makes it a wonderful conversation piece as well. You would love to show this off to your friends and they will definitely thank you for it.
The Bluetooth speaker market is highly competitive and fierce. Making your product stand out among the rest is not easy. However, Marshall has done just that with its superb range of Bluetooth speakers. Speakers such as the Kilburn are perfect for those who want something that sounds great and looks great.
Design
Even before you hear a single note of music from the Marshall Kilburn, you will notice its  striking looks the moment you unbox it. Once you do that, you'll either immediately fall in love with its retro design or dismiss it as nostalgic nonsense. If you happen to fall into the latter category, we'd strongly urge you to touch and turn the brass knobs and stroke the lovely brushed metal finish. Then, look at that lovely speaker grille with the iconic Marshall logo and grab a hold of the velvety leather strap. That is bound to melt even the 'stoniest' of hearts. 
While buying a Marshall Kilburn, you can choose between a black or cream finish (we've featured the black one here). If the standard black finish isn't 'black enough' for you, Marshall has the Kilburn Steel option for you. That version is purely black, has a more metallic finish and has a silver hued Marshall logo instead of the usual golden one. 
The Marshall Kilburn Bluetooth speaker is styled to evoke the looks of Marshall's iconic guitar amplifiers which have been an indelible part of the history of rock n' roll. Seriously, it's very hard to find any concert picture without a stack of Marshall amplifiers in the background. The Marshall Kilburn Bluetooth speaker has two tweeters and a single woofer crammed its rather large 242 x 140 x 140mm chassis. It tips the scales at a not-very-portable 3 kg (6.6 lbs). So it isn't really ideal to pack along with your sandwiches for a park picnic. If easy portability is all that matters to you, then you might want to give the Marshall Kilburn a miss. However, the Marshall Kilburn more than makes up for its heavy weight by dishing out a heavyweight performance on all other fronts.  
The front of the Kilburn features the iconic Marshall logo and the classic woven grille found on all of the company's guitar amps. 
The top section features all of the controls and inputs which are finished in brushed metal. The controls look gorgeous and have a very tactile feel, with just the right amount of resistance that evokes the sensations of vintage audio equipment. The retro stuff encases a modern heart beating with Bluetooth connectivity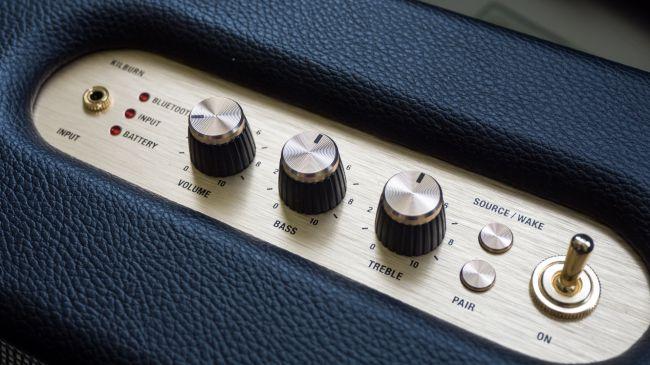 Flip the fantastic retro switch on and choose from Bluetooth or aux input. While using Bluetooth, press the pair button to make Kilburn appear in your device's Bluetooth menu for selection. 
The Kilburn can be recharged using the IEC C7 power cable that comes with the product. There is no USB connectivity (input or output) so the Kilburn loses a few points on that front as well. So it can't work as a power bank.
Performance
As the Marshall Kilburn Bluetooth speaker features independent bass and treble controls, it is completely customisable as per the user's preferences. For our tests, we set the bass and treble at 50% and the Kilburn staggered us with powerful bass, shimmering highs and crystal clear mid sections. No matter the type of music you listen to, the Marshall Kilburn can deliver the goods. From Mozart to Metallica, the Marshall Kilburn has got you covered.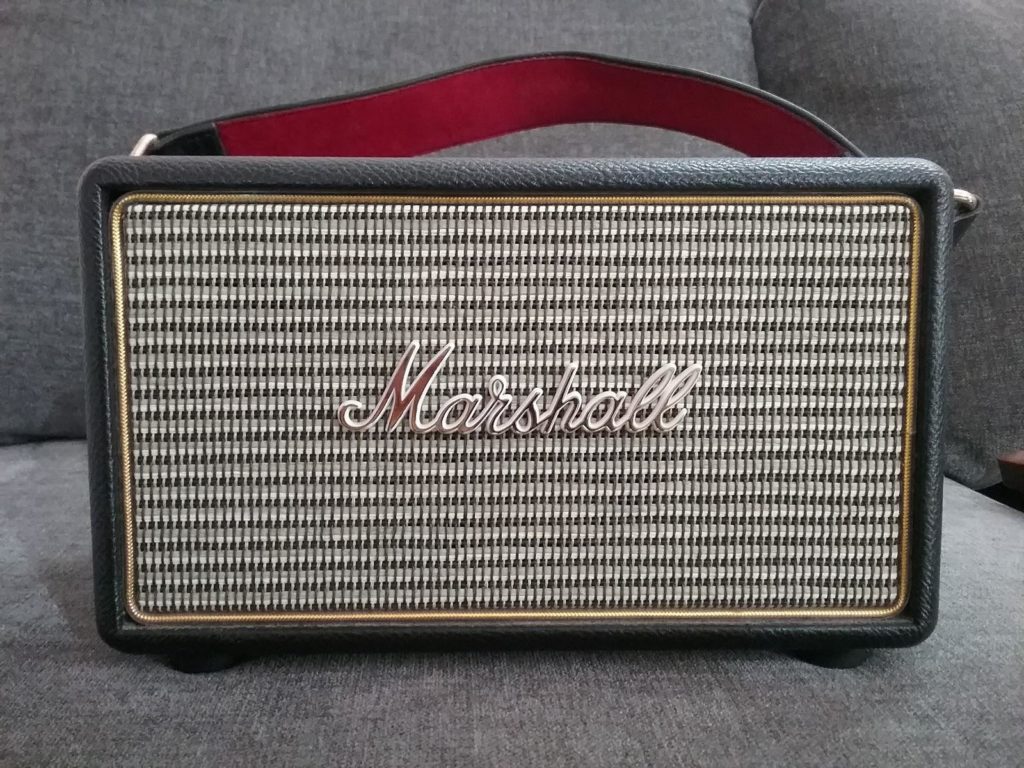 If you're weary of portable Bluetooth speakers with anaemic bass response, the Kilburn is just for you. Its frequency response range is 62-20,000Hz. By way of comparison, the UE Boom 2's frequency response range is 90-20,000Hz and the JBL Charge 3's frequency response range is 63-20,000Hz. 
That extra low end extension lets bass heavy songs shine with earth shattering power. To get a taste of that, place your hand in front of the rear bass port and feel how much air the Kilburn moves as it thumps out your favourite track.
Our tests verified the claimed battery life of 20 hours on a single charge. After prolonged use, that duration is bound to reduce. Once the back up becomes too low, the Marshall Kilburn's battery can be replaced, unlike most other Bluetooth speakers.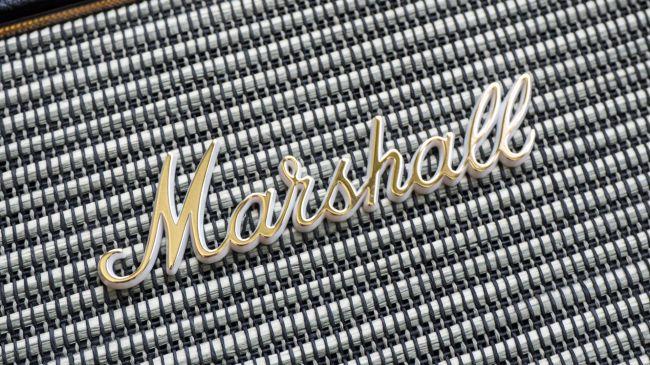 Final verdict
When it comes to sheer portability and weather proofing, the Marshall Kilburn is definitely not the best option among Bluetooth speakers. It's heavy, doesn't have USB charging and isn't waterproof. 
If you are looking for a waterproof speaker that's super portable and withstands knocks and water splashes as it pumps out the bass around a pool, Marshall Kilburn isn't the one for you. 
The Marshall Kilburn isn't what we would exactly call cheap either. However, the great aspects of this speaker far outweigh the not-so-great ones. 
During our week-long test period, we fell in love with the Kilburn's design, luxurious feel and spectacular sound quality. Even though the Marshall Kilburn is a few years old now, there aren't many speakers that can compete with it when comes to quality, feel and looks. 
The stunning Marshall Kilburn Bluetooth speaker is a guaranteed head turner and conversation piece. Beyond a speaker, it's a piece of audio art you can show off to friends. 
In a sea of look-alike capsule style Bluetooth speakers that all sound fairly good, the Marshall Kilburn stands head and shoulders above the pack with its vintage styling and spectacular sound. If you want your Bluetooth speaker to sound great and look great, just get a Marshall Kilburn, it doesn't get much better than this.  If you're on a budget, you can check out our recent post on the best Bluetooth speakers that you can get below $100.