iPhones have amazing in-built speakers, but that shouldn't stop you from getting a good Bluetooth speaker for your iPhone to further enhance your music experience.
If you're looking to get one of the best Bluetooth speakers for your iPhone, we've made it slightly easier for you with our list below. We looked at some of the popular compact speakers out there to come up with some of the best matches for an iPhone from a compatibility and feature-enhancement standpoint.
We'll be highlighting the reasons why each of these speakers made it to our list as well.
1. UE Boom 3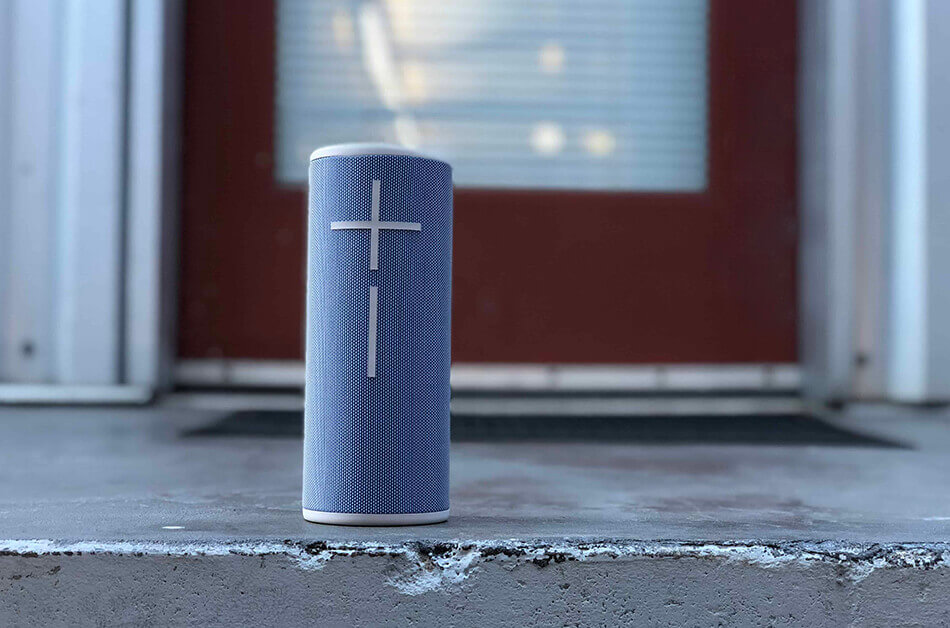 If you are looking to host a party or like playing music out loud without any distortion at high volumes, the buck stops with the 'Ultimate Ear (UE) Boom 3'.
It is the most affordable, high performing speaker in this category and makes for a great accessory to your iPhone. It also comes with a Magic Button to play, skip and pause songs directly from the Speaker. UE Boom 3 offers 15-hours of battery life, is ruggedly built and has 'IP67 water resistance' (can be submerged in 1 metre for up to 30 mins). You can even wash the speakers with soap water in case it gets dirty.
Other Features:

Weight: 816 grams
Size: 2.9 x 2.9 x 7.25 inches
Wireless Range: 150 ft
Aux-in: Yes
Frequency response: 90Hz- 20kHz
Drivers: Two 1.75" drivers and two 1.75"x 3" passive radiators
Warranty: 2 years
2. Anker SoundCore 2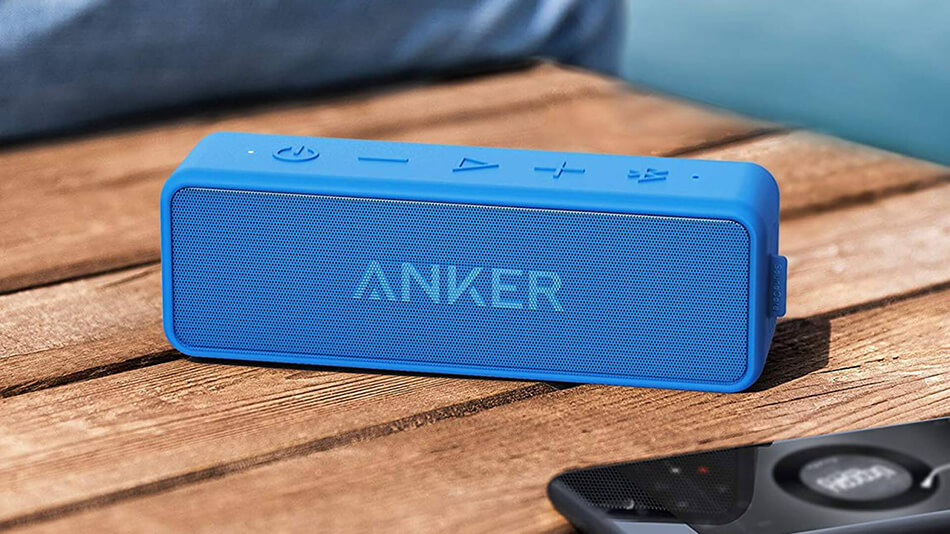 If you are looking for a well-built budget speaker for day to day use, look no further than the Anker SoundCore 2. It has a long battery life of 24 hours and is quite compact, just like an iPhone. Soundcore 2 offers IPX5 water resistance (can resist heavy sprays of water, at a high pressure and has dust proof engineering) and impressive Bluetooth range.
Other Features:

Weight: 414 grams
Size: 6.6 x 1.9 x 2.2 inches
Wireless Range: 66 ft
Inputs: 5V=2A
Aux-in: Yes
Frequency response: 70Hz- 20kHz
Drivers: 1.5" x 2
Warranty: 18 months
3. Fugoo Tough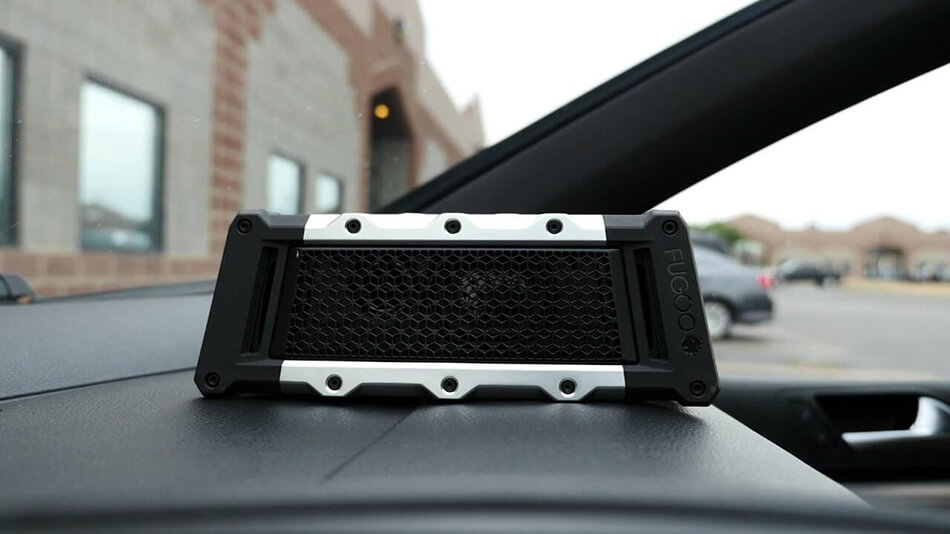 If you are looking for a Bluetooth speaker with the best battery life, the Fugoo Tough offers a 40-hour long battery life with quality sound even at its peak volume. It also offers 'IP67 water resistance' meaning it can be submerged in 1 metre for up to 30 mins. Another highlight of this speaker is its tough and rugged looks just like the name suggests. Fugoo Tough does justify this with its strong build quality.
Other Features:

Weight: 635 grams
Size: 4 x 7 x 9 inches
Wireless Range: upto 33 ft
Frequency response: 70Hz- 20kHz
Warranty: 1 year
Voice Enabled Speakerphone
4. JBL Charge 4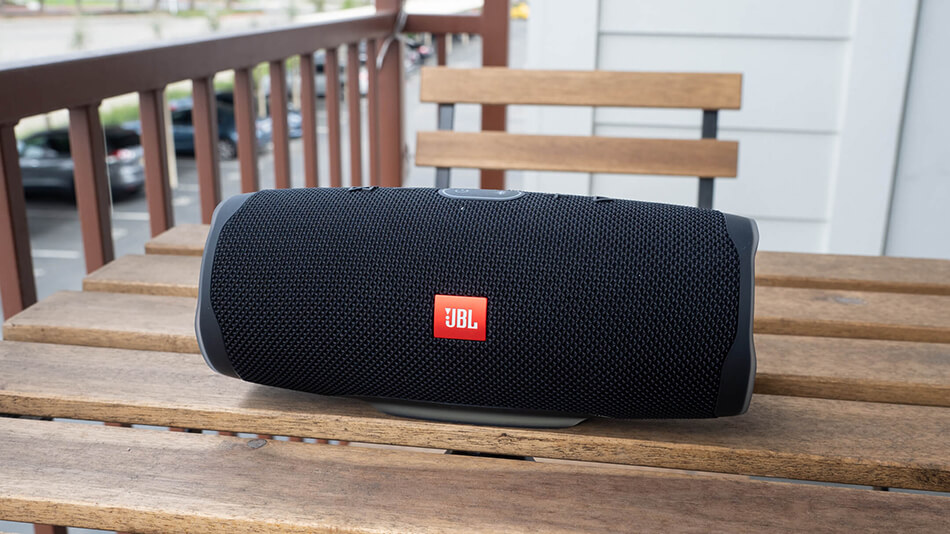 The JBL Charge 4 is an excellent option for those who want a waterproof, powerful-sounding portable Bluetooth speaker in a moderately sized frame. It offers a perfect balance of price, features and sound. It is IPX7 waterproof (can be submerged in water up to 3 feet) and offers a continuous music playtime of 20 hours.
Other Features: –
Weight: 960 grams
Size: 8.66 x 3.74 x 3.66 inches
Drivers: Dual passive radiators
Wireless Range: 30+ ft
Frequency response: 60Hz- 20kHz
Warranty: 1 year
5. UE Wonderboom 2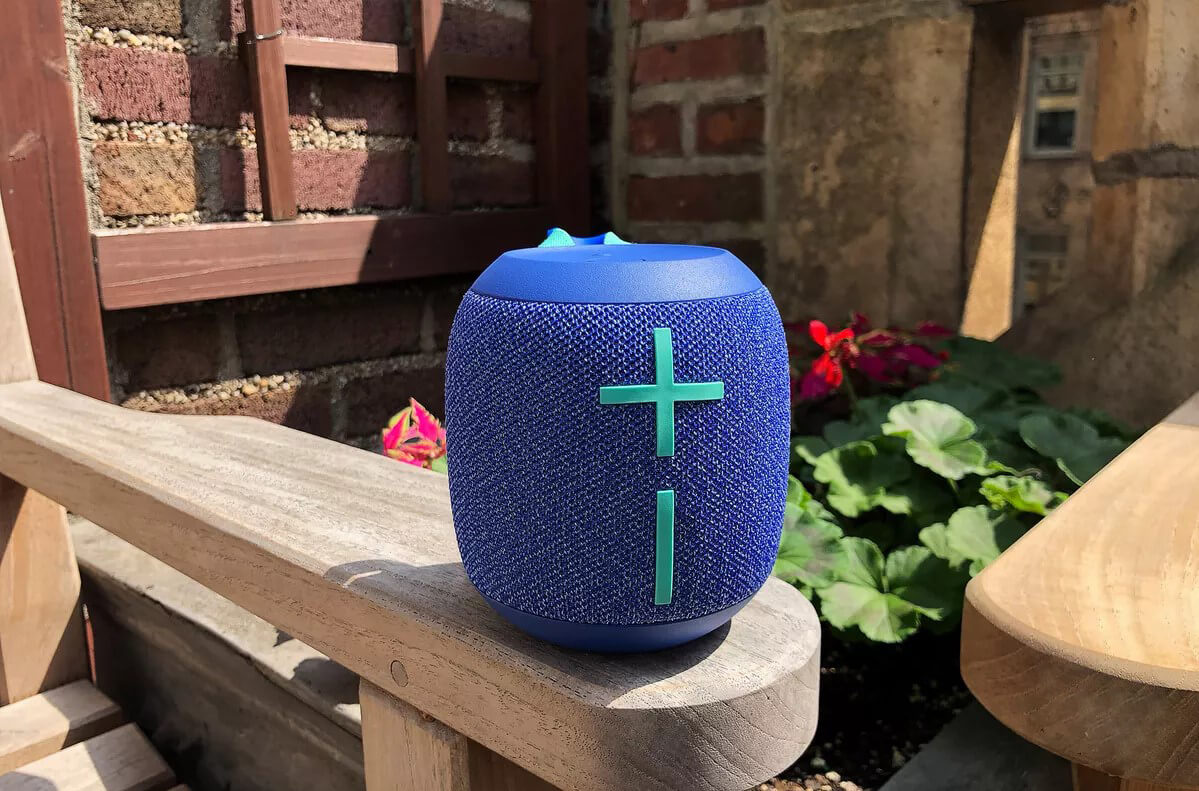 The UE Wonderboom 2 features a great bass response, long battery life and the Outdoor Boost mode makes it an even better companion when you're outdoors. Its ruggedness, sound quality, and features solidify the Wonderboom 2 as one of the best portable waterproof speakers you can buy.
Although not as efficient as the UE Boom 3, this is ideal for pool parties, beaches, shower and more. Also, it floats in water and can be easily cleaned if it gets dirty as it is waterproof (IPX7 rated). Wonderboom 2 offers a 10-hour long battery life and is big on sound (87 dB).
Other Features:

Weight: 599 grams
Size: 10.7 x 11.9 x 13.5 cms
Wireless Range: upto 30 m (100 ft)
Frequency response: 80Hz- 20kHz
Warranty: 1 year
6. Tribit Stormbox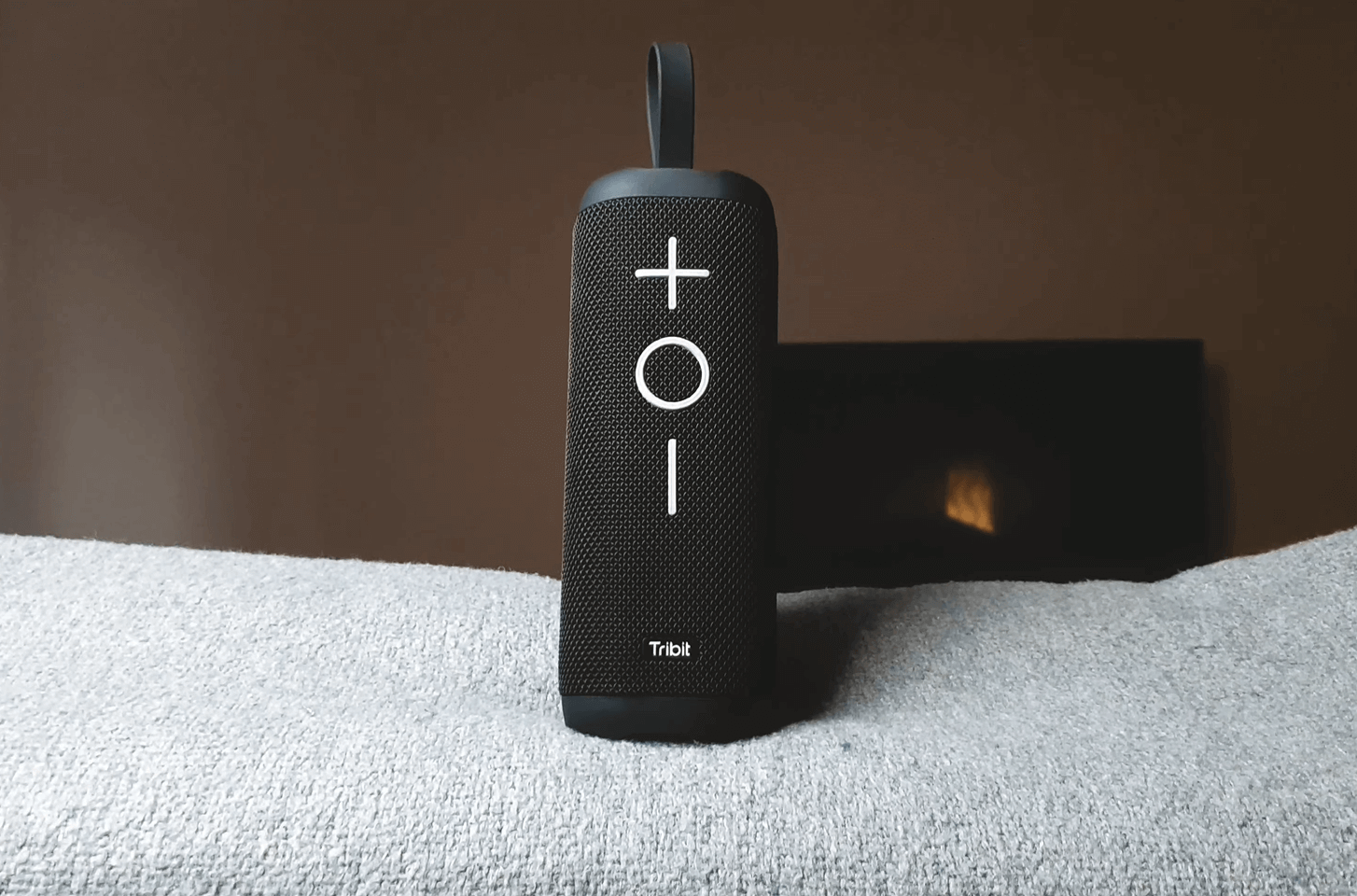 Tribit is a brand that created a lot of hype with their value for money audio devices that offer performance comparable to that of the well-known brands like JBL.
The Stormbox by Tribit is no different when it comes to the value on offer. Design wise, it's a cylindrical speaker with a removable strap that is sturdy and attached by a screw post. Plus, it has a water resistance rating of IPX7 which is a serious advantage if you want to take your speaker in the shower or a poolside. You can even daisy chain two Tribit Storbox speakers together to enhance your music experience further.  On a full charge, you can enjoy 20 hours of music playback. Read our full review of the Stormbox here.
Other Features:
Weight: 635 grams
Size: 20.07 x 7.3 x 8.3 cms
Wireless Range: upto 10 m (33 ft)
Warranty: 45-Day Money back and 2 years warranty.
7. Bose Soundlink Revolve+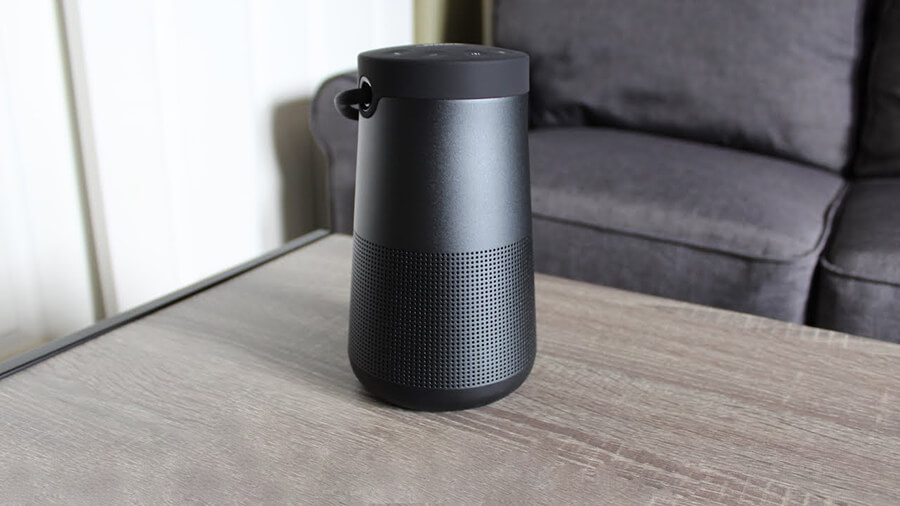 This is one of the best premium speakers available for iPhones. The sound quality while playing music with these speakers either via Aux or Bluetooth is impeccable. Built like a tank, this one is compatible with both Siri and Google assistant. It comes with IPX4 water resistance. Revolve+ can output 360 degree sound to fill up a large room or hall with crisp and clear music even at its highest volume.
Other Features:
Weight: 900 grams
Size: 18.4 cm H x 10.5 cm W x 10.5 cm
Wireless range: up to 9 m (30 ft)
Warranty: 1 year
8. DOSS Soundbox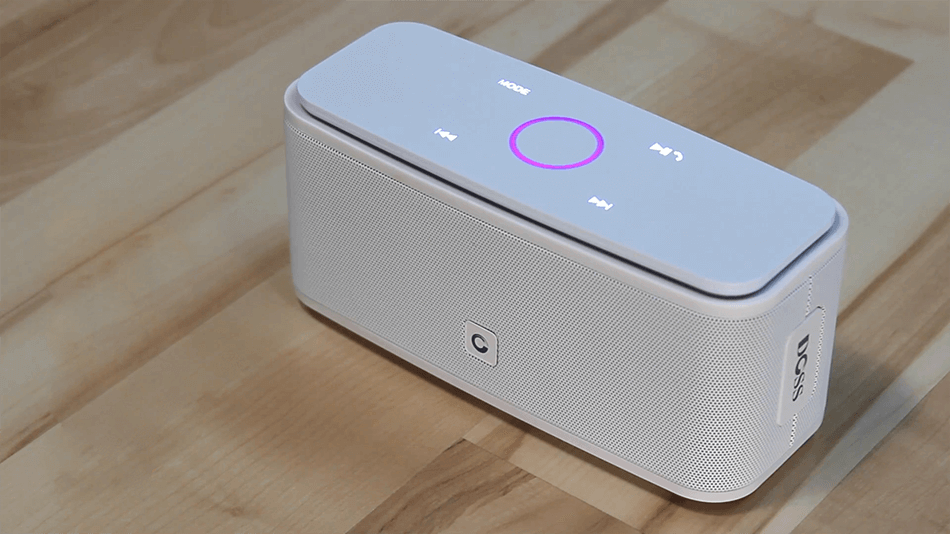 A compact Bluetooth speaker ideal for iPhones, the Doss Soundbox is available in four attractive colors. The sound quality is superior because of the dual high-performance drivers. It plays continuously for 12 hours and has a 2200mAh rechargeable battery. A Full recharge takes about 4 hours. It allows connectivity through Bluetooth and Aux. They also come with IPX4 water resistance.
Other Features:
Weight: 560 grams
Size: 16 x 7.4 x 6.9 cm
Wireless range: upto 10 m (33 ft)
9.

Sony SRS-XB21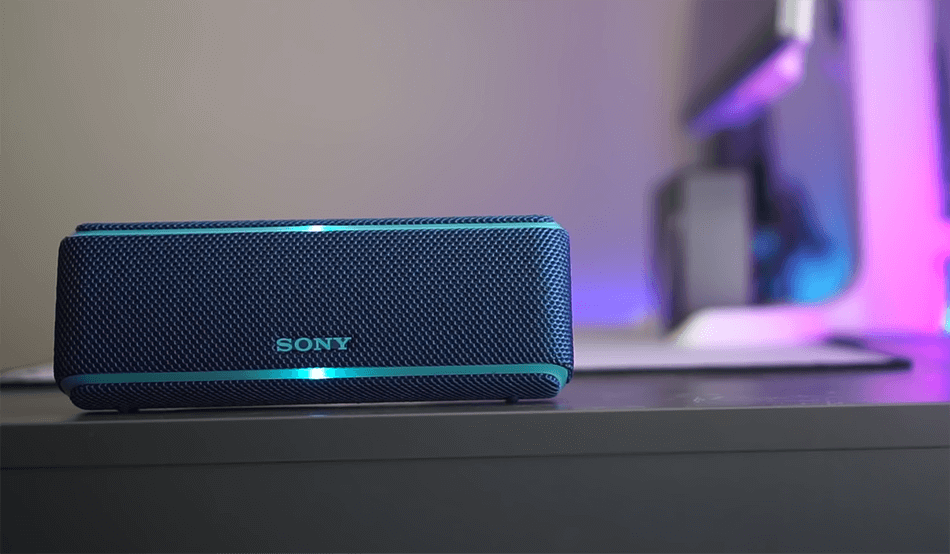 Sony calls the SRS-XB21 a 'party speaker.' We think it mostly lives up to that reputation as it is impressively loud for its size and price. The SRS-XB21 overall is a fairly good and relatively inexpensive speaker for entertaining a small group of people that want to be loud and dance.
It does have some downsides though, namely a mediocre battery life of just 6 hours. If you're more concerned about loudness and less concerned about battery life, the Sony XB10 would be a great option in this price range.
Other Features:
Weight: 600 grams
Size: 9.2 x 4 x 6.2 inches
Wireless range: Upto 10 m (33 ft)
10. AOMIAS Sport II+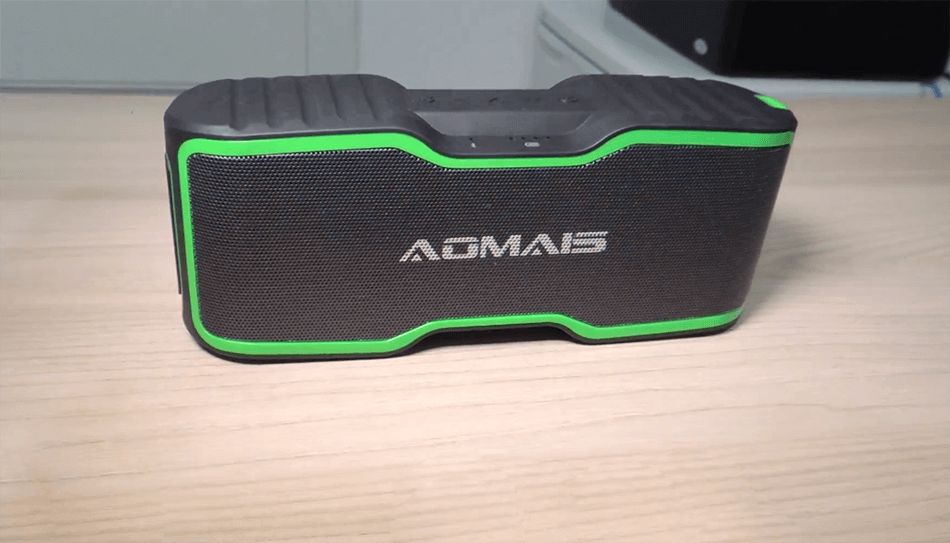 With an IPX7 water resistance rating, this one is quite the star among compact speakers for iPhone. With a power output of 20W,  this speaker provides fulfilling sound that gets loud. Along with a powerful 5000mAh battery, it also comes with a wind and noise reduction technology. The look is rugged yet smooth and the rubber exterior protects it from scratches and other impacts. Plus, you can also connect this with another AOMAIS Speaker.
Other Features
Weight: 748 grams
Size: 23.6 x 6.0 x 11.6
Wireless range: upto 30 m (99 ft)
Frequency range:
Warranty: 1 year
While all these Bluetooth speakers have their own pros and cons, these are some of the best-selling ones in the market today. Now, the choice of which one to pick is very subjective and depends on your specific requirements. It could be the price, the looks, the features or even the connectivity options. Hopefully, our list will help you decide on the best Bluetooth speaker for your iPhone.