There have been quite a lot of competition in the budget Bluetooth speaker segment in the recent times and you can actually get an amazing portable speaker in under $100 in 2020.
Some of these are well-known brands whereas some are brands that have made it big by providing extremely high value for money with their quality products at affordable prices. A good example of one such brands is Tribit.
So here are the 10 best Bluetooth Speakers that you can buy under $100 in 2020:
1. Tribit StormBox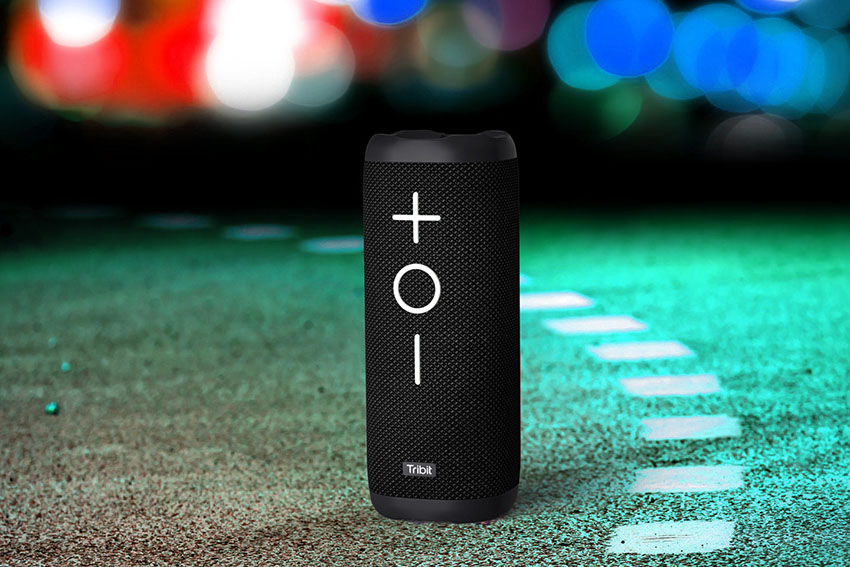 Tribit is a brand that created a lot of hype with their value for money audio devices that offer performance comparable to that of the well-known brands like JBL.
The Stormbox by Tribit is no different when it comes to the value on offer. Design wise, it's a cylindrical speaker with a removable strap that is sturdy and attached by a screw post. Apart from Bluetooth, it also has an aux-in port though the speaker does not come with a stereo audio jack cable. It does come with a micro USB cable for charging which is 2 feet long.
Plus, you can daisy chain two of Tribit wireless speakers together. Connecting to the speaker with a phone is very easy and straightforward. On a full charge, you can enjoy 20 hours of music playback. Read our full review of the Stormbox here.
Pros:
360° Immersive Sound
Innovative XBass Technology
Completely Waterproof
Incredible 20h Playtime
Rechargeable li-ion battery boasts an unbeatable 20 hours of continuous playtime
2. JBL Flip 4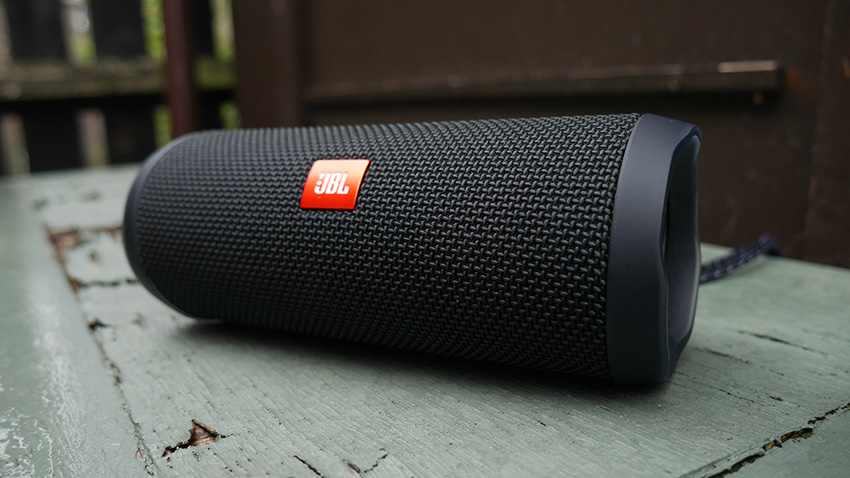 Another cylindrical portable speaker that consistently keeps up with modern technological evolution. The Flip 4 from JBL has an understated stature yet it delivers surprisingly powerful sound with deep bass.
It has a built-in JBL Bass radiators for less distortion risk with low-frequency sounds and you can wirelessly connect 2 smartphones or tablets to easily switch between. It is compact and powered by a 3000mAh lithium ion battery which provides roughly 12 hours of continuous use.
Come rain or snow it can be linked to multiple JBL speakers for additional volume and fuller thicker audio. Weather won't affect your party as it's IPX7 waterproof components make an ideal choice for audio enjoyment on the go or outdoor breaks.
Pros:
IPX7 Waterproof
Compact, lightweight and portable
Built-in JBL Bass radiators
Wirelessly connect 2 smartphones or tablets to easily switch between
3. JBL Flip 3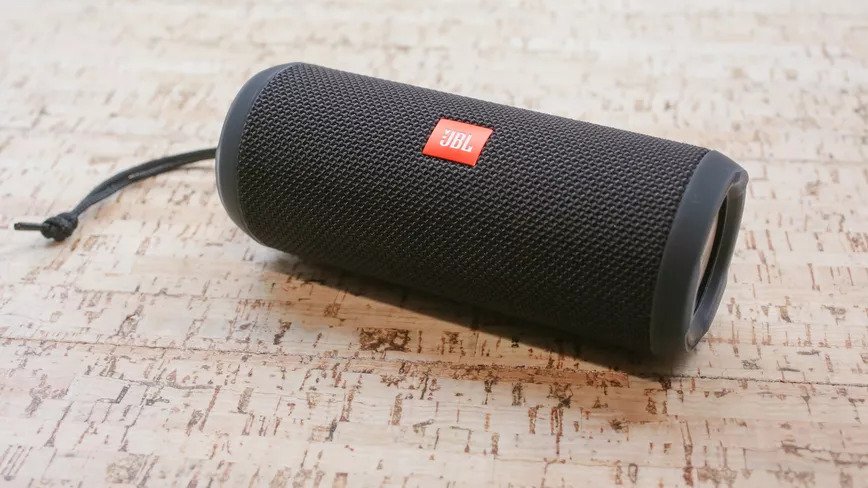 The Flip 3 from JBL is an award-winning speaker from the flip series. This budget speaker features built-in noise and echo canceling technology for crystal clear sound ideal for speakerphone conferencing. It is constructed from waterproofed materials and has a 3000mAh battery which lasts around 10 hours at a time.
This speaker is perfect for people specifically shopping at low prices. Although its an older model, the Flip 3 is still available to buy and it comes in more than 30% cheaper than the Flip 4, whilst offering exactly the same room-filling sound and can be multi-linked to other JBL speakers.
Pros:
Low priced
Good bass response
Battery lasts for 10 hours
Option to connect multiple JBL speakers for maximizing volume capabilities
4. JBL Go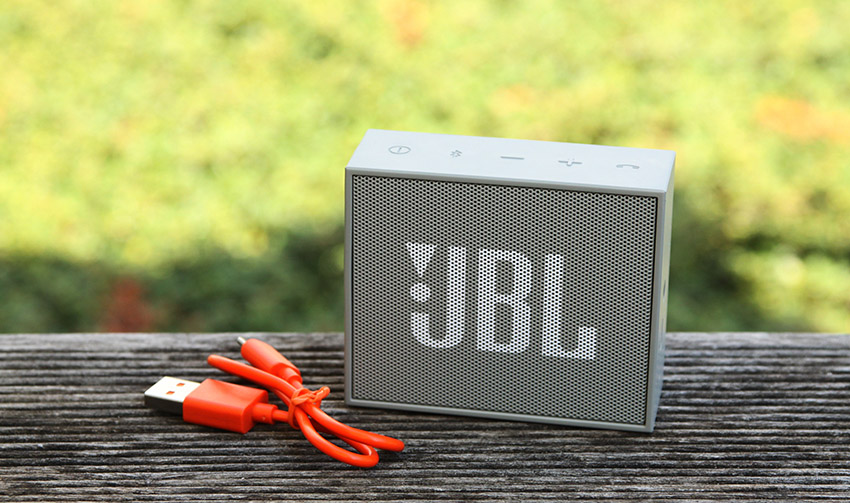 The JBL Go is a great Bluetooth speaker which especially shines in  the portability department. Considering its size, the audio performance of the JBL Go is good, but not to an extent where it would be able to compete against the larger, more expensive Bluetooth speakers.
The sound output goes without distortion till about 60-70% of the maximum volume level. Beyond that, there is some audible crackling.
Its best with genres of music that depend on treble and highs like acoustic tracks or rock songs. Without too much instrumentation, the Go was very impressive. On the contrary, the JBL Go disappoints when it comes to genres that rely on bass and quite frankly, if you've got a lot of EDM or other club music in your playlist, there are better options to choose from.
Pros:
Very portable
Looks cool and trendy
Well built
Great battery life
Loud, decent audio quality
5. Sony XB10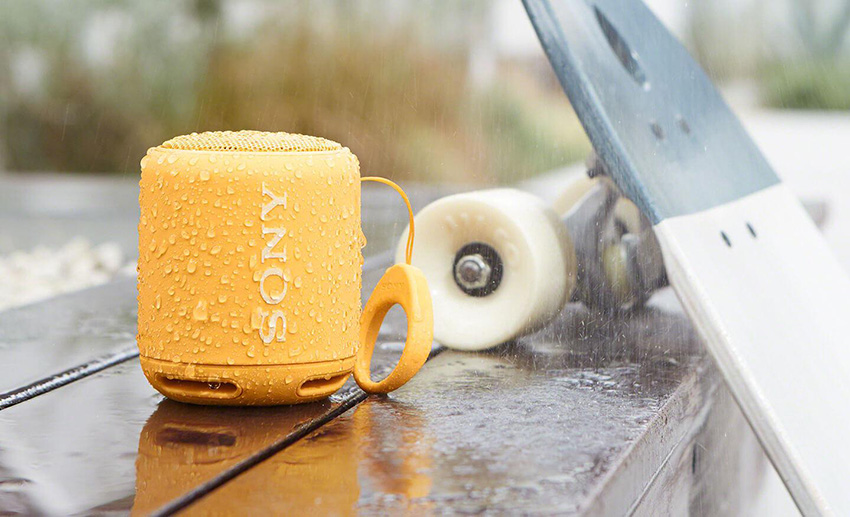 The Sony XB10 makes for an affordably priced stylish entry. It is decidedly compact and we probably don't need to tell you twice that Sony knows a thing or two when it comes to audio.
This model features EXTRA BASS properties, which essentially means it has an impressive built-in passive radiator that works seamlessly with the internal speaker to boost the low frequencies in lieu of its tiny size.
As affordable Bluetooth speakers go this one won't fail to impress. It can be wirelessly auto-connected to a secondary Sony speaker for a full range, rich stereo sound. It is made with water-resistant components for worry-free outdoor listening in case the weather decides to turn.
The XB10 also has a long-lasting battery life (16 hours) which is impressive for its size. Apart from Bluetooth, it also supports NFC for faster pairing.
Pros:
Extra bass
Small (pocket-sized) lightweight design
Water resistance for worry-free listening
Round shape gives optimal portability
NFC is a bonus
Google and Siri connectivity
6. Tribit XSound Go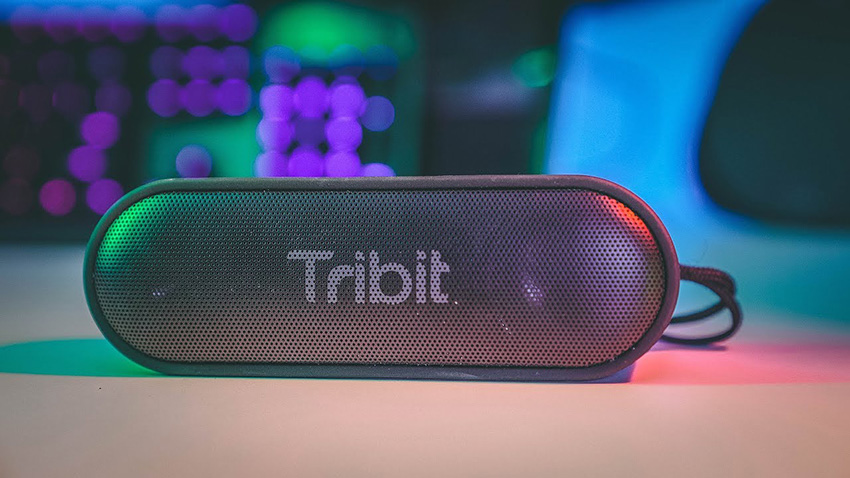 If you want to spend the bare minimum on an all-around good portable Bluetooth speaker, the Tribit XSound Go is a great choice. For a budget Bluetooth speaker, its sound is obviously clearer and louder, cementing its place as one of the best.
The XSound Go is also small enough to slip into a laptop bag or an already stuffed suitcase and weighs the same as some headphones (13 oz).
The XSound Go will run 10½ hours on a single charge. Plus, it's IPX7-rated, which means it's sufficiently waterproof to survive a half-hour dunking in 1 meter of water, and it also supports the speakerphone function. You can read our detailed review of the Tribit Xsound go here.
Pros:
24 hours playtime
Dynamic sound enhanced with 2x6w stereo drivers
It is an Ipx7 waterproof
Ultimate wireless stability, with Bluetooth 4.2 technology
Armed with Siri and Google
Truly immersive sound with a stunning rich bass, tight mids and crystal clear highs
7. Bose SoundLink Micro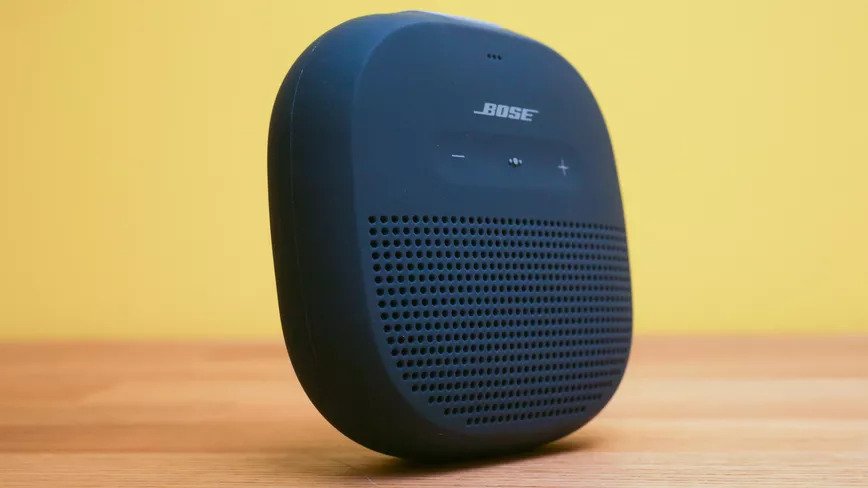 This is another ruggedly built water-resistant Bluetooth speaker from Bose. It is made out of non-slip silicone and has a large speaker grill which protects powerful speakers delivering bold sound output.
This one has had a lot of thought put into it and the company has worked closely with developers to design an app which makes the connection and switching as simple as using the drag and drop interface instead of rifling through your Bluetooth menu. The app also allows users to personalize their settings.
It holds up to 8 hours of playback time in one charge which is not bad for a speaker of this size. The Soundlink also lets you switch between stereo and party modes.
Pros:
Bluetooth and NFC enabled
Comes with an app for easy control of syncing devices from the touch of your phone
2 modes (stereo & party)
Support for Siri and Google
8. Ultimate Ears Boom 2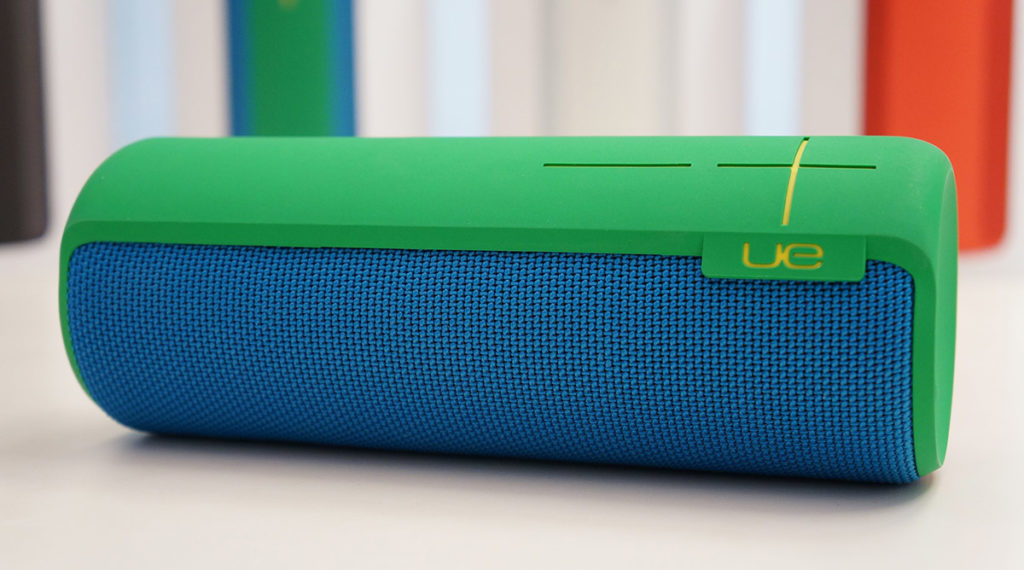 The Ultimate Ears Boom 2  came into the market from Logitech and created a pretty big buzz, receiving praise from popular tech media sites like Gizmodo and Wired. With 360 degrees sound, it has an immersive feel.
Also, just like most budget speakers in this list, the UE Boom 2 also features a waterproof design which is slowly becoming the new standard with modern Bluetooth speakers. It has simple to use volume buttons (+ – style).
The Boom 2 provides a pretty impressive sound alone but to push it, you can hook over 150 of these bad boys together using its PartyUp function for parties and big outdoor events. It also has Siri and Google voice recognition support for even easier access to your favorite tunes.
Pros:
NFC enabled
Waterproof and shockproof
Connect up to 150 together for massive parties
Reasonably priced
Support for voice commands via Siri and Google
9. Sony SRS-XB21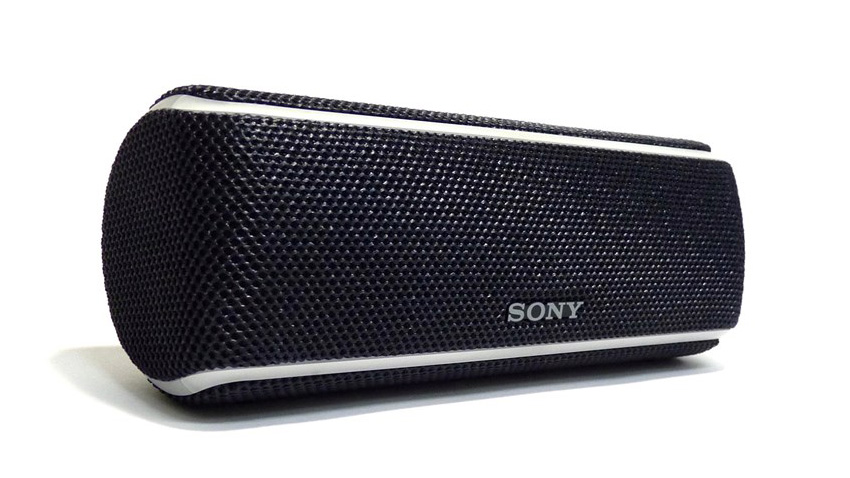 Sony calls the SRS-XB21 a 'party speaker.' We think it mostly lives up to that reputation as it is impressively loud for its size/price. The SRS-XB21 overall is a fairly good and relatively inexpensive speaker for entertaining a small group of people that want to be loud and dance.
It does have some downsides though, namely a mediocre battery life of just 6 hours. If you're less concerned about loudness and more concerned about battery life, the Sony XB10 would be a better option in this price range.
Pros:
Nice and compact size
10 hours of battery backup on a single charge
Good build Quality
People on the other end won't notice that you are talking through speakers unless told otherwise
Rich, deep bass
The Sony Music Centre app
10. Anker Soundcore Flare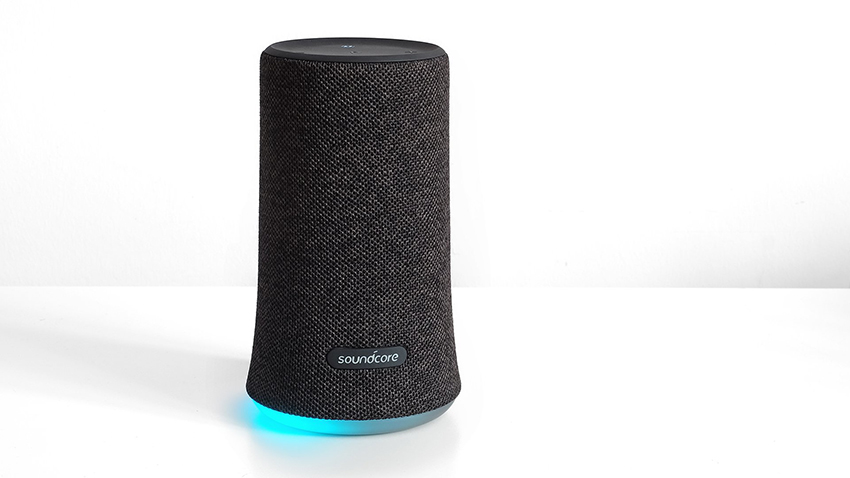 With 360-degree quality sound, from two state of the art neodymium drivers which are set back to back and dual passive radiators, the Second flare offers fully immersive room-filling audio with great bass handling.
It features patented Bass Up Technology which is basically a form of customized on-board DSP which helps to enhance bass frequencies with real-time analysis to prevent unwanted distortion, making it one smart machine. Its durable construction utilizes water resistant materials tailored into a hardcore impermeable marvel.
The Soundcore Flare comes with access to their proprietary app which allows for equalization control and even has stored EQ settings for a host of genres. You can also tailor and save your sound preferences using the Equalizer.
Another plus is, it can be connected to Echo Dot and other Amazon speakers to play music together. On top of everything, it has LEDs that light up the underside and are beat driven to enhance your music experience.
The led band has 5 color themes and illumination patterns which can be customized via the app as well. The Anker Soundcore Flare is the only speaker in this list to offer LED functionality. If you're a fan of balanced sound, and don't really care about flashy lights, Anker's Soundcore Motion+ is an amazing choice.
Pros:
IPX7 Waterproofing
Dual drivers with passive radiators
DSP analysis for better bass handling
LED light show
Alexa compatible
High value for money
$100 Bluetooth Speaker – Buyer's Guide
The Bluetooth speaker market is filled to the brim with amazing choices. It can be harder to choose the right speaker especially if you are shopping online. Read on for some tips which will help you in choosing the best Bluetooth speaker under $100.
What to look for in Bluetooth Speakers Under $100?
Preferences will vary from one person to the next, but here are the essential requirements from a budget speaker.
Ability to connect multiple devices at once is highly advantageous. Ensure you have the latest Bluetooth technology on-board to cater to modern gadgets more efficiently.
If you travel a lot, pick a model with 1PX7 waterproofing and durable design.
Get a speaker with dedicated drivers for the different ends of the frequency spectrum.  If it is unequipped to deal with bass, it will inevitably buzz and distort. Likewise, the high frequency response will be better if it has a dedicated tweeter.
Can you get good quality Bluetooth speakers for under $100?
Bluetooth speakers provide portability and power for listening to music with a richer sound than your phone's internal speakers are capable of. They typically have properties which are better for traveling audio needs or outdoor relaxing. This is what you need to look for in a Bluetooth speaker under $100.
High end Bluetooth speakers with dedicated drivers are always going to provide a better quality of sound than a budget option but there are plenty of options that won't disappoint even on a tight budget.
Waterproof Bluetooth speakers under $100
The majority of these speakers have water resistant properties that are IPX5 rated and some even feature IPX7 certified designs so these are arguably more waterproof than the rest. From those at the top of their game in this price range, the best waterproof Bluetooth is undeniably the Flip 4 from JBL.
Final Tips
We have become more and more dependent on portable speakers and sometimes find it hard to not have at least one inside the car and at our house.
The majority of us listen to audio files which are of 128kbps bit rate, which sound essentially no different on wired or wireless speakers, however, the differences quickly become more noticeable at higher bit rates. Therefore, most casual listeners will enjoy the freedom of their Bluetooth speakers.
There are an overwhelming number of low priced options for Bluetooth speakers.  The major factor to be considered is the usage conditions- indoors or outdoors. For outdoors, get a waterproofed model that is lightweight and portable but also durable enough to withstand accidental dropping.
The next question is, how many hours do you wish to use it and how much volume would you actually need? Once you've found answers to these, it should be pretty easy to narrow down to your perfect Bluetooth speaker.