JBL is probably one of the few companies to release Bluetooth speakers with unique designs for every imaginable listening conditions. The Partybox 300 is the latest model in their party speakers lineup and like its predecessors, this one can be a party starter on its own.
This speaker is ideal for house parties, not so much for Tuesday nights at home with a glass of wine and a book. Is it worth the price and the space its huge frame requires? Only someone in the market for a karaoke speaker that can shake the earth's crust, double as a guitar amp, and put on an LED light show can really answer that question. However, if you're looking for a mega speaker to power your next party, the Partybox 300 won't disappoint.
Before getting into the detailed review, let's see what comes along with it in the box: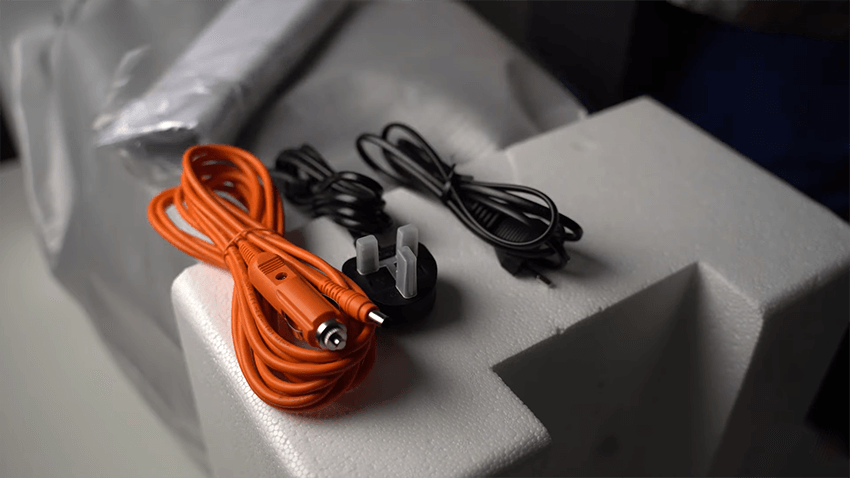 The speakers come in a strong and durable cardboard box that is sure to protect it from any damages during transit.
When you open the box, the first thing you notice is that the speaker itself covered with a white plastic wrap for protection along with thick pieces of Styrofoams on each side.
Aside from the speaker, you will find a 12 – Volt DC cable, a safety sheet, a warranty card, the quick – start guide, and an AC power cable. The warranty is for a period of one year.
Design & Build: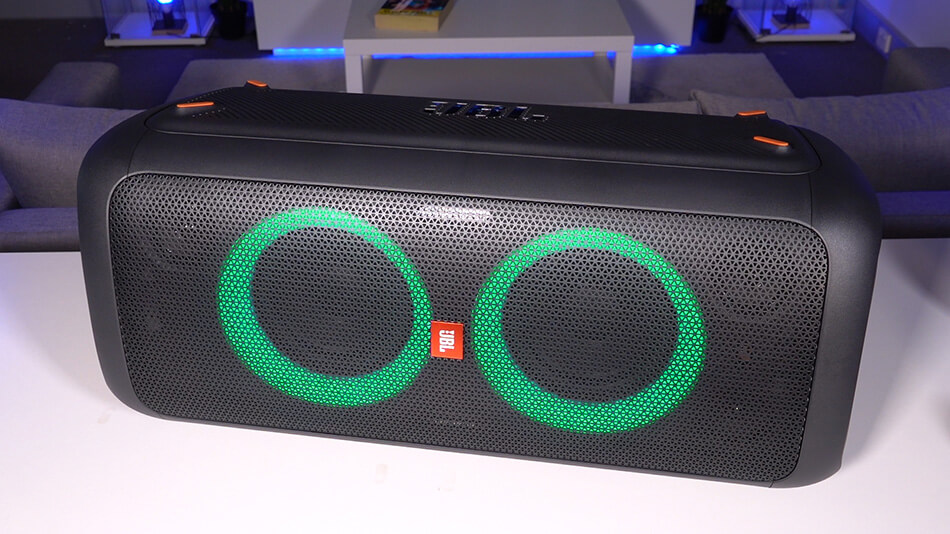 Though it has a slightly bulky build with a dimension of 310 mm x 320 mm x 690 mm (l x b x h), it is a very modern piece of tech. It has a rugged look; with built in handles, it feels safe to be carried around. The only flip side is that the body is not necessarily scratch proof. Further, no additional covering is provided to protect it from dust and water.
There are rubber feet attached on three sides. Hence, it can be oriented vertically or horizontally as per your choice.
The front of the speaker has three 2.25" tweeters and two 6.5" Woofers.
At the top, there is a control panel that has different buttons; these include the buttons for:
Power on/off
Play/pause
Bluetooth pairing
Bass boost
Volume adjustment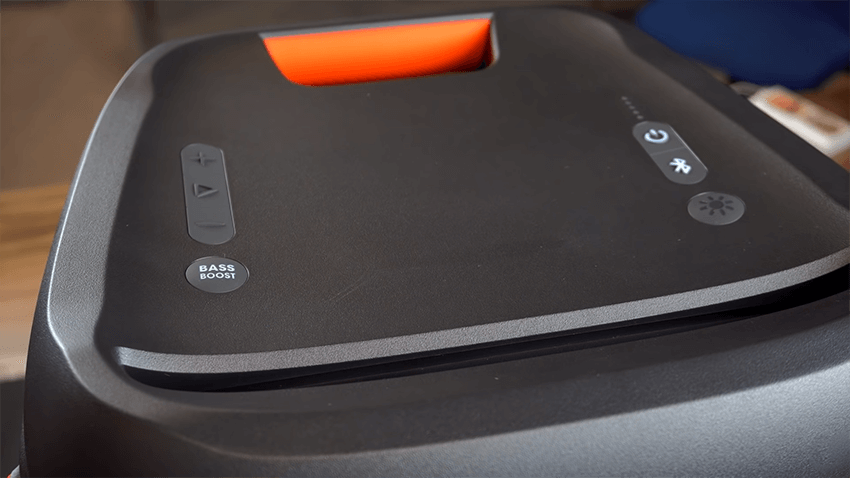 There is also a button for activating or disabling the LED lights on the speaker.
The lights are clearly the highlight and these come in 3 variations (Pulse, Meter and Party modes). Other than these modes, there are no options available to change the lighting.
Sound output: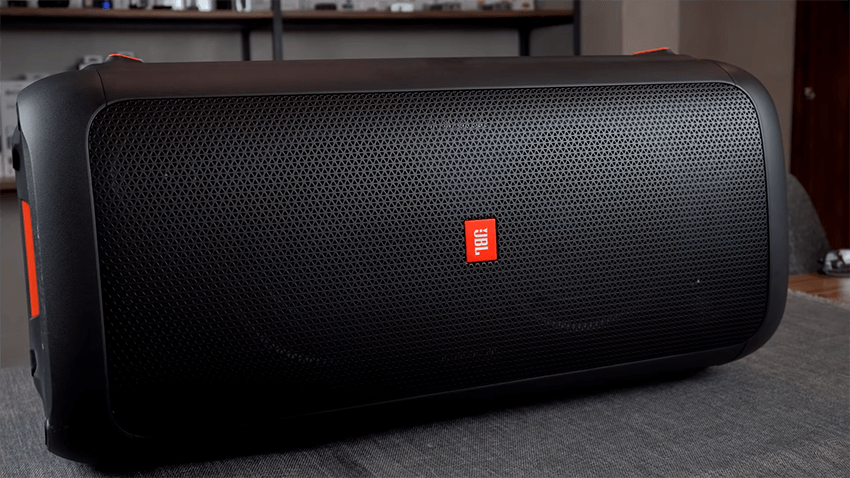 The 2.25" tweeters and 6.5" woofers give these speakers its excellent sound quality. It gives a frequency output ranging from 45 Hz to 20 Khz.
It also comes with an additional bass boost button for the bass lovers out there. You do get clear music with or without the bass. The additional bass is more about the feel than the sound.
We observed that the speakers give out the best sound output when plugged in. While playing on the internal battery, it reduces the bass for power conservation. The additional bass boost button could be put to use here.
Battery Life:
The Partybox 300 come with internal rechargeable battery and is expected to last for an average of up to 18 hours on a single charge. However, this may vary depending on the level of volume you're playing at. The battery takes up to five hours to fully charge.
It also comes with a thick, Orange colored car charger cable, which means that you can take the speakers along with you on your road trips. Nevertheless, note that the when the car is not running, connecting the charger will not charge the internal battery.
Connectivity: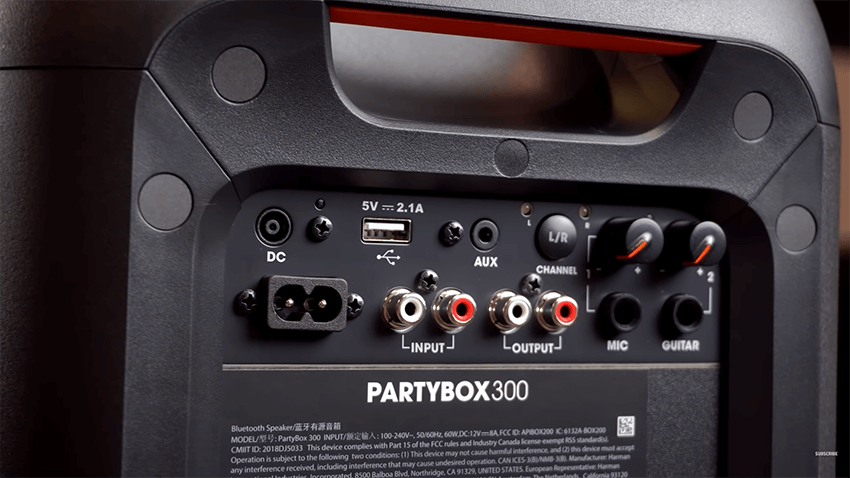 The JBL Partybox 300 can be connected to Mobile devices via Bluetooth and supports up to 2 mobile devices at the same time.
The input panel on the back of the speaker houses ports for RCA, USB Input, 3.5 mm Aux, RCA Output, Left/Right channel switches.
It also has a quarter inch dedicated mic and guitar inputs with their own gain knobs.
In case you do not want to connect your phone via Bluetooth, a USB drive with your favorite playlists maybe plugged into the port directly. You can even connect a USB cable to the speaker and use it for charging your phones!
And the best part, you can daisy chain two Partyboxes together either via Bluetooth or using a cable.
However, JBL seems to be maintaining a clear segmentation between the specific line of speakers that it releases, as the Partybox cannot be connected to the other Flip or Charge speaker series. One will have to wait and watch whether this will change in the future versions.
Should you buy it?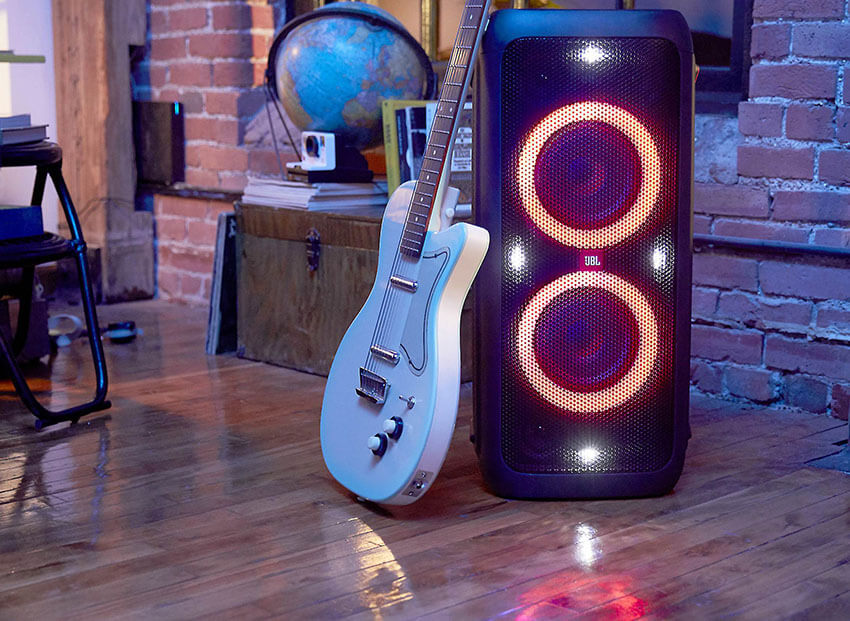 The decision to buy the JBL Partybox 300 would depend on the usage. It is perfect for placing in locations such as the home living room, bedroom, garages, home-gyms, etc. and excellent for hosting house parties including karaoke parties. In case there is a need to move it around frequently, it may not be preferred because of its size and weight.
These speakers are definitely something worth taking a look at; because of the powerful sound and rechargeable battery, you can carry the party anywhere with you. It would be overkill for someone looking to light up their evening with some favorite music and a book. However, if you are all about house parties, the JBL Partybox 300 gives value for every penny spent on it.
JBL Partybox 300