JBL's Flip 4 may look very similar to 2016's Flip 3. But looks can be deceiving; it's actually a slightly bigger speaker, weighing 1.14 lbs (517 g) to 0.14 pound more than its predecessor, and it's covered in a more durable fabric with a tighter weave.
The JBL Flip 4 offers better balanced sound than its predecessor, the Flip 3. However, its bass delivery is still a bit weak. That being said,  the JBL Flip 4 offers great clarity, and the sound signature is sweet and warm. If you like your audio to sound more neutral, the JBL Flip 4 will impress you more than the UE Wonderboom speaker. When you compare the two, the JBL 4  offers aux connectivity, speakerphone and full waterproofing, and like the UE Boom 2, can pair up to a claimed 100 other Flip 4s simultaneously via a mobile app.
So does the JBL Flip 4 have what it takes to become one of the bestselling speakers?
Features and Specs
Specs
Bluetooth version: 4.2
Dimensions (H x W x D): 68 x 175 x 70 (mm)
Weight: 515 g
Transducer: 2 x 40 mm
Output power: 2 x 8 W
Support: A2DP V1.3, AVRCP V1.6, HFP V1.6, HSP V1.2
Frequency response: 70 Hz – 20 kHz
Battery type: Lithium-ion polymer (3.7 V, 3000 mAh)
Battery charge time: 3.5 hours @ 5V 1A
Music playing time: up to 12 hours (varies by volume level and audio content)
Bluetooth transmitter power: 0 – 9 dBm
Bluetooth transmitter frequency range: 2.402 – 2.480 GHz
Bluetooth transmitter modulation: GFSK, π/4-DQPSK, 8DPSK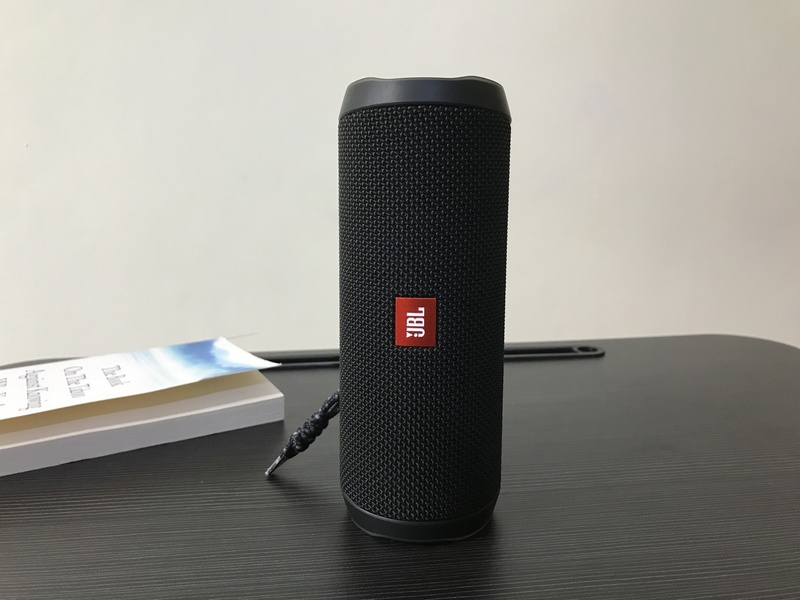 The JBL Flip 4's box includes the speaker itself, a micro USB cable, a safety sheet, a quick start guide and a warranty card. The colorful micro USB cable provided is flattened and insulated, and is also reversible. Keep in mind, you do not get a wall adapter, or an aux cable, even though the speaker supports wired playback.
Features:
Speakerphone for hands-free telephony
IPX7-rated full waterproofing
12 hours of playtime with 3000 mAh battery
JBL Connect app support
Multi-device chaining mode with up to 100 speakers at one time
Integration with Google Assistant and Siri voice assistants
Audio performance
The primary two elements for the Flip 4 sounding better is improved bass output, and louder overall sound. It uses a new bass radiator, which has made the bass sound cleaner and fuller. However, the audio balance is still far from perfect. The low frequencies are still much lower than what I would have personally preferred, and this adversely affects heavier tracks. So, if you're listening to a Mr. Big song or a Red Hot Chili Peppers song, you'd be left a bit disappointed as the attenuated bass takes much of the fun out of the tracks.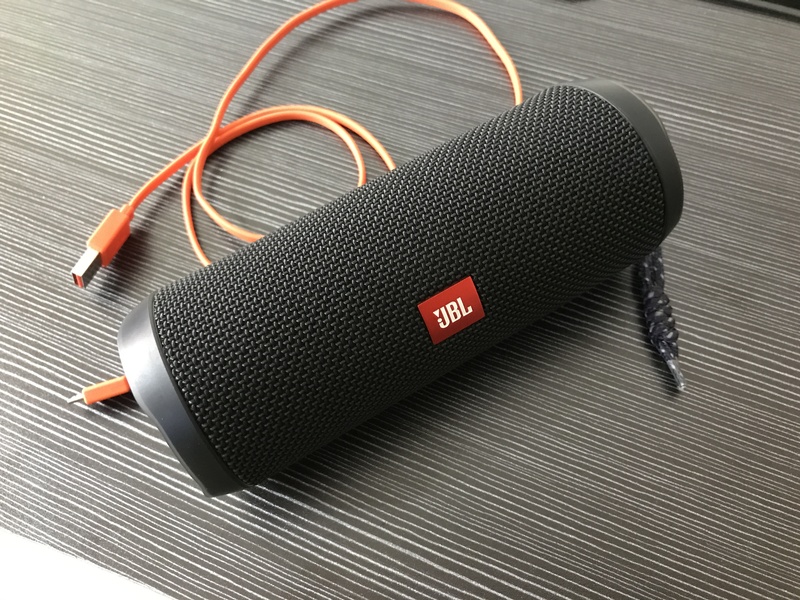 That said, the lows do sound quite taut and cohesive, in tune with the rest of the frequency range reproduction. It sounds more neutral in comparison to the similarly priced Ultimate Ears Wonderboom, and that leads to a wide range of tracks sounding more natural. For instance, many of Pink Floyd's 1970s work sounds well produced. The mids are clean and very well emphasized, and there is a characteristic sweetness that makes the JBL Flip 4 really enjoyable. The highs, too, retain the sweetness, and sound quite precise. They do not sound piercing or shrill, which makes fine hi-hat rolls bearable.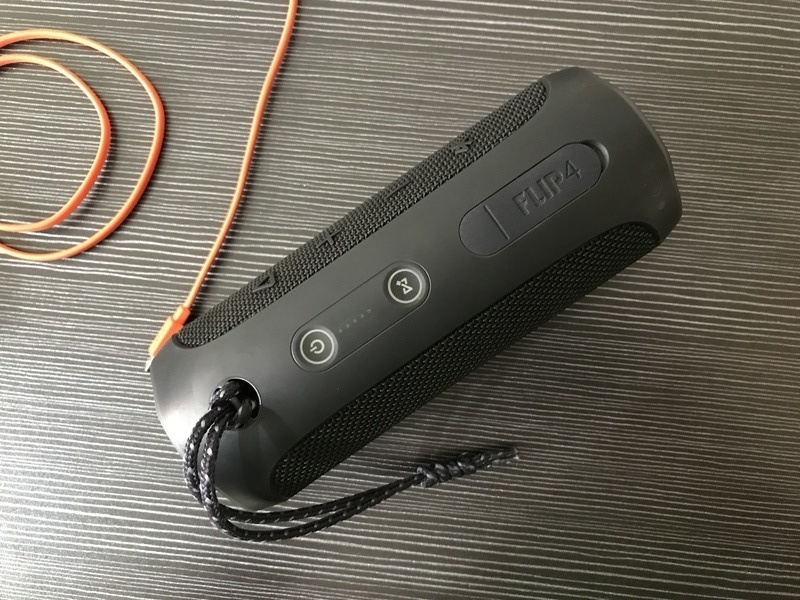 Thanks to its circular design, the JBL Flip 4 produces good omnidirectional audio. This remains in line with the latest trends of producing circular speakers, and that in turn helps you to not worry about how you place your speaker at a party. The JBL Flip 4 also sounds bright, and the loud volume levels fit a room as large as 450 sq.ft. Impressively, the audio does not majorly distort at volume levels above 85 percent, and that is one area where it manages to outdo even the wonderfully clean-sounding Wonderboom speaker when we compare the two.
Build and Design
The JBL Flip 4 is larger than the Flip 3 at 515 grams. With the new stitched fabric mesh wrapping it, the Flip 4 looks really premium. The added rubber cladding around its edges, housing the micro USB and aux port, the power and app connect buttons, aids hand grip.
JBL 4 has the neon orange USB cable, a contrast-stitched detachable suspender and the chunky black buttons. The two bass outlets on either side of the cylinder now get a gloss finish on the exterior. The buttons too respond to presses with a satisfying 'click', and with the deeper ingress, provides much better feedback than its competing speakers. This, in turn, will allow you to adjust volume without even looking at it.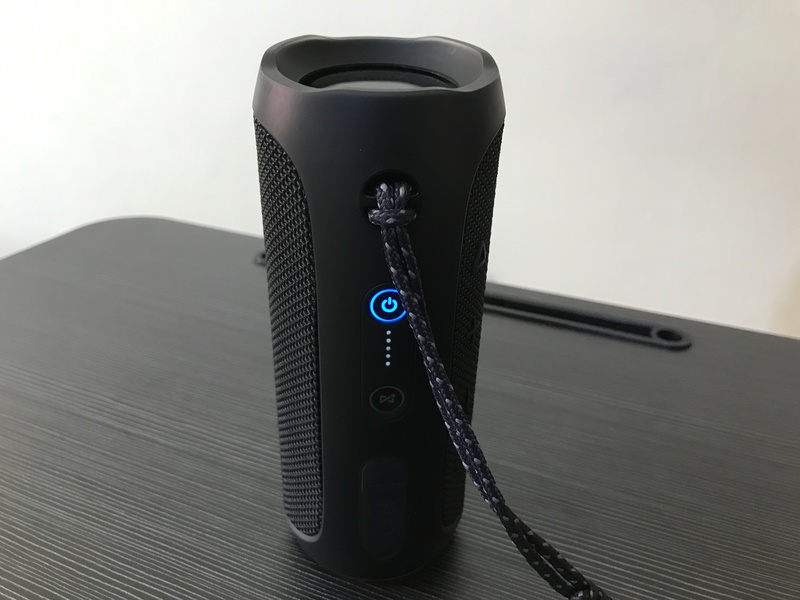 JBL has also improved on water resistance. The Flip 4 is now completely waterproof. A rubber flap conceals the two ports, and the solid build makes you feel confident that you would not accidentally damage the speaker if you expose it to water.
Battery and Connectivity
With a 3000 mAh battery, the JBL Flip 4 claims to provide up to 12 hours of battery life.
In terms of connectivity, while there appears to be no NFC patch, you get Bluetooth v4.2 and aux for playback, and micro USB for charging the speaker, which takes two hours and 45 minutes to reach 100 percent power. The LED backlight on the speaker's power button glows blue when connected via Bluetooth, and white when no devices are connected. Connection status is also prompted by a beep, which tells you when the speaker is connected to a device.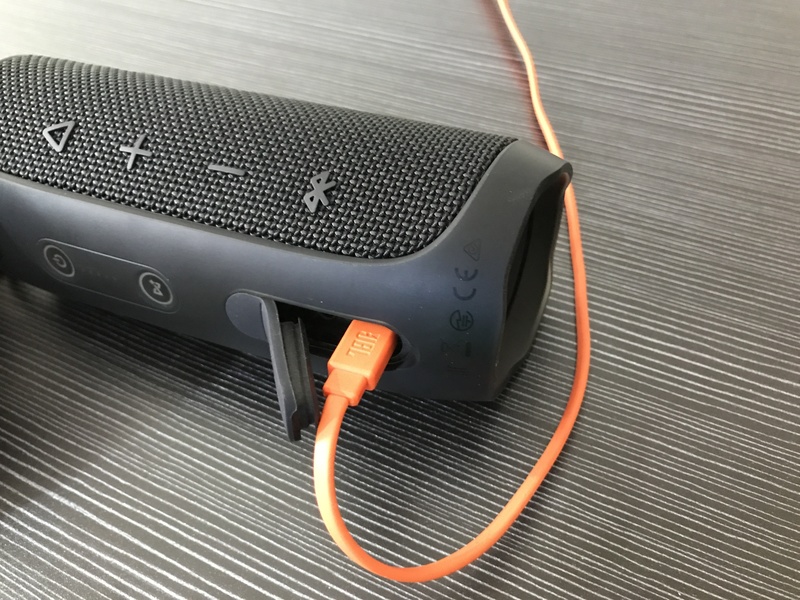 Pairing via Bluetooth is easy, facilitated by the multi-tasking power button.
The JBL Connect+ button enables seamless pairing between the smartphone app and multiple other Flip 4 speakers.
There is apparently a low frequency mode in the JBL Flip 4 which can be activated to enjoy a deeper bass. Portable speakers have increasingly become one of our most essential gadgets to take with us anywhere. JBL has succeeded in earning a reputation of making one of the best portable speakers priced under $150.