We all want an amazing home theater system to turn our homes into powerful entertainment centers. However, buying the right home theater system can seem like a huge and intimidating task given the wide range of options available in the market today.
If you're familiar with the things to look for in a home theater in 2020, choosing one would be easy as a cake. We went ahead and did the boring research work for you and here we present to you the best home theater systems that you can confidently buy in 2020.
1. The Bose Lifestyle 650 Home Entertainment System – Best Looking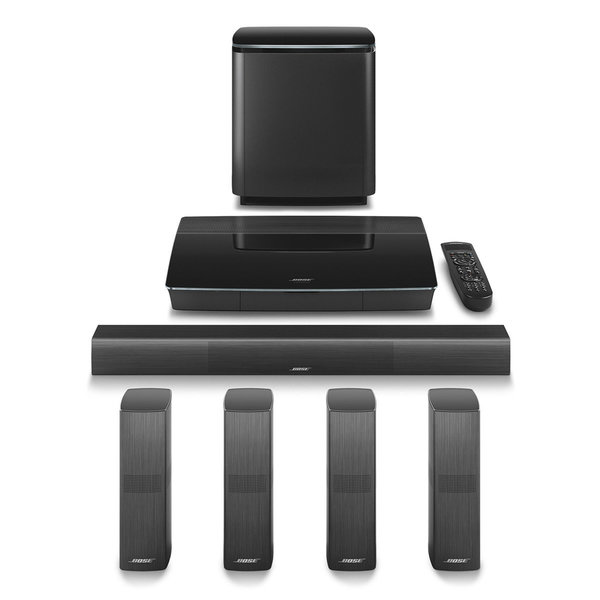 The Bose Lifestyle 650 System is elegant and extremely compact (left, right and rear speakers are only 5.5 inches tall and 2-inches wide). Premium glass and brushed anodized aluminum lend the Lifestyle 650 a certain high-end look and feel.
With WiFi and Bluetooth on-board, the 650 is both a premium wireless home theater system and an awesome stereo. Stream music from your favorite sources and devices via the Bose SoundTouch® app and your home network.
Quick Look:
Alexa-enabled.
Calibrating the 650 to make the most of your room is easy, thanks to Bose's "ADAPTiQ" feature (an app-driven step-by-step process).
 "QuietPort™ Technology" helps subtle, delicate sounds, and dialogue come through loud and clear.
The wireless Acoustimass subwoofer included so no drilling holes or running wires
4K Ultra HD resolution, 5 HDMI inputs.
Digital processing includes Dolby® TrueHD, Dolby Digital Plus, and DTS® for best-case scenario sound.
Accessories:
2 OmniJewel front speakers
2 Wireless OmniJewel rear speakers
1 OmniJewel center speaker
1 Acoutimass wireless subwoofer
1 Console (receiver)
Speaker cables
Power cords
HDMI cable
2. Sonos 5.1 Home Theater Surround Set – Best High End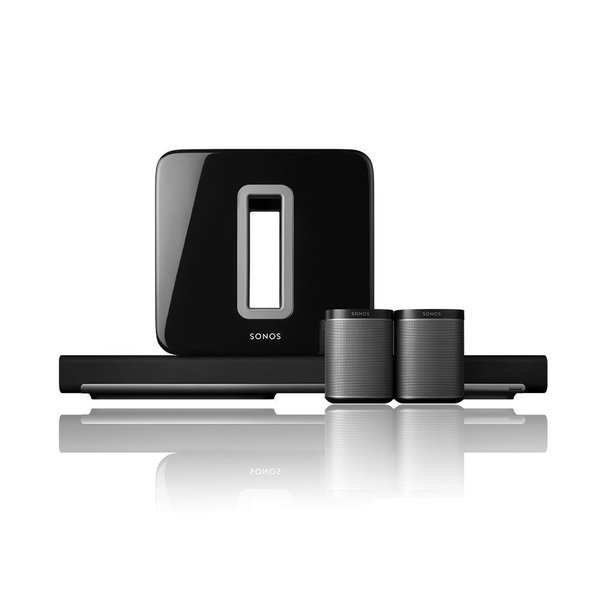 With a plug-and-play design, Sonos is easy-to-use and reliable. Sonos is smart with app-driven interface in the industry and multiple 5.1 home theater configurations are possible.
Sonos's 9-speaker design handles left, right, and center channels and will play any source plugged into your TV. And though the Sonos Playbar is low-profile and designed to live in front of your TV (just like any sound bar), you can upgrade to the Sonos Playbase 5.1 Set or the brand new Beam, which comes with Amazon Alexa built-in.
The bigger, heavier Sonos Playbase is designed to live under your TV. Inside: six mid-range drivers, three tweeters, bigger bass drivers, and better built-in amplification combine to deliver seriously big sound, awesome separation, and clear, distinct highs.
Quick Look:
Sonos is all about rich sounding music and home theater, without wires.
When using the Sonos One as an integrated part of a surround system, Alexa voice control will be automatically turned off.
Sonos One speaker (also sold as standalone speakers) incorporates 2 class-D digital amps, a tweeter, and a mid-woofer.
Sonos wireless Sub provides a powerful low-end foundation.
Accessories:
1 Playbar Sound Bar
2 Sonos One Wireless Speakers
1 Sonos Sub
Power cords
HDMI cable
3. Bose Soundbar 700 with Bass Module 700 and Surround Wireless Speakers – Best Wireless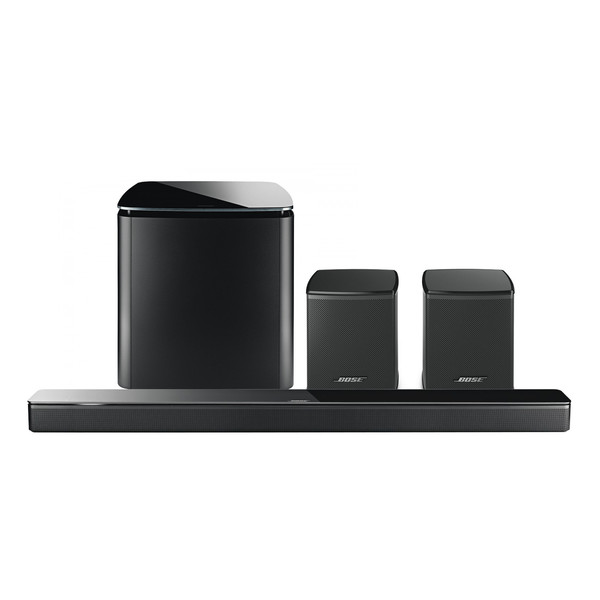 Every component in this system is part of Bose's new family of smart wireless speakers. Enjoy a multi-room audio experience throughout the house.
Quick look:
Turn it up, and Bose's Bass Module 700 subwoofer will throw a nice punch without distorting.
The premium glass top and perforated wrap-around metal grille on the Soundbar 700 is a nice touch.
Amazon Alexa built-in.
Accessories:
1 Bose Soundbar 700
1 Bose Bass Module 700
1 Bose Surround Wireless Speakers
Power cords
Optical cable
HDMI cable
4. Focal Sib Evo 5.1.2 Home Cinema System with Yamaha RX-A780 AV 7.2 Channel Receiver – Best for Small Rooms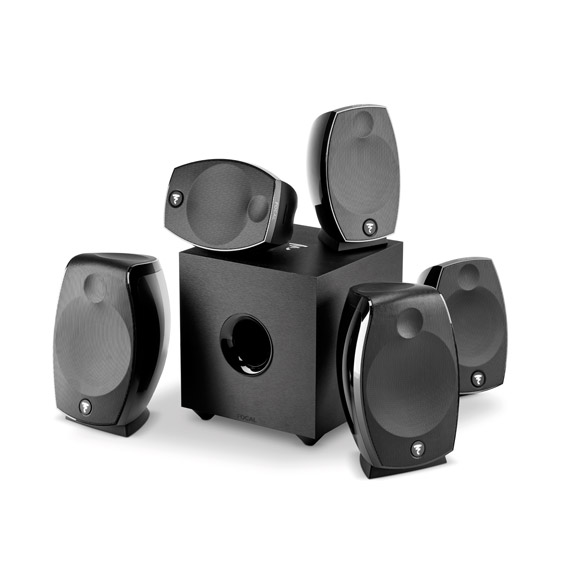 With two Dolby Atmos speakers, you get serious cinematic sound just like bigger systems that cost far, far more.
Quick look:
• The Sib Evo is easy to install, and you have the option to add on wall mounts or stands to better blend in with the room.
• Beautiful, matte black finish and modern design.
Accessories: 
1- Focal Sib Evo System
3 Sib Evo Satellite Speakers
2 Sib Evo Dolby Atmos Loudspeakers
1 Cub Evo Subwoofer)
1 Yamaha RX-A780 7.2 Channel Receiver
5. SVS Prime 5.1 Home Theater System – Best Value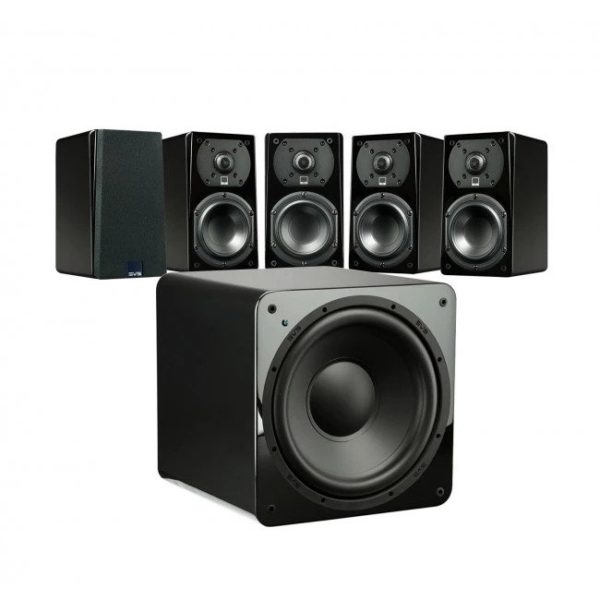 If you're the kind of person who likes blasting music at top volume, the SVS Prime Satellite 5.1, is for you. It also pairs well with any surround sound receiver.
Quick Look:
The two SVS Prime Tower reference-grade left and right speakers, together with the SVS center speaker, do a really nice job with on-screen dialogue.
The two SVS rear speakers are full size.
SVS speakers deliver a wider than typical sound field so anyone sitting off to the side still hears optimal sound.
Accessories:
2 SVS Prime Tower speakers
2 SVS Prime Elevation rear speakers
1 SVS Prime Center speaker
1 SVS SB-1000 Subwoofer
6. Klipsch 7.2.2 Reference Premiere Home Theater System with Marantz SR7013 9.2-Channel AV Receiver – Best for Dolby Atmos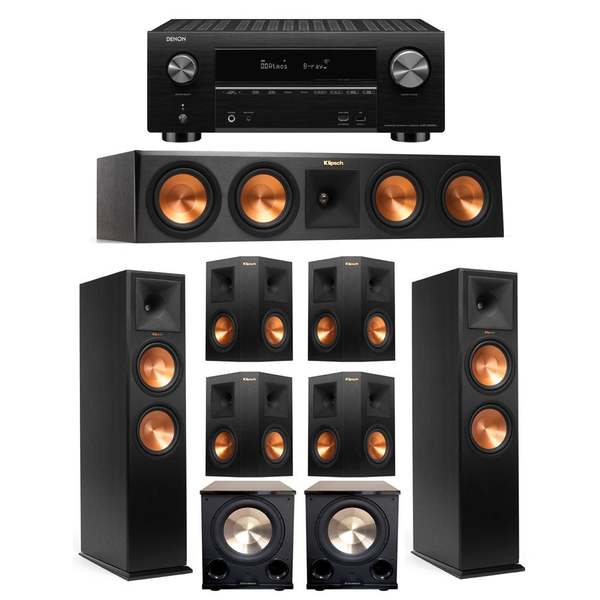 Two historic, world-class, audio pioneers make the best surround sound of all worlds.
Quick Look: 
Bluetooth, Wi-Fi, and Airplay built-in
HEOS wireless multi-room music streaming via any smart device
Klipsch RP-8060 floor-standing speakers are brand new and better ranked on the pecking list than Klipsch's long-heralded Reference II series
Some sounds that naturally come from above like thunder, sound great
Accessories:
2 Klipsch RP-8060FA Floor-standing Speakers with Dolby Atmos
1 Klipsch RP-504C Center Channel Speaker
2 Klipsch RP-502S Reference Premiere Surround Speaker Pairs
2 Klipsch R-120SW 12″ Subwoofers
1 Marantz SR7013 9.2-Channel AV Receiver
7. Focal Aria 5.1.2 Home Theater System with Marantz SR7013 9.3-Channel AV Receiver – Best Surround Sound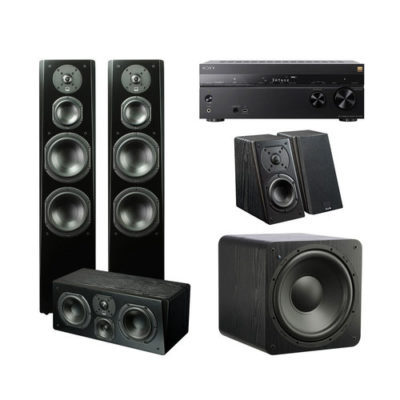 The Aria family of Focal is all about faithfully reproducing sound without compromise. If you're not ready for a 100% custom-designed home theater just yet, Focal/ Marantz 5.1.2 home theater system is the best.
Quick Look:
The Marantz SR7013 AV Receiver comes with 8 HDMI inputs and full HDCP 2.2 support so you can add multiple devices and play protected 4K content.
The Focal Aria 948 floor-standing left and right speakers feature rigid Flax cones provide ideal acoustics in the mid-range and tighter bass.
The Focal 300ICW8 speakers, which are added to the ceiling for incredible height and realism, come with the company's EQI install technology.
Accessories:
2 Focal Aria 948 Floor-standing Speakers
2 Focal Aria 906 Bookshelf Speakers
1 Focal Aria CC900 Center Channel Speaker
2 Focal Aria 300 ICW6 In-Ceiling/In-Wall Speakers
1 SVS SB-4000 Subwoofer
1 Marantz SR7013 9.2-Channel AV Receiver
8. Yamaha YHT-4930UBL – Best Overall Home Theater System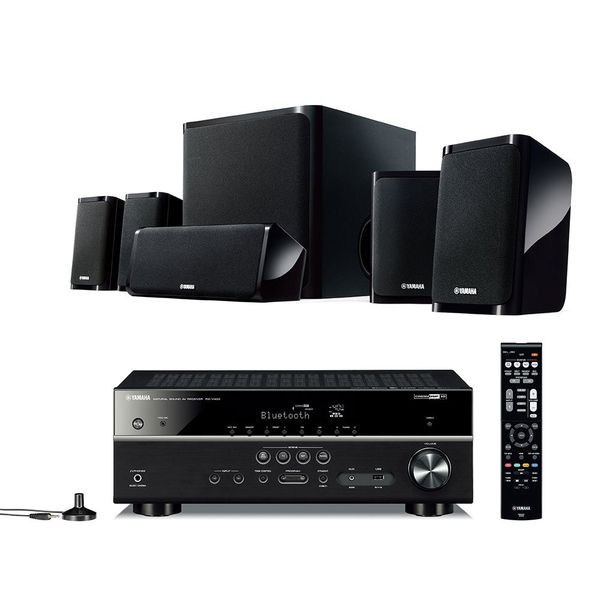 The Yamaha YHT-4930UBL is compact, but deliver crisp sound.
The additional features include Bluetooth for music streaming and Yamaha's YPAO room calibration to help you get the best quality sound. If you have a TV capable of 4K video, the receiver in this speaker package will partner nicely with it. You can even buy this package with included speaker wire.
At high volumes, the YHT-4930UBL tended to distort a little. Still it's a perfect all-rounder system, which delivers great sound at an affordable price, and will slip seamlessly into your living room.
Accessories:
Digital player, AV receiver, speaker system.
Surround System Class. 5.1 channel.
Sound Output Mode. Surround Sound.
Audio D/A Converter. 24bit / 192kHz.
Built-in Decoders. DTS-HD Master Audio, Dolby Audio, Dolby TrueHD.
Surround Sound Effects.
Digital Sound Processor (DSP)
Quick Look:
4K UHD for gaming, films and music.
5.1 Channel AV Receiver, with 100 w subwoofer and 5 speakers
HDCP 2.2 Support
Dolby Vision and Hybrid Log-Gamma
A/V Receiver included
Easy to fit the entire system in even a small room
Wireless, so no tripping over any unsightly cables.
The compressed music enhancer adds real value to the music playback you get.
9. VIZIO SB46514-F6 – Best of the Rest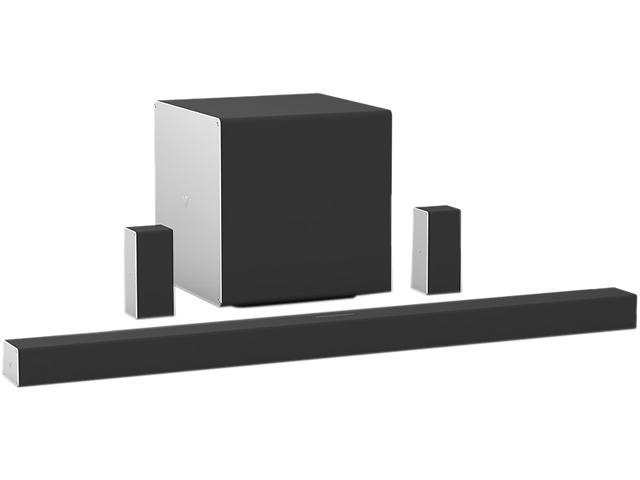 It's a 5.1.4 system – five surround speakers, one subwoofer, and four height speakers – but the height speakers are embedded in the surround speakers themselves, which is clever as hell. This really gives it a leg-up in terms of sound quality, and we think it's a terrific buy.
For under $1,000, the SB46514-F6 still represents one of the best home theater systems on the market, and one of the cheapest ways to get Dolby Atmos.
Quick Look:
The VIZIO SB46514-F6 has two surround speakers and a subwoofer, and is one of the few sub-$1,000 setups to offer full Dolby Atmos audio.
Bluetooth and HDMI are available.
The SmartCast VIZIO app, using the SB46514-F6 is a pleasure.
Very user-friendly
Accessories:
Sound Bar
Wireless Subwoofer
2 x Satellite Speakers
Remote Control w/ LCD display
Wall mounting Hardware
10. Onkyo HT-S5800 – Best for Equal Audio Coverage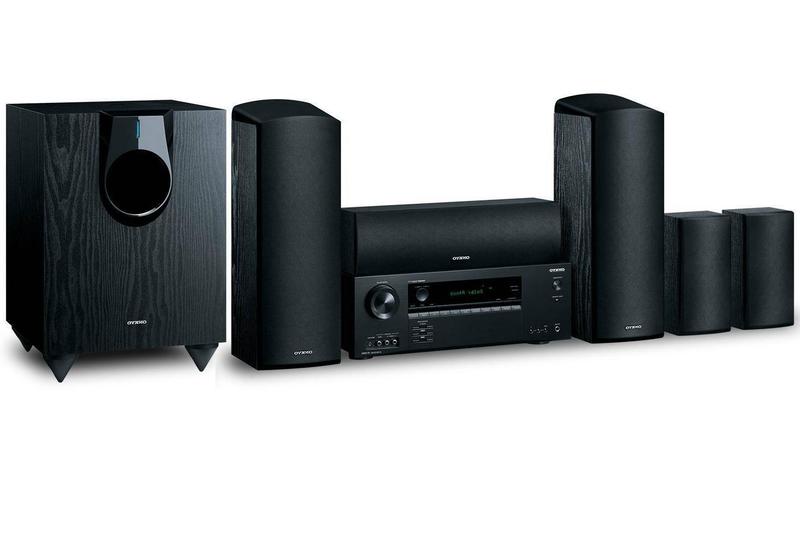 Onkyo provides Dolby Atmos sound with a system convenient to operate, with only one HDMI cable to connect from your TV to the unit.
The Onkyo HT-S5800 incorporates height modules into the front speakers, to get full surround sound, and we highly recommend it. The only con is the included receiver. The base receiver model never felt like it was flattering the audio or driving the speakers to their fullest potential.
Quick Look:
Dolby Atmos up to 5.1.2 Channels
Balanced-dome tweeters ensures equal and focused audio coverage.
115 W per Channel
4K UltraHD or 4K/60 Hz-Capable HDMI Terminals with 4:4:4 Color Space for UltraHD Entertainment (4 In/1 Out)
Discrete amplifiers provide accurate and dynamic audio reproduction.
Built in Bluetooth
A/V receiver included.
Accessories:
Front / Height Speakers
2-Way Bass Reflex / Dolby Atmos Enabled Full-Range, Acoustic Suspension
Center Speaker
Surround Speaker
Full-Range, Acoustic Suspension
Subwoofer
Choosing the right home theater

Music, Movies, Gaming or whatever the need be, these are some of the best home theater systems for the audiophiles out there. With the detailed spec-comparison, choosing the right one for your specific needs shouldn't be a problem at all.