Finding the best Bluetooth speaker for your particular needs isn't the cake walk it might at first seem. It's nothing to do with shortage of options – every online manufacturer from Apple to Ultimate Ears is vying for a bite of the Bluetooth cherry and by association, your hard-earned cash. The challenge is knowing which model is most worthy of your precious coin. Fret not, for that is where we come in. We've done the heavy lifting and rounded-up our pick of the best Bluetooth speakers across all shapes, sizes and prices to ensure you discover a product you'll be over the moon with.
1. JBL Go 3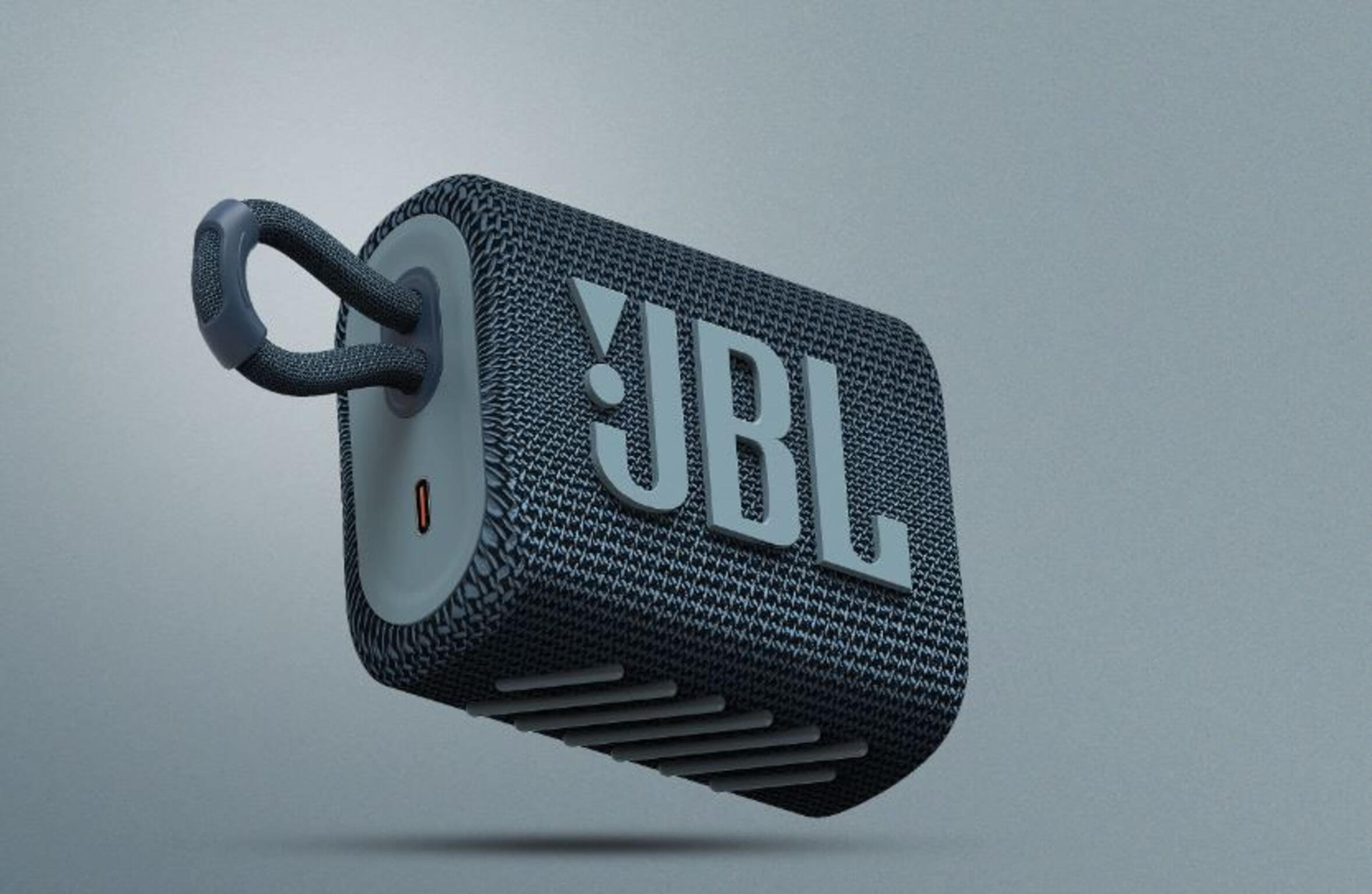 At fewer than 4 inches wide, the only thing smaller than the Go 3 might be its price; even the Anker Soundcore 2 might sweat when seeing this speaker's price tag. And despite the small investment, your return is IP67-rated waterproofing. That means it will survive full submersion in shallow water for half an hour, and full dust-proofing is part of the package as well.
Battery life looks poor at 5 hours, but in our testing we could stretch this out to over 10 hours if we didn't go too crazy with the volume. As such, there are better alternatives if you need to fill a large space, but as a personal, portable speaker, the Go 3 is very likeable indeed.
2. Anker Soundcore 2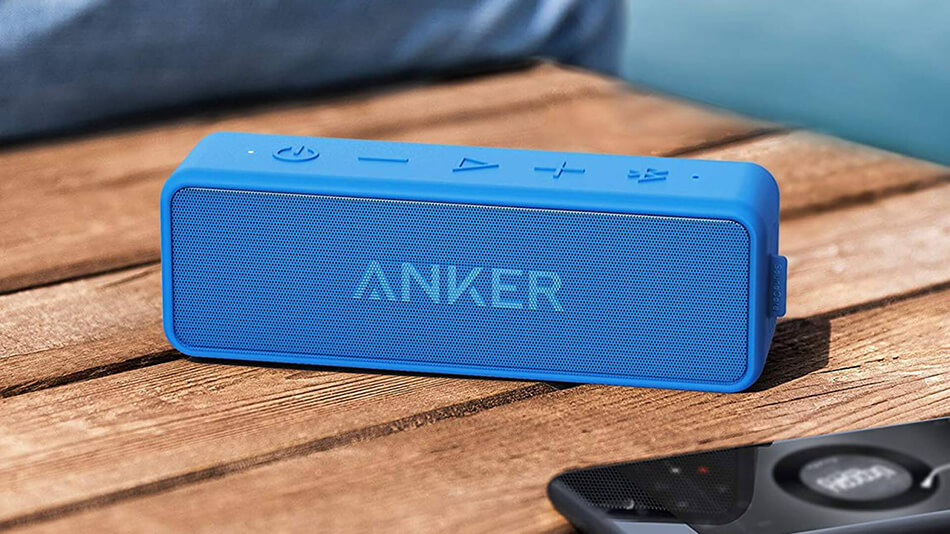 The Anker Soundcore 2 is the best Bluetooth speaker for folks shopping on a budget. For under $50, this tiny powerhouse delivers loud, well-balanced sound within an IPX7-rated design that can survive water, dust and snow. The speaker lasts a whopping 24 hours, thanks to Anker's best-in-class battery technology, and the Soundcore 2's dual neodymium drivers ensure you'll get powerful sound in any setting.
The Soundcore's compact, 6.5 x 2.1 x 1.77-inch design makes this speaker perfect for tossing into your bag for a quick road trip, and it comes in vibrant blue and red color schemes in addition to the standard slick black. Its low cost makes it ideal for environments where you wouldn't mind it getting a little roughed up, too.
3. Sonos Roam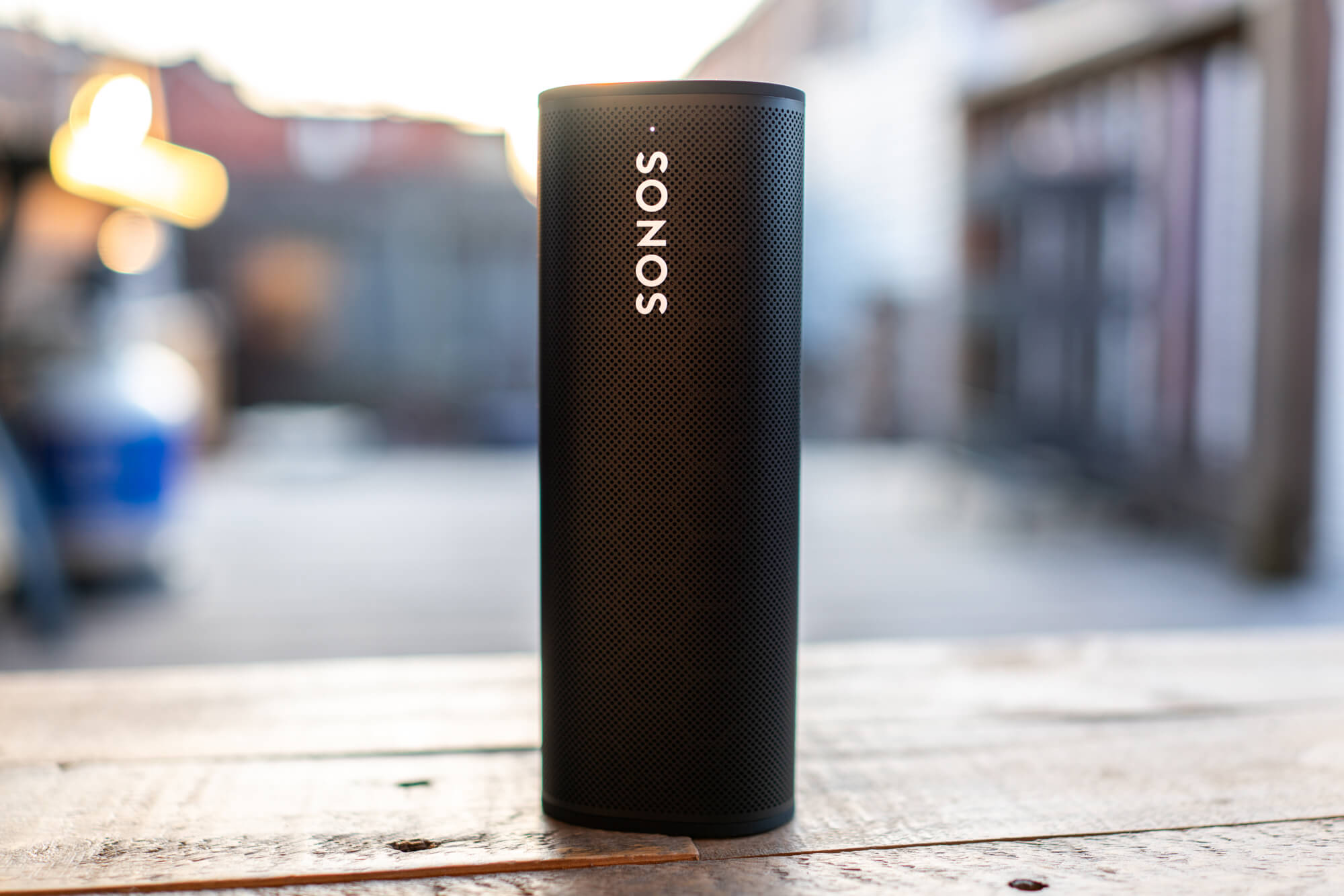 Building on the success of the Sonos Move, the Sonos Roam is a connected smart speaker at home and powerful Bluetooth beast on the road. It's much more portable and more affordable than the Move, though, and its Auto TruePlay feature automatically adjusts the sound to suit its surroundings, whether you're listening in a noisy, urban park or a quaint, airy campground.
Although we wish the battery lasted more than 10 hours, it juices up quickly via USB-C or wireless charging. When you return back from your latest excursion, the Sonos Roam should rejoin your larger Sonos system on its own. It also gives you the option to hand off your current soundtrack to the nearest Sonos speaker. Or you could stick to Roam, bringing your voice assistant and streaming services room-to-room, or as far as your Wi-Fi can reach.
4. UE Wonderboom 2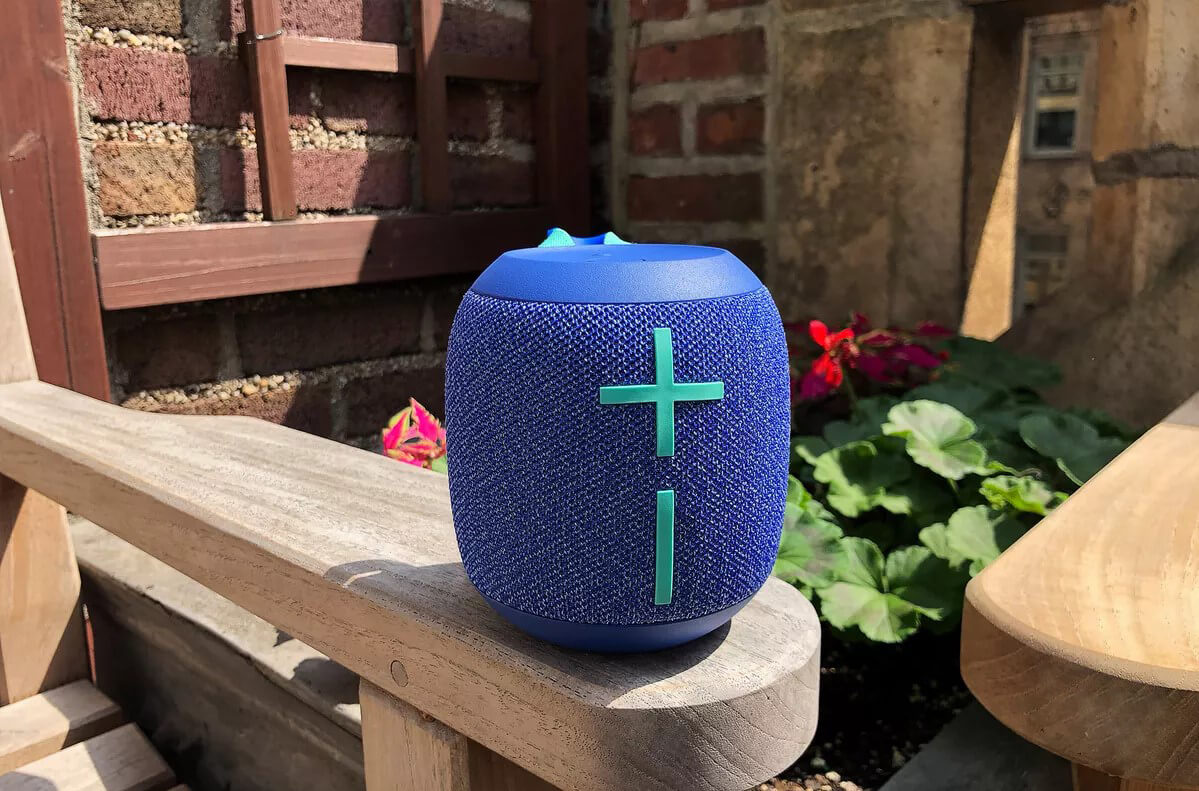 The UE Wonderboom 2 is proof that great things can come in small packages. This tiny speaker delivers huge sound within a small 4-inch cylinder, complete with throbbing bass, balanced midtones and crisp vocals. It can survive being dunked in 3 feet of water for up to 30 minutes and is dust-resistant, making it perfect for your next trip to the pool, beach or park.
Other key features include an impressive 13-hour battery life and the ability to pair two Wonderbooms together for immersive stereo sound. If you need an especially small speaker that's a breeze to tote around and don't want to spend more than $100, the Wonderboom 2 is hard to beat. Add a carabiner to the clever loop to attach the Wonderboom to your bag as you head out the door.
5. UE Megaboom 3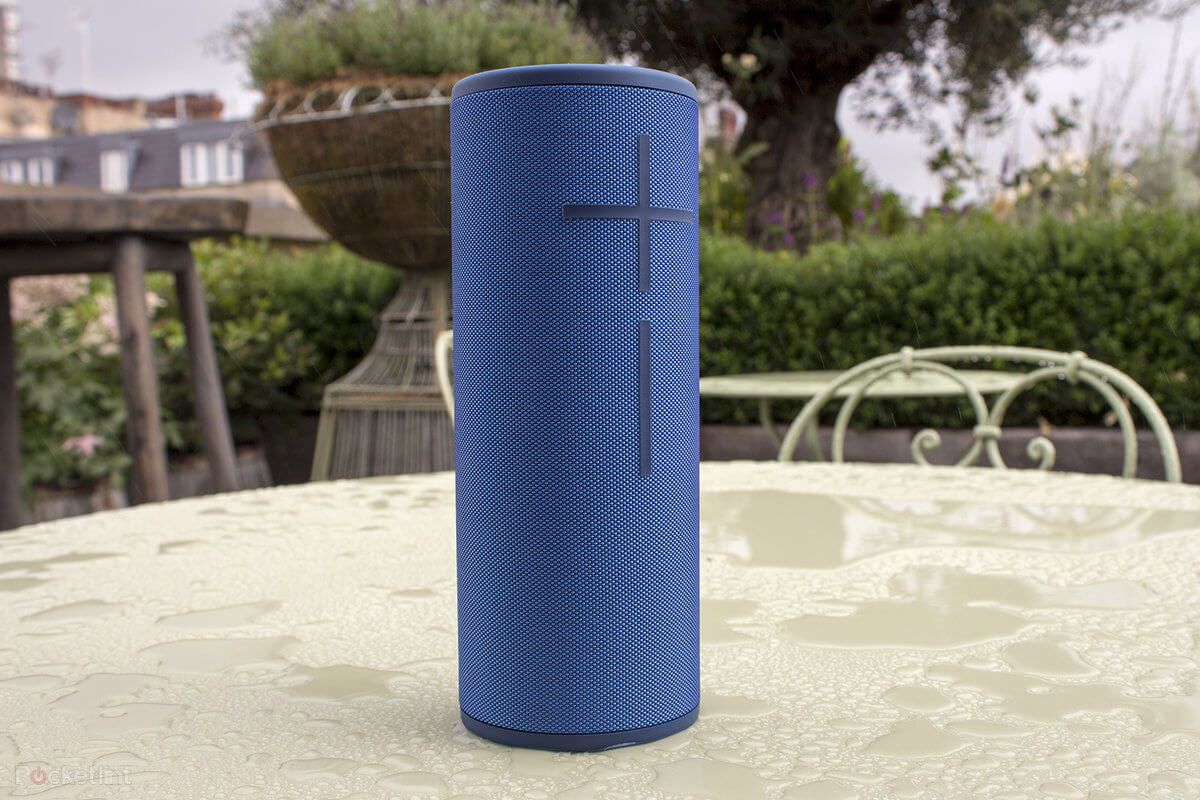 Thanks to its excellent sound quality, long battery life and travel-ready ruggedness, the UE Megaboom 3 is the best Bluetooth speaker you can buy right now. This big, bold portable speaker pumps out rich 360-degree sound complete with crisp highs and satisfying low-end, and maxes out at 100 decibels of noise. And with an IP67-rated design, it can survive drops, splashes and a fall into the pool without skipping a beat.
The Megaboom 3 is on the bigger side compared to other portable speakers, and unlike many of its competitors, it doesn't have Alexa or Google Assistant support, or any other smart features. But if that's not a dealbreaker, the Megaboom 3's sound quality and ruggedness can't be beat for the price. You can also pair it with older Megaboom and Boom models for a stereo sound experience.
6. JBL Charge 5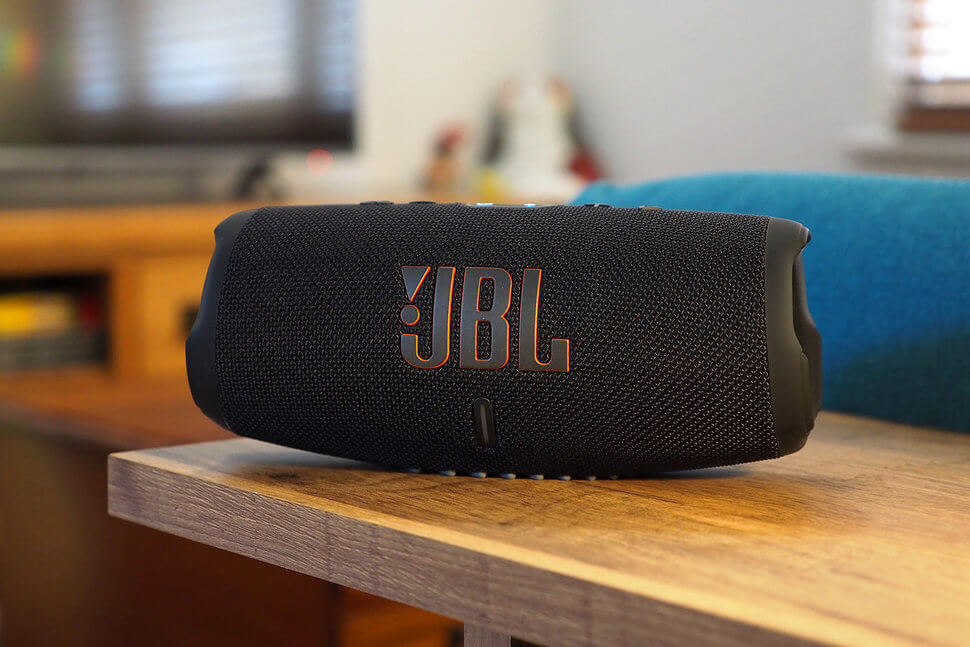 The JBL Charge 5 makes only a few changes to the Charge 4's formula, but thanks to the new model's improved sound output and even greater ruggedness, it's a deserving member of the best Bluetooth speaker club. Its IP67 rating, signalling high dust resistance and full waterproofing, is about as good as you'll get on a mainstream speaker.
JBL's app isn't as advanced as, say, the UE Megaboom 3's, and the Sonos Move has a lot more features. But the Charge 5 can show off a few tricks of its own, chief among them being able to act as a power bank for phones and tablets. Running out of juice when you're streaming music in the yard or at a park? Just plug it into the Charge 5 and the speaker will give you a top-up.
7. UE Hyperboom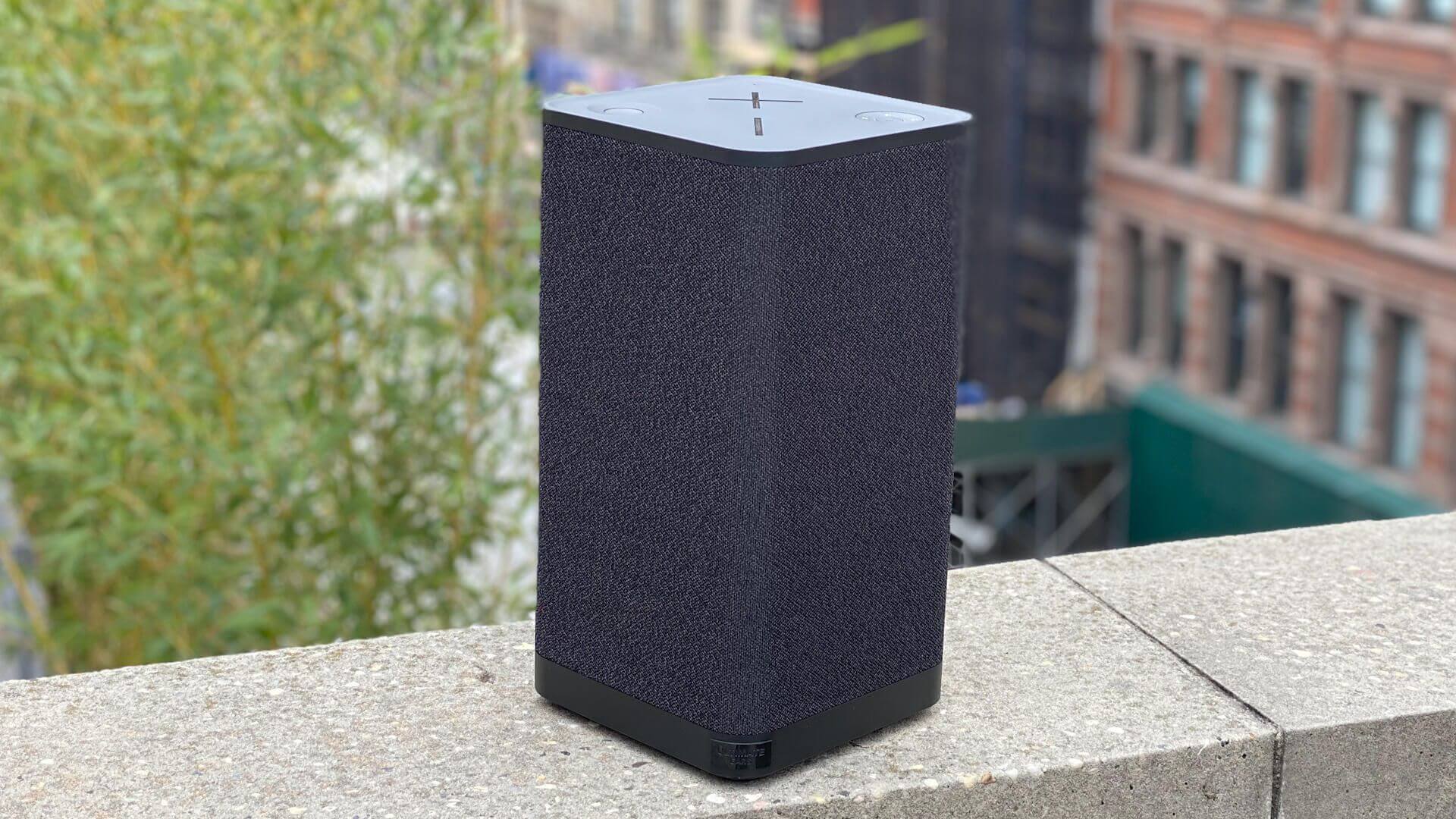 Looking to really go big? The UE Hyperboom is the best Bluetooth speaker for large gatherings, thanks to its massive size and big, booming audio output. This 14-inch tall speaker offers huge, balanced sound that's especially ideal for barbecues and outdoor parties.
The Hyperboom is as rugged as it is big, with IPX4 water resistance for surviving splashes. And you'll get 24 hours of battery life for keeping the outdoor tunes going all day and night long. Pair that with seamless Bluetooth connectivity and plenty of volume, and you have the ultimate speaker for filling a big area with great sound.
8. LG XBoom Go PL7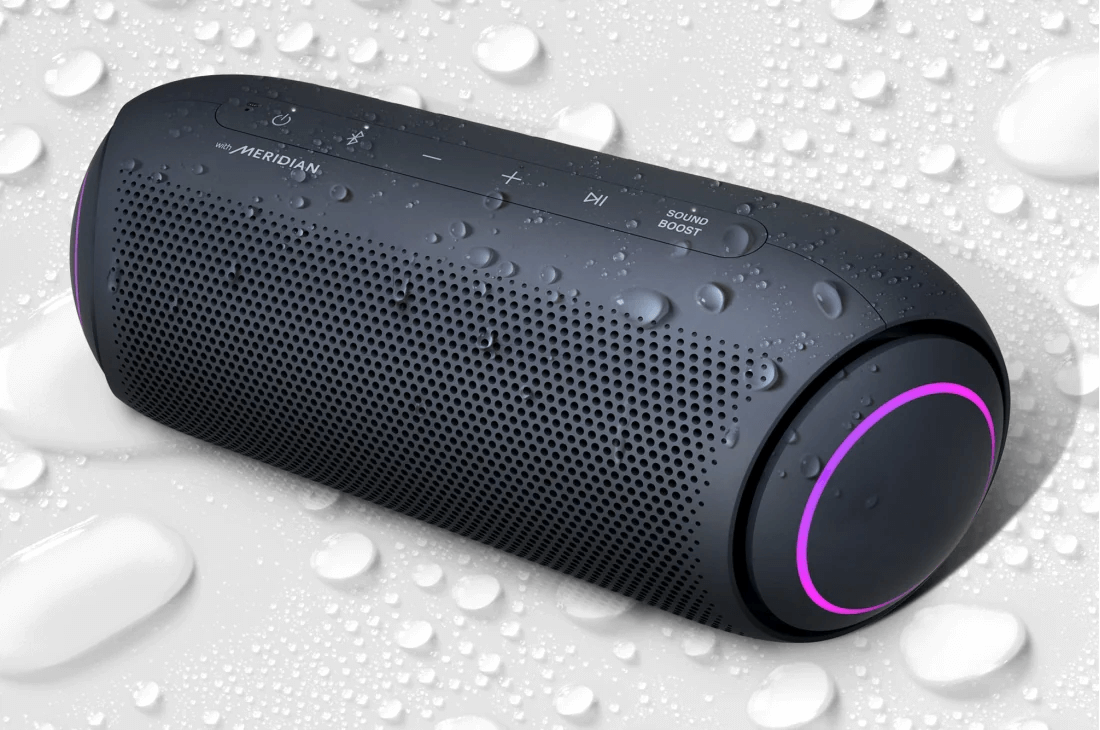 Every Bluetooth speaker on this list delivers great sound and functionality, but only the LG XBoom Go PL7 does it while boasting awesome LED lights. This unique Bluetooth speaker packs fully customizable LED rings on either side, adding some unique flair to your pool parties or indoor jam sessions.
But the XBoom Go PL7 has much more than looks going for it. The XBoom's appropriately booming sound holds its own against the best Bluetooth speakers in this price range, delivering balanced bass and satisfying treble. And with an IPX5 rating, this speaker can handle sprays or plashes of water and keep on ticking. Factor in its strong 24 hour battery life, and the XBoom Go PL7 is a great Bluetooth speaker that looks as good as it sounds.
9. Sonos Move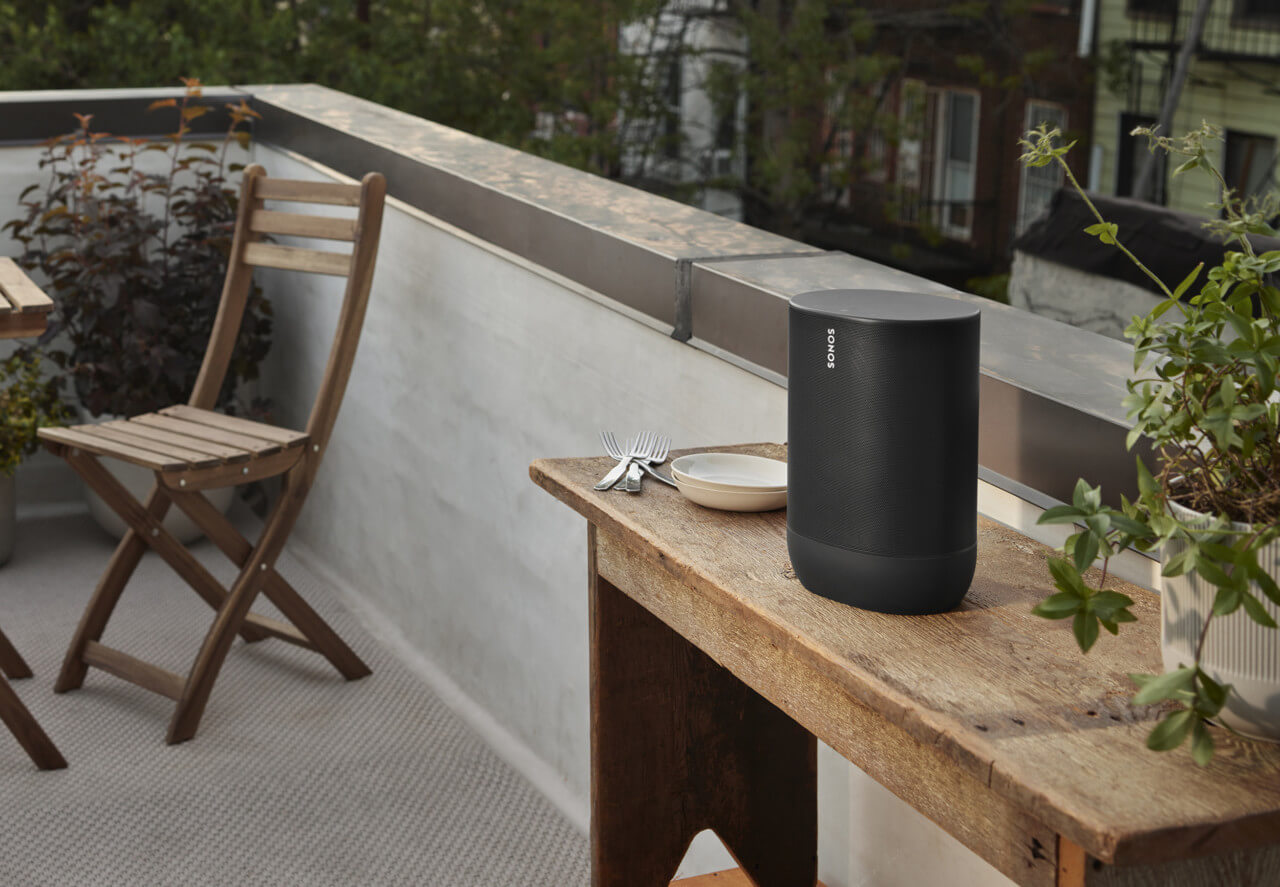 The Sonos Move might not be as portable as the newer Roam, but it's still one of the best Bluetooth speakers on the market. The Move takes the well-tuned sound and rich feature set found in the Sonos One and lets you take it on the go, with a 10-hour battery packed into a portable (albeit fairly chunky) design.
We found the Move delivers a booming, crisp sound, complete with satisfying bass and clear vocals. The speaker works with all major streaming services including Spotify and Apple Music, sports Apple AirPlay 2 support and can seamlessly switch from Bluetooth to Wi-Fi on the fly. Alexa and Google Assistant support allow you to do anything from check the weather to control your smart home, and the Move's Auto TruePlay automatically tunes the speaker's audio output for wherever you're listening, whether you're having a rooftop party or rocking out in your bedroom.
10. V-Moda Remix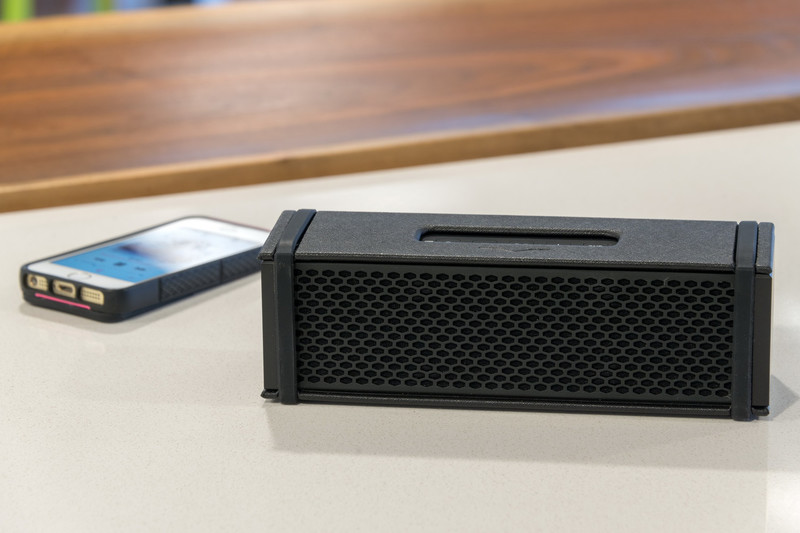 For a premium speaker that looks as good as it sounds, look no further than the V-Moda Remix. This drool-worthy showpiece is the best Bluetooth speaker for the design-oriented, and can be customized to your heart's content. The base model looks slick in aluminum or vegan leather, while, people with bottomless budgets and a penchant for style can opt for steel or platinum finishes (the later of which will run you well over $300,000).
Most importantly, the Remix sounds great, offering plenty of bass as well as a built-in headphone amp for enhancing the audio of your favorite set of cans. The Remix's 10-hour battery life certainly makes this speaker worthy of longer jam sessions, and its trusty microphone allows for crisp call quality whether you're set up inside your house or out.
What to look for when buying a Bluetooth Speaker in 2021?
A portable Bluetooth speaker is a handy accessory to have for your smartphone or laptop, but picking one can sometimes be a stressful affair, especially given the sheer number of options in the market. You have speakers in all shapes and sizes, ranging from a few hundred rupees all the way up to Rs. 30,000 and beyond. The best way to choose a speaker that's right for you would be to audition it, as sound is very subjective, so it's impossible to gauge how good a speaker is by simply reading the specifications.
However, unlike smartphones, you can't always try-before-you-buy even in big shopping malls. The next best thing would be to knowing what to look for in a speaker so that it meets all of your requirements before you take the plunge. We've put together a small checklist of features that you should consider before buying your next portable Bluetooth speaker.
Understanding specifications
It's not ideal to base your purchase decision on specifications alone, but it's a good place to start, especially if you can't get a field test of the speaker yourself.
Frequency response
Frequency response is measured in Hertz and is typically described as a range, say from 100Hz – 20,000Hz. In theory, the wider the range, the better the ability of the speaker to reproduce audio as it was intended. However, having a big range alone doesn't guarantee good sound as it depends on how your ear perceives sound too, which can vary wildly from person to person.
Other factors like the listener's age also come into account, since our ability to hear certain frequencies diminish with time. In an audio track, the bass is usually heard around the frequency range of 20Hz to 250Hz. Vocals and other instruments like a guitar and piano typically reside in the range of 250Hz to 4000Hz (or 4kHz), which is commonly referred to as the mid-range. The rest of the frequencies (up to 20,000Hz) form the treble.
Bluetooth version
The version of Bluetooth determines the quality of audio transmission and distance you can keep between your phone and the speaker. You should ideally look for Bluetooth 4 or better, as this version adds support for Low-Energy profile, for better battery life, and it is about 60 meters. Bluetooth 5 is the latest standard, which vastly improves the data transmission rate and range, but there's still time before we see speakers adopting this standard.
Drivers
The driver is the heart of any speaker, so it's imperative you get a decently sized driver. Most portable speakers will typically have a 40 mm driver, which is good size to start with. If you want bigger drivers, then expect the overall size of the speaker to increase too. The Sony SRS-XB41 boasts massive 58 mm drivers, which does, of course, make the speaker much larger.
The number of drivers and their placement also make a difference to how the speaker will sound. Smaller Bluetooth speakers typically come with a single, full-range driver and are positioned either facing upwards or downwards, to displace sound better. Many speakers also have a twin driver setup, which tend be noticeably louder. Since there isn't much space inside a portable Bluetooth speaker for a woofer, most manufacturers install passive radiators, which vibrate to produce bass. If you're someone who listens to rock and electronic music a lot, then having passive radiators, like in the JBL Flip 4, really helps.
Connectivity
Besides wireless connectivity, it's nice to have the option for the wired connection too, so check for an auxiliary connector. This is generally marked as 'Aux-In' in the specifications' page of the speaker. A wired connection is handy if you wish to save a bit of battery on your phone or speaker, and it also helps sometimes in getting better quality sound. Many speakers also have NFC, which helps in quick pairing with your devices. A microphone is a good feature to have too, as it lets you answer calls directly through the speaker, like a speakerphone. This way, you don't have to go looking for your phone when you get a call, as you can answer it directly through the speaker. Having a microphone also lets you interact with your phone's virtual assistant, so you can schedule appointments and check for weather updates without having to touch your phone.
Charging style
Having a standard USB charging port is an added convenience, especially when you're outdoors or at a friend's place and don't have the bundled cable with you. Most speakers these days stick to a Micro-USB port, which makes it possible to charge them with power banks too, if you're away from a wall socket.
Where will you use the speaker the most?
Specifications aside, you also need to think about where and how you'll be using the speaker. If it's mostly for home use, then, you should ideally consider something that will blend in with your home decor. Take the Bose SoundLink Revolve for example, which has an aluminum body and a contemporary design, which is perfect for the urban living room.
If you're going to be using the speaker in the shower or outdoors mostly, then you should ideally consider a rugged, waterproof speaker. There are plenty of decent options to consider across price ranges. The Toreto Aqua is once such a budget option, while there are plenty of good ones as you move up the price ladder, like the Ultimate Ears Boom 3.
Battery life
Battery life is another important factor to consider, especially if you're out camping and won't have access to a power source. Speakers like the Sony XB41 promise a full day's worth of battery life, however these are usually a bit larger and bulkier than the average portable speaker.
Enhanced features
Most Bluetooth speakers today can do much more than simply streaming music.
Other features to look out for is if there's any companion app support, which is handy if you need to manage multiple speakers, check the speaker's battery life, or simply to update the speaker's firmware. If you listen to a lot of high-resolution audio files, then it helps to have high-resolution audio profile support like aptX HD or LDAC. With the right audio source and compatible device, these profiles can make a difference.
Finally, another handy feature to have is the support for pairing multiple speakers together for bigger sound. Sometimes, one speaker isn't loud enough to evenly cover a big room or if you're outdoors, which is where pairing two or more of the same type of speaker is an advantage. Most brands now have this feature and some, like JBL, let you pair more than 100 speakers together, though it's unlikely you'll ever need that many! You're more likely to use the option to pair two of the speakers in stereo mode, thereby giving you a much better audio experience.