With no end in sight from the ongoing global pandemic, it looks like house parties are going to be the new norm for a while. One of the most important requirements for hosting house parties is a good pair of speakers and some nice music to set the mood and keep it going.
With the vast amount and variety of wireless speakers available these days, it can be an uphill task to pick the right one for you. So, this time, we have compiled a list of the 10 best wireless speakers for house parties.
Take a look at the list below:
1.

JBL Partybox 300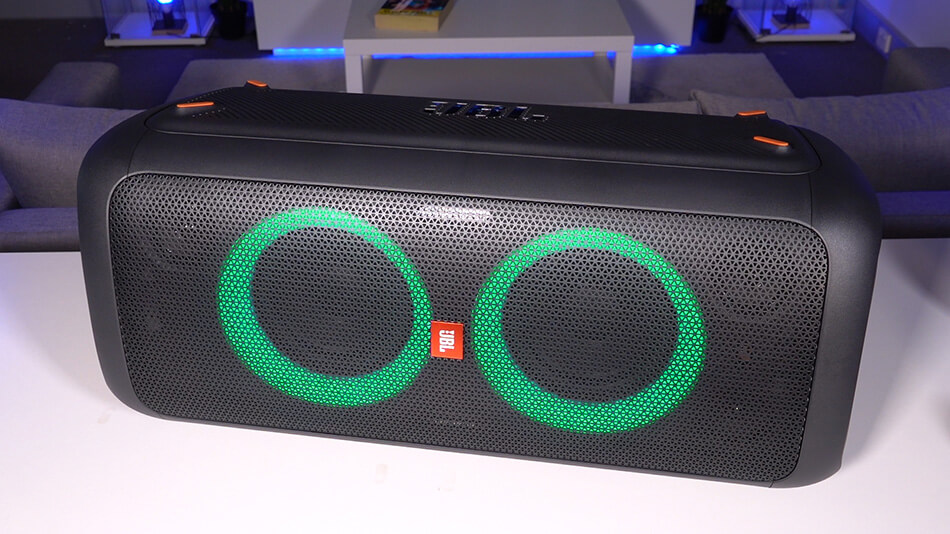 The JBL Partybox 300 makes use of a tried and tested speaker design and sort of scales it up to make for a great party speaker. It grabs attention because of the LED Lights on the front panel and the durable build.
It may feel a little on the heavier side, but it is very sturdy while carrying around from one place to another either indoors or outdoors. The sound delivery is clear and it has a bright treble that will make music audible even in noisy crowds. It's very loud and gives out a whopping 110 decibels of sound.

The Partybox 300 comes with Bluetooth connectivity. It also has line I/O connections and two ¼" ports for microphones and connectivity with other speakers, as well as a 3.5mm aux jack and USB port.
You can keep the party going either with its rechargeable battery or directly plugging it in via the 12V DC port.
Other features:
Weight: 35 lbs
Dimensions: 32.4″ x 15.5″ x 15.6″
Battery: 18 hours
2.

Sony GTKXB90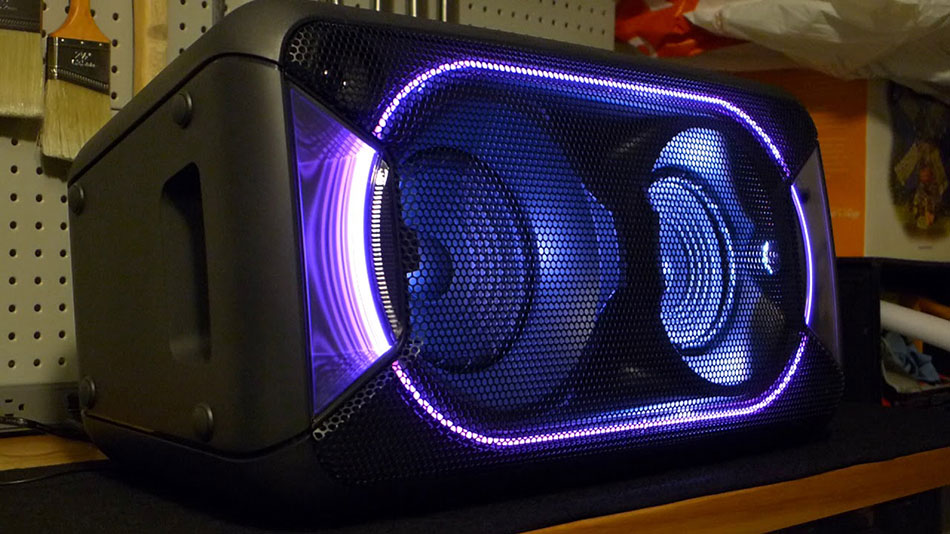 The Sony GTKXB90 is a powerful portable speaker to liven up a house or outdoor party.
The built in battery gives good back up, however, the battery life may be reduced when the volume is at maximum for a long duration. In such cases, you can always fall back to plugging it in.
You should download the Sony Music Centre ​to control the speaker's lights or activate the DJ effects. The Speaker lights consist of a set of lights and infinity mirrors that come together to create stunning visual effects.
Apart from Bluetooth, these speakers also come with NFC (Near field communication) which makes connecting to the speaker as easy as merely touching it with NFC enabled devices. There is also a mic input as well as Wireless party chain that allows you to connect to up to 10 wireless speakers.
Other features:
Weight: 36.5 lbs
Dimensions: 29.06" x 15.88" x 16.31"
Battery: 16 hours
3.

Anker Soundcore Rave Mini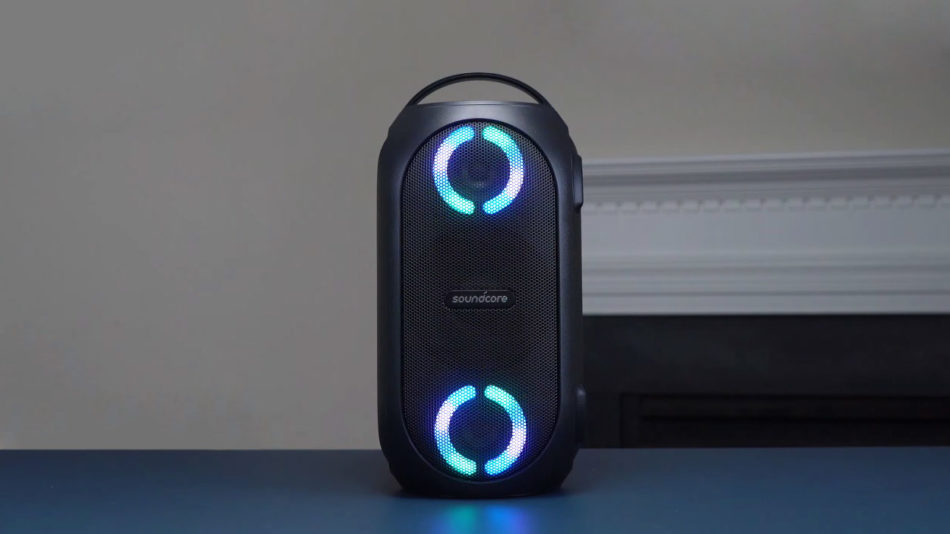 Anker's Soundcore Rave mini is a perfect example for good things that come in small packages. Standing at only about 17 inches and weighing 7lbs, it is one of the leading products amongst the best budget Bluetooth speakers. Despite the small size, it manages an audio output of 80W!
The Soundcore App brings with it more functionality and control for the speakers. You can use the app to control the EQ presets and other audio settings. You can also use the app to control the LED Lights. These lights are available in 6 modes suited to various genres of music.
Another highlight of this is that it comes with a cool IPX7 waterproof rating. This means that the speaker is protected for an immersion in water of up to 1 meter for about 30 minutes. So, you can use it for pool parties without worrying too much.
Audio inputs include a 1/8″ AUX, USB and Bluetooth version 5.0. There is a 10-button control panel on top of the speaker, which means you can control your music without even touching your phone.
Other features:
Weight: 4.62 lbs
Dimensions: 70.8" x 70.8" x 134.6″
Battery: 18 hours
4.

DiamondBoxx XL2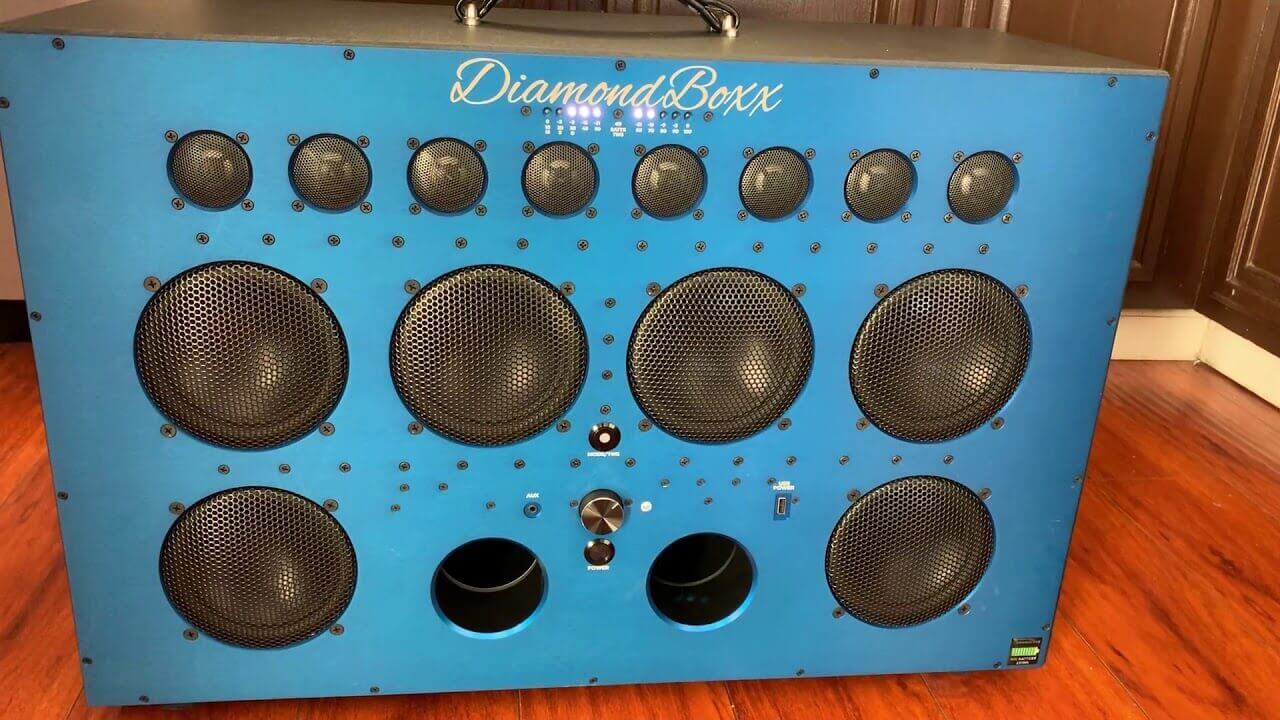 This party speaker comes with a 12 class A/B amplifiers giving superior sound quality with an output of 960W. Regardless of the music genre, it has amazing clarity.
The Diamondboxx can easily be connected to a smartphone, iPad, tablet or any Bluetooth device.
The only downside is that since these speakers are hand built and designed by famous audio engineers in the US, it tends to be a little pricey. However, for the sound clarity it gives, if you don't mind cashing out extra moolah, then this is the choice for you.
Other features:
Weight: 41 lbs
Dimensions: 28″ x 11″ x 18″
Battery: 25 hours
5.

AOMAIS U-Go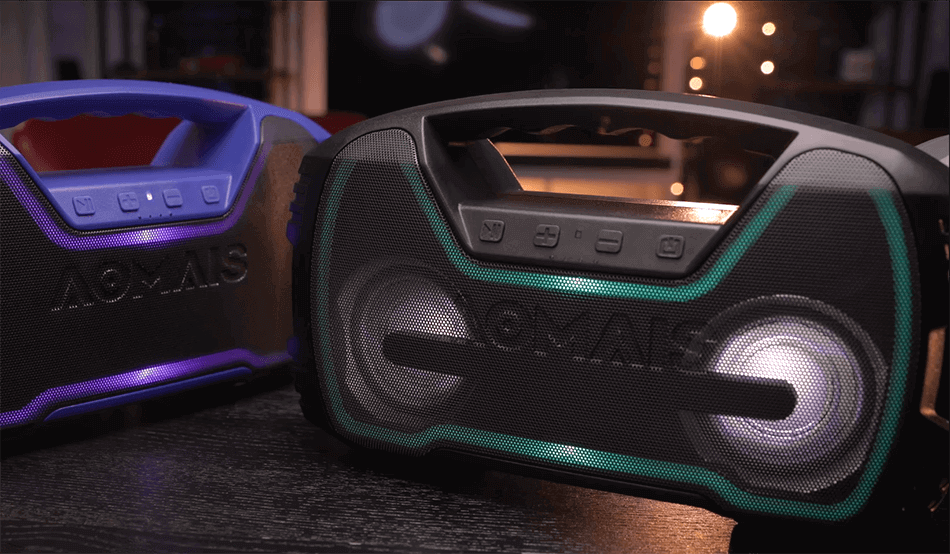 This speaker is an upgraded version of the popular AOMAIS Go Mini, and has a better battery backup. Listening continuously at 50% volume setting, you can enjoy upto 40 hours of playtime.
The AOMAIS U-Go gives an output of 25 Watt and can give a maximum of 50 Watts when two speakers are connected. The speakers also have LED-coloured party lights that flashes with strobe lighting effects to get the party started. All this comes along with an IPX7 waterproof exterior. What more could you want in a party speaker!
Other features:
Weight: 2.9 lbs
Dimensions: 11" x 3.9" x 7.2"
Battery: 40 hours
6.

The SoundBoks2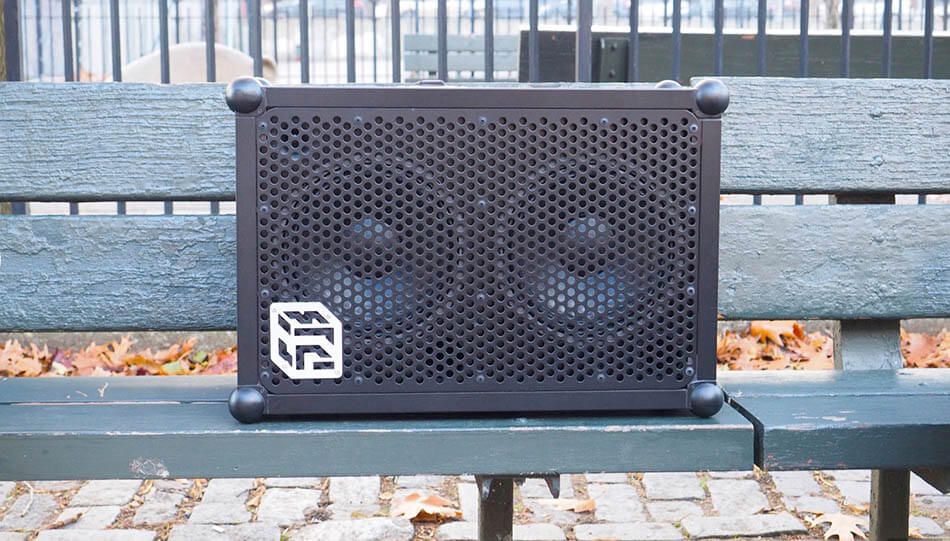 For the frequent party throwers who do not mind spending some extra moolah, this one is an easy pick.
With a whooping output of nearly 122dB, these speakers easily have the best output for a Bluetooth sound system. Though it comes with a lot of bass, there are no distortions. The unit is also water and dirt resistant, and is built-to-last.
There is a 1/8" aux input and Bluetooth connectivity. You can get the party started without requiring a wired connection.
It also comes with a swappable battery pack that lasts up to 40 hours. The only downside of this one is that it can feel a little bulky to be carried around.
Other features:
Weight: 33 lbs
Dimensions: 26″ x 17″ x 13″
Battery: 40 hours
7. 

ION Audio Party Rocker Max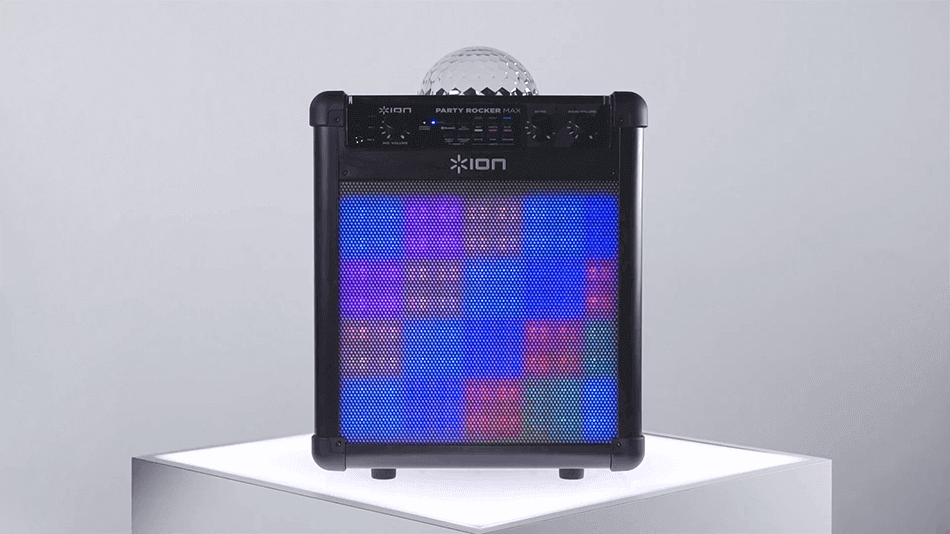 This comes in the budget range of wireless party speakers and is an eye-catching one too.
Rocker Max is a modest speaker that can be used for smaller parties. The output is about 100 watts and the sound can sometimes be a little distorted at extremely high volumes.
It comes with 1/8" aux cable and a microphone port for non Bluetooth devices. Build wise, it looks sturdy and has wheels owing to which it can easily be carried around. It also has party lights that move according to the music.
Other features:
Weight: 23.2 lbs
Dimensions: 11" x 15" x 17.25"
Battery: 50 hours
8.

Aiwa Exos-9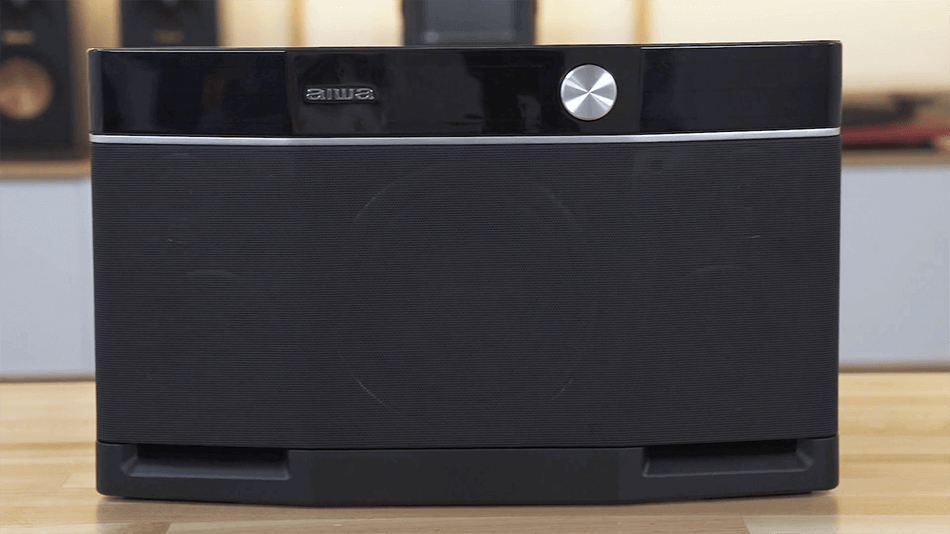 Thanks to its design, these speakers are great to be used for a garage party, an indoor party or even a barbecue party.
The speakers consist of a 6.5" dual-voice coil sub-woofer that is included in the five drivers. It gives out 200 watts of sound which is controlled by the 5-band onboard graphic equalizer with four presets and fine-tuning.
You get the option of up to nine hours playback when unplugged. You can also play it for longer by plugging it in.
Other features:
Weight: 13 lbs
Dimensions: 7.50" x 11.70" x 19.40"
Battery: 9 hours
9.

 

LG PK7 Xboom Go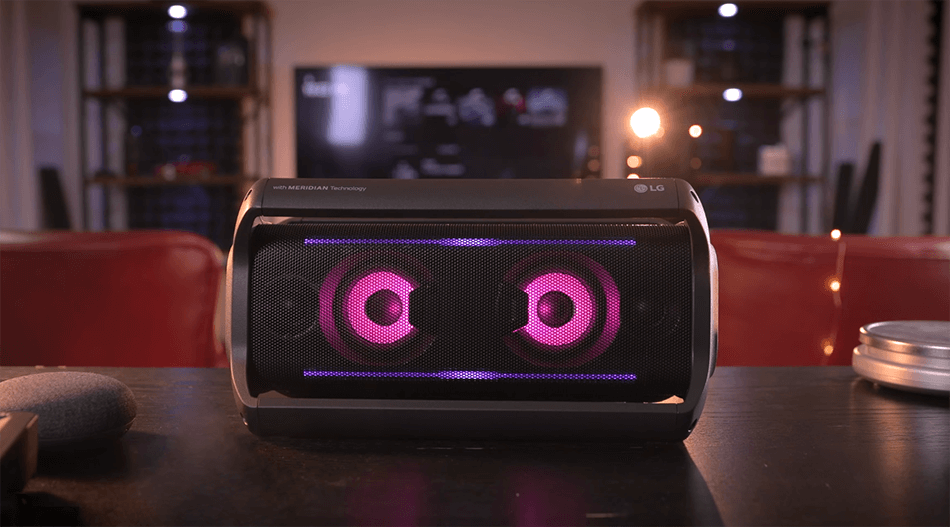 These speakers maybe small, but they sure pack a punch. The speaker has handles in the right places that make it easy to be carried around.
Available in Black and white, it comes with enhanced bass, powerful sound output and LED beat lighting. What's more, the speakers are IPX5 water resistant, making it dust and water resistant.
You can connect up to 2 Bluetooth devices at a time and can also answer calls by just pressing a button on top of the speaker. This one is compatible with both Android and iOS.
Other features:
Weight: 6.3 lbs
Dimensions: 12.6" x 6" x 6.6"
Battery: 22 hrs
10. JBL Partybox 1000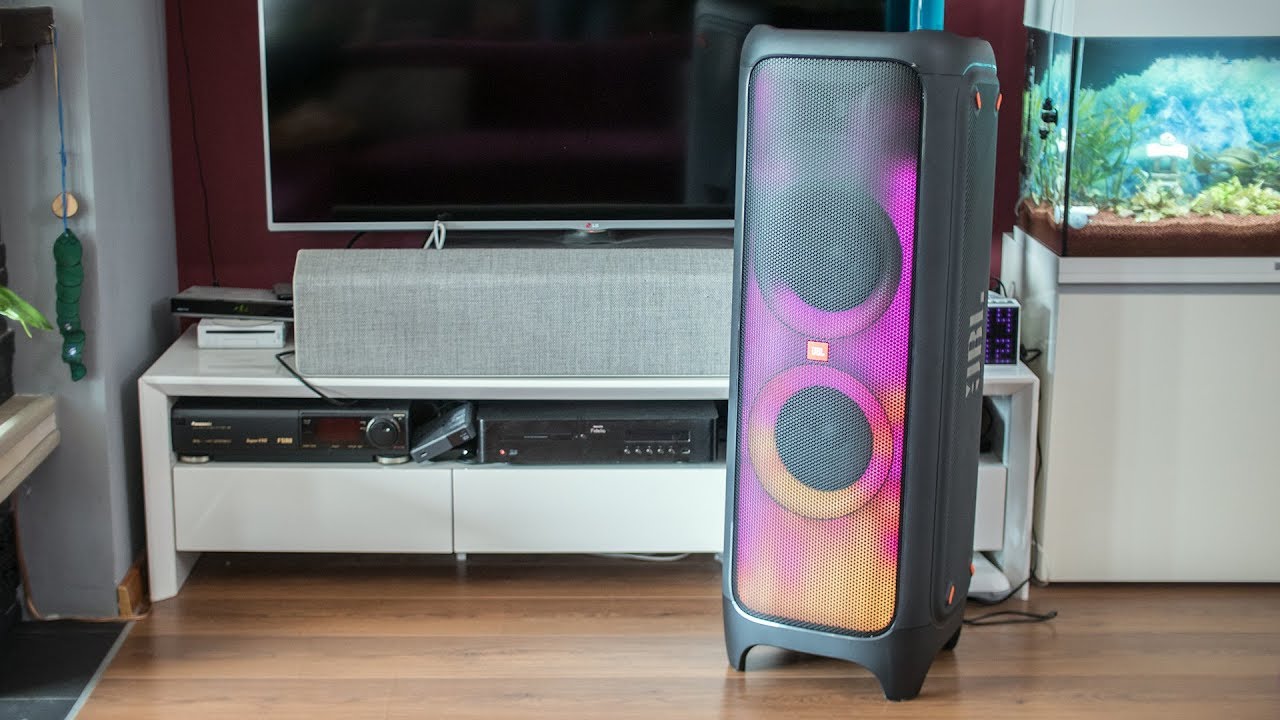 If you don't mind paying a premium and are looking to create a club like atmosphere at the next party you host, then this is the speaker for you. It packs an extraordinary amount of sound, it features a wall of insane LED lights, it comes with a completely customizable drum pad and karaoke system, and it's over 3.5 feet tall. This speaker's sound is as massive as its physical size.

JBL Partybox 1000 is the best candidate for any party that wants to push limits. It presents an incredible amount of sound, it looks mesmerizing, it has great functions for DJs, and it makes karaoke so much easier.
Other features:
Weight: 76.5 lbs

Dimensions: 45.59 x 18.42 x 18.58 inches

Battery: No, direct power
Which speaker should you pick for your next house party?
Although the above list is not exhaustive, these are some of the best wireless speakers for house parties currently trending in the market. Each one comes with its unique features. Before buying one, think about how and where you plan to use it. Also, for those buying on a fixed budget, the choices are much easier. Hope this list has made it easier for you to narrow down and go pick up a good speaker and start partying!