Zephyrus S GX701 is the 17 inch version of Asus Zephyrus S series gaming laptops. Zephyrus series presents thin and sturdy laptops that perform as good as if not better than their bulky counterparts. Zephyrus S GX701 might be the slimmest 17 inch gaming laptop till date.
It houses some killer specs considering its aesthetics and also breaks the stereotypes about the unappealing appearance of a gaming laptop. However, it comes with a hefty price tag and that opens the room for discussion.
Why buy:
Cutting edge specs
Best-performing GPU
Future-proof
Why not:
A bit on the expensive side
Keyboard placement is unconventional
Might require some external accessories
Design and Build
Zephyrus series is known for its aesthetics. For a laptop with a 17.3 inch screen, GX701 feels really compact and can fit in most 15 inch laptop bags easily. To make this possible, the internals too are designed and arranged in an interesting way. It's impressive how this compact design packs such powerful internals.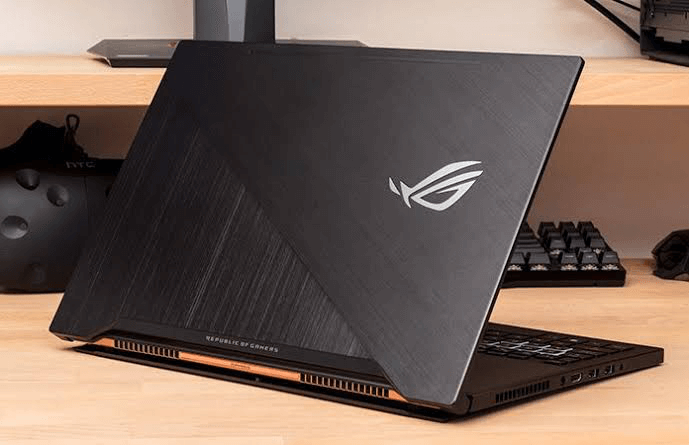 This laptop comes with dimensions of 10.7 × 15.7 × 0.75 inches. This 0.75 inch height of GX701 is the real deal and hype about this laptop. To achieve this thickness, many sacrifices were made (not with performance though!).
The lid has a glowing logo of ROG which is really eye-catching and the bottom is plain without any exuast vents. The bottom does have a set of small stands which elevates the laptop a bit when the lid is open.
On the right side, we have one 3.1 USB type C port and two 3.1 standard USB ports. On the left side, a 3.1 USB type C port, 3.1 standard USB port, HDMI 2.0 out, Display port 1.4, headphone jack and power input.
There is no ethernet port available, an external ethernet adaptor can be purchased separately. At this price point, an ethernet port should have been provided in my opinion.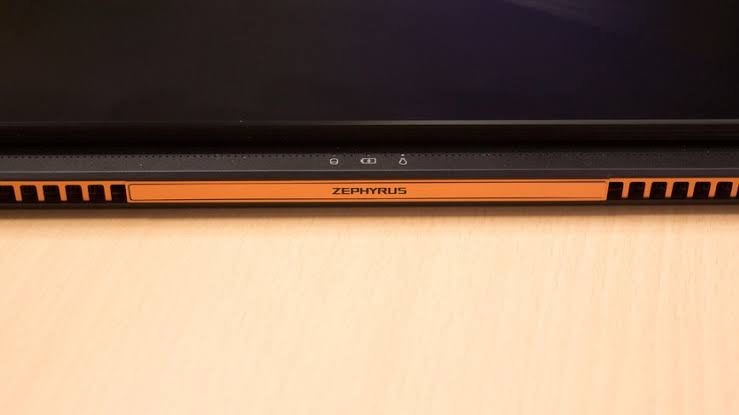 The vents are located in the back end of the sides. The keyboard is pushed to the front and the touchpad is on the right side of keyboard and it can be turned into a virtual number pad.
The weird design on keyboard and unusual placement of vents are related. All the heating components are toward the display of laptop and the keyboard is pushed forward to prevent it from heating up. This is a very interesting design approach that keeps your palms cool.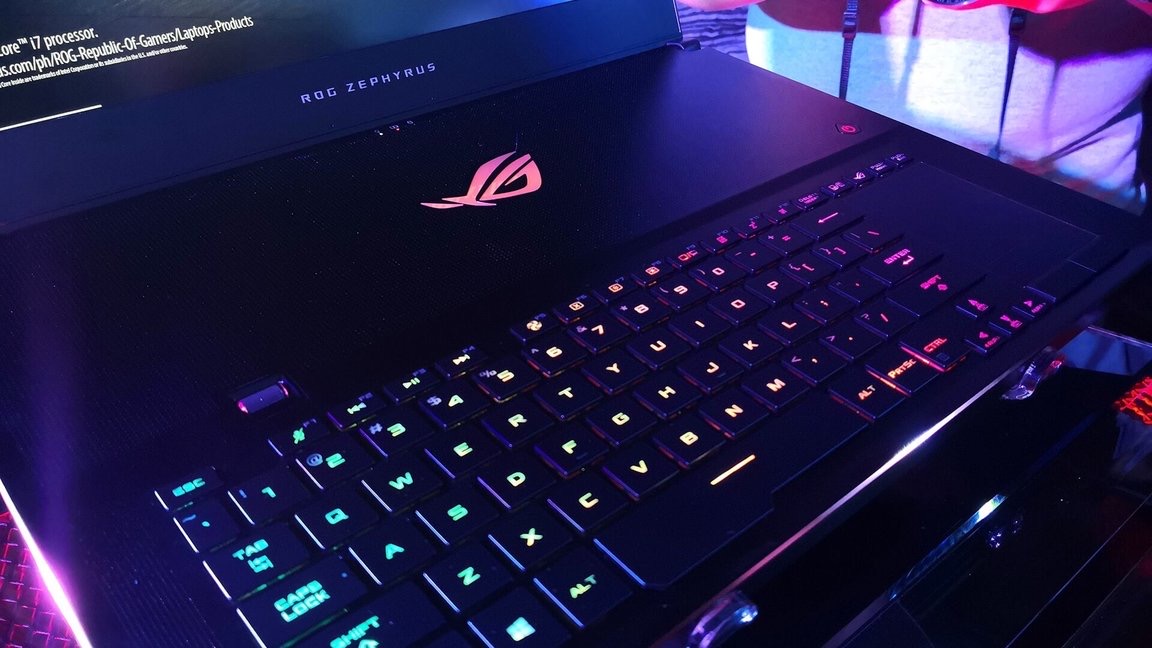 The keyboard can be slightly annoying to use at times especially while using on your lap as you have to push your elbows back. Also above F10, there is a wheel for controlling the volume with its own backlight.
Now it's subjective whether you like that volume wheel or not, as far as I see, I don't think it blends into the sleek profile of the laptop. Other than that, we have customisable individual RGB backlight for keyboard, also above the keyboard we find another glowing RGB logo with customisable lighting.
The keyboard is not mechanical and the keys are smaller than typical 17 inch laptops, to be honest the keyboard is as small as a 10 inch notebook. Gaming on this keyboard might take some getting used to, especially for people with thick fingers. An external keyboard is highly recommended, again for the price we pay, it doesn't seem fair to spend extra on external accessories.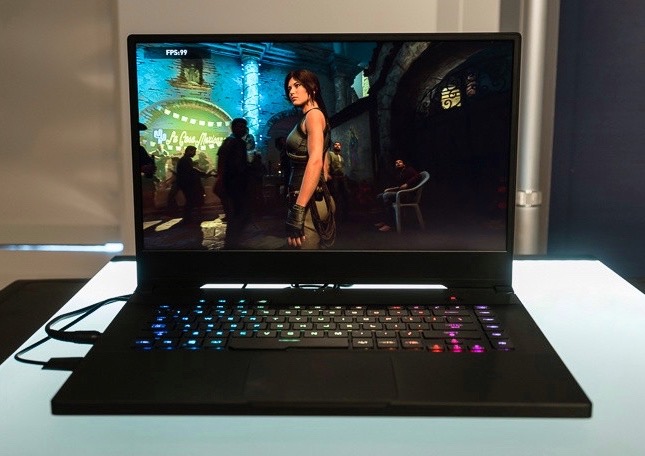 The screen has very thin bezels with a screen to body ratio of 81%. There is no webcam attached to the screen though, there is an external webcam provided with the laptop so it's good that we don't need to spend extra bucks on that.
The hinges are located at the corners of the display, making it easier to open with one hand. Overall the design and build quality is unmatched for a gaming laptop and 17" screen with small bezels means an immersive gaming experience for users.
Performance
Zephyrus GX701 delivers one of the best performances, being powered by Intel 2.2GHz i7-8750H hexa-core CPU with overclock speed upto 4.1 GHz. The GPU is best in class- Nvidia GeForce RTX 2080 MAX-Q 8GB GDDR6 (with Intel UHD Graphics 630 callable when heavy tasks are required), 24Gb of 2,666 MHz DDR4 RAM (16 GB RAM also available). The storage is 1TB M.2 PCI × 4 SSD and a 17.3 inch Full HD (1920*1080) screen (lower end variables are also available with RTX 2070 and RTX2060).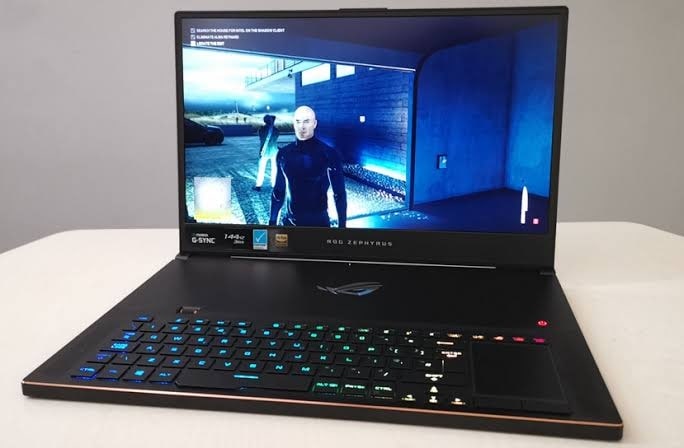 The system comes with external Full HD webcam (1080p, 60fps). The connectivity is taken care by internal chips for 802.11ac Wi-Fi and Bluetooth 5.0, but it lacks an Ethernet port though as mentioned earlier. The screen is Pantone validated and boasts a 144Hz refresh rate and Nvidia G-Sync capability.
Nvidia Geforce RTX 2080 Max-Q is the king of kings for gaming laptops; things honestly can't get any better than this. Though the Max Q version is a step behind its standard counterpart, it is one of the best we have for laptops. This can run through 4k games with ease and VR gaming doesn't push it to its peak. AAA PC games are a cakewalk and in a package which we will easily put in the portable category; its a steal!
If we forget the price tag and focus on the idea behind creating this laptop, there is no argument whether they achieved it or not.
Although the display has a refresh rate of 144 FPS and 17.3 inches in size, the resolution is only 1080p. This is a mild disappointment considering the price point again. A higher resolution display wasn't going to change the form factor, I mean even if the laptop was costing a couple hundred bucks more, they should have gone for it.
The display isn't bad by any means, but when the consumer is spending so much for a cutting edge GPU, they should get a display which brings out the best of it.
To bring out the full potential of this gaming beast, an external monitor will be required with a higher resolution. If you already have one then you are good to go but if you don't and want the best experience, you might want to invest in one. Even though portable GX701 is more than capable of any PC game, it can easily be the primary device of any gamer.
There are a lot of consumers having a gaming PC and a laptop so that they get power and portability. GX701 can fill that gap between power and portability to provide consumers with a seamless portable gaming experience.
However, it must be mentioned that it's not easily upgradable, due to the skim design there are no extra RAM slots. Also opening this device isn't free of risk; there is always a chance of damaging one of the flat cables while opening.
The components are thermally connected to each other- this means they are all going to be on the same temperature. The idea is to prevent overheating of a single component.
The laptop can be charged from one of the USB 3.0 type-C ports which makes it convenient as it makes travelling easier. It can also be charged from a powerbank , the output should be more than 35W though. This can come handy while travelling as there is no need to carry the charger provided with laptop everywhere, which weighs in for about a pound.
Overall, performance is not an issue and the internals are just the best. We can also choose between G-Sync mode and optimus mode. These modes regulate the GPU; G -Sync mode is for heavy gaming and increases the power and performance while optimus mode can be used for lighter tasks and saving battery.
Is Zephyrus S GX701 for you?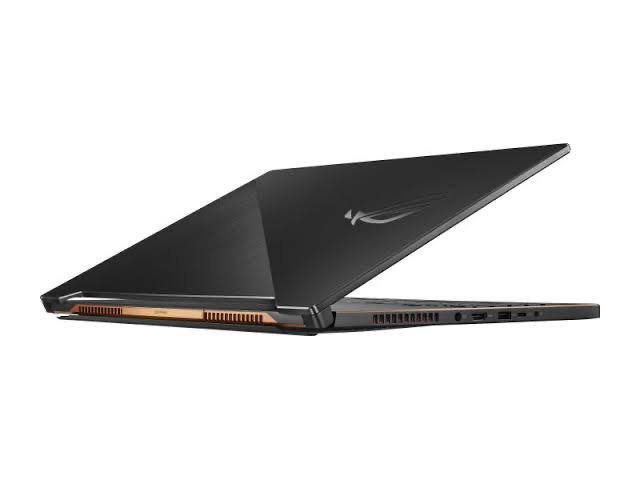 Considering the price point, we can't say it's going to be a secondary device for most people. Top of the food chain specs and the best looks possible. As I mentioned earlier, Zephyrus S GX701 is available in other variables with GPU RTX 2060 and RTX 2070.
Also, lower RAM variables are available too. You probably won't notice any difference in lower end models too- they are still capable of running AAA PC games with ease. Also if money is a constraint then you can look at GX501 too which comes with an RTX 1080.
If you want to invest in a device which will be with you for more than 5 years then i would recommend to get a higher end variable of GX701. As the internals are promising, they are going perform for years to come.
This laptop has the potential of replacing your primary device with ease. There will be couple of external accessories you'll have to invest in if you want the best experience – a 4K monitor, a good mechanical keyboard and mouse, and an external Ethernet port.
Overall, it's an amazing gaming machine and there is no doubt about value for money  as this device is future proof.
So if your budget allows it and you can get over the minor cons of this laptop such as a compact keyboard, no Ethernet port, and a volume wheel whose beauty is subjective, then you have got a beast of a laptop.
Asus ROG Zephyrus S GX701