Sports have become a key part of life for a majority of people on Earth. They make us happy, sad, excited, and everything in between. So there's no reason not to bring that exciting aspect of human life online. Creating a sports blog or a website is an awesome way to grow your sports community. But sports require much more attention than a regular blog. That's why you may want to add some additional plugins to your sports blog or website. You can do that by using one of these plugins, such as league tables, player biographies, event calendars, and even a facility for booking courts. So if you want to create or improve a sports blog next year here are the best sports plugins for WordPress currently on the market.
League tables

You can quickly and easily create sortable league tables with League tables. They work on all devices, even mobile phones. These tables can then be quickly added to your articles, pages, custom post kinds, and widget sections. And with features like importing and exporting tables and data as XML, spreadsheet editing, and sortable columns you'll be able to create perfect sports tables for your website. And with multilanguage support, you'll even be able to bring your passion to overseas fans.
Joom Sports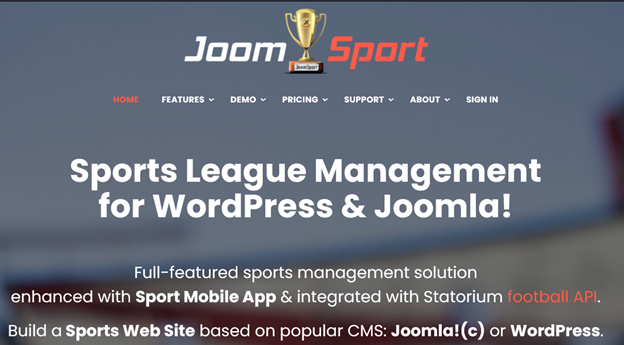 If you're looking for an all-rounder sports plugin look no further than Joom Sports. It provides an all-inclusive solution to assist you in building a feature-rich sports website. With it, you can organize a variety of information into seasons and leagues, such as league tables, team and player biographies and statistics, fixtures analytics, match results, and much more.
AnWP Sports Leagues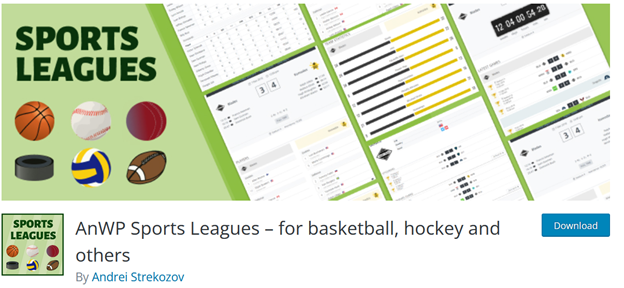 If you're trying to support a wide variety of sports, AnWP Sports Leagues is the plugin for you. That being said, there are certain limitations, so you'll only be able to support a single sport on your website. And if you want to make a switch you'll need to change up your website.
When it comes to more affordable options AnWP Football Leagues is an obvious pick. With a plethora of features in its free form, it allows even complete beginners to create a satisfying sports experience on their blog. With things like match lineups, player statistics, various competition-type supports, and other customization options you'll be able to perfectly support your favorite team during the season.
Court reservation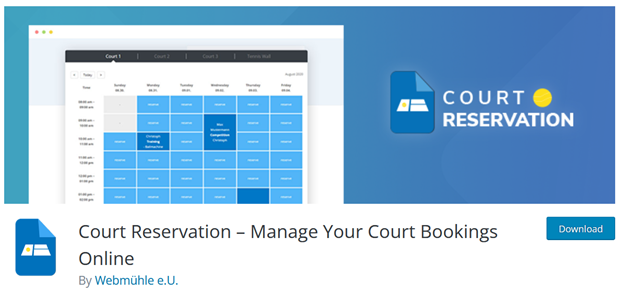 If you're running a sports club you'll know that one of the hardest jobs is managing cour reservations. That's why the Court reservation plugin is a must-have. It allows your players and visitors to make online reservations without making a mess. This allows you to focus on a more important task while the task of organizing remains on your website
Football Pool

If you're trying to create a fantasy football league on your website try using Football Pool. With Football Pool, users of your fantasy league can pick match results to gain points that are then converted into score tables for all competitors. Users even have the option of gaining more points by responding to bonus questions.
SportsPress
With the help of the highly popular SportsPress plugin, you can transform your blog into a website for a team, club, or league. In it, you can create rating tables for teams and players, schedules, and profiles for clubs, players, and staff thanks to the tool's incredible features.
Additionally, it has an event calendar that is excellent for advertising your forthcoming competitions. With SportsPress you can even automate league standings, allowing you to focus on reviews and commentary instead of reworking standings manually.
WP Club Manager
WP Club Manager is a WordPress plugin specialized in dealing with sports issues on your websites. With features such as Player and staff profiles, full player measurements, and player execution evaluations
MSTW League Manager
If you're getting bogged down by administration from various sports leagues try using MSTW League Manager. With it, you can manage plenty of sports leagues without any stress. You can present a variety of scoreboards, league standing tables, individual team schedules, league schedules, and much more using the shortcodes that are readily available.
Fan Victor
The fantasy sports plugin Fan Victor provides a way to white-label your material. And with it comes a WordPress certification making it suitable for a variety of sports. You may make money from fantasy sports games with Fan Victor utilizing a variety of payment processors, including cryptocurrency. Lifetime upgrades are also included. Whether you want to start a fantasy sports business for basketball, football, mixed martial arts, or any other sport, Fan Victor is one of the greatest sports plugins currently on the market.
Soccer Engine
If you liked League Tables, you'll love Soccer Engine. It's a WordPress plugin entirely dedicated to helping you create a soccer-centered website. In it, you can create, manage, store, and display your soccer data for all fans to see. With over forty backend menus you'll be able to create an entirely unique sports tracking experience. And during the transitional period, you'll be able to create a specialized chart that determines the value of each player.
Conclusion
If you're trying to bring your passion for sports online these plugins are a perfect way to do so. With them, you'll show your knowledge and share it with the rest of the world.