Hosting is the first step to building a successful site. But with so many options out there sometimes it's hard to swim through the murky waters and find the best solution for you. Today we'll be revising a relatively small hosting provider that's been gaining traction in recent months – AlexHost.
What is AlexHost?
AlexHost is a company with over 10 years of experience in the field and is trusted by many clients worldwide. They are located in Moldova on mostly focus on providing professional service at a reasonable cost completed with 24/7 customer service. So, let's see what they actually offer.
Hosting plans
Shared hosting – Promises fast and secure online hosting perfect for new websites. All of the plans include a Cpanel, unlimited email accounts, Mysql Databases, FTP accounts, free anti-DDoS protection, and unlimited traffic. The price differs based on the number of websites and billing period.
Litespeed hosting – This is most commonly used for e-commerce, your CMS, or just more professional websites. It offers everything shared hosting plans do plus a free SSL certificate and a week's money-back guarantee.
VPS hosting – This hosting plan offers private resources, all on a multi-user channel. It comes with a dedicated IP, full root access, iPv6 support, and a 30-day money-back guarantee.
Dedicated servers – This plan offers a range of servers plus free basic management. It offers high performance and speed as well as impressive scalability.
Other Services
VPN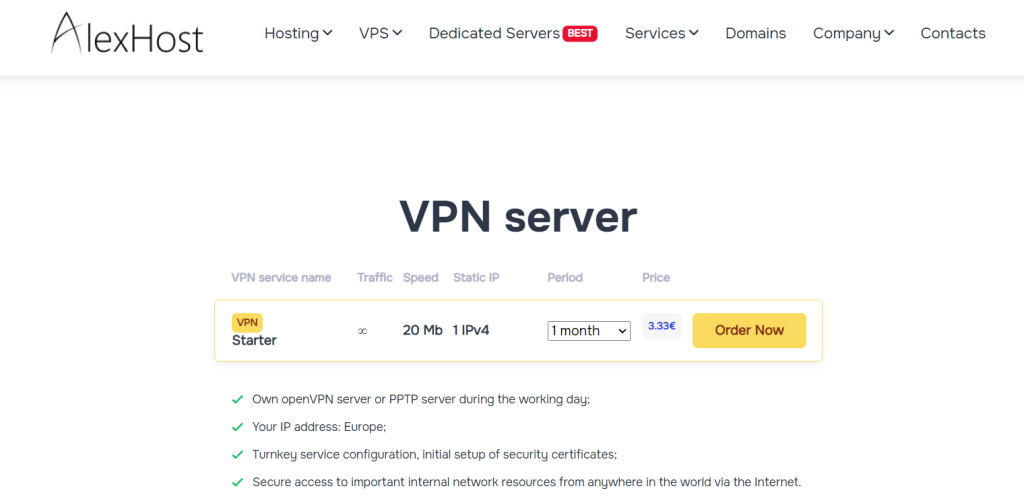 AlexHost provides its own VPN service that guarantees a safe connection for all of your websites. They also put a high value on privacy and anonymity so you don't have to worry about any of the data. This can be a good option if you're already getting hosting from this provider as some plans do come with it included.
SSL certificate
There are a few different SSL certificates you can choose from including GeoTrust QuickSSL Premium, Thawte SSL Web Server, Symantec Secure Site, RapidSSL Certificate, etc. Some of these are rather expensive but depending on the type of site you own they could be viable options.
Domains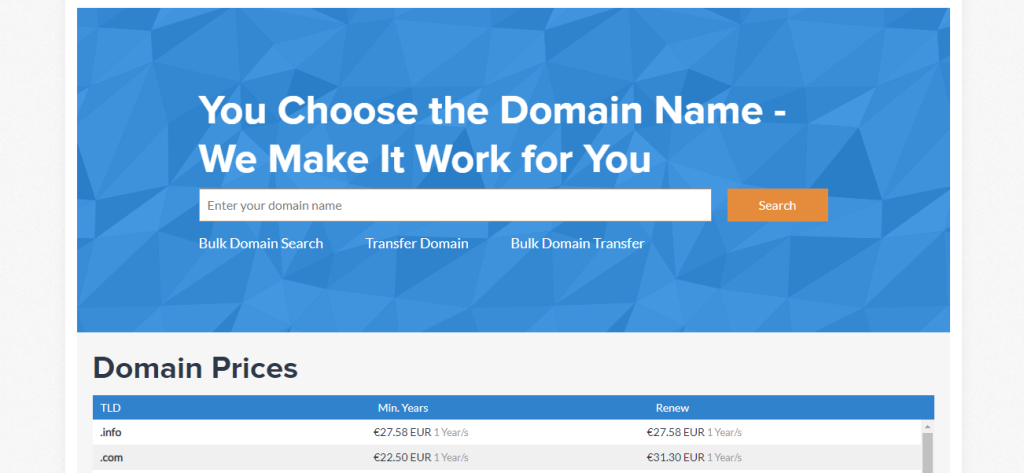 You can also use AlexHost to purchase and register a domain. Their panels are very user-friendly, the service allows for an unlimited number of subdomains, the domain forwarding is free and it's one of the best places to get country-specific domains for an affordable price.
Is AlexHost worth it?
Just like every other hosting service, it greatly depends on what your priorities are. It has its pros and cons, and what matters most to your will end up being the deciding factor.
Pros:
Offers numerous payment options including Bitcoin, Ethereum, and many other popular cryptocurrencies.
Security is amazing due to the offshore locations of its data centers. This also means that your sites will be protected in case of hardware malfunction.
AlexHost offers great support 24/7 no matter where you are in the world which is always a plus when issues arise.
Almost every single plan comes with anti-DDoS protection of 1.5 Tbps.
When compared to other similar plans their colocation services are quite affordable.
Cons:
While some plans are affordable we're going to assume you want to offshore host for a reason. If you want to offshore your hosting then get it, but if the regulations of your country aren't a problem for you there's no need to spend the extra cash.
If you look at the customer reviews some do complain about varying speeds and sites crashing every now and then on cheaper plans.
Some online reviews have also complained about bad server configurations with cheaper plans.
Final verdict
So, is AlexHost worth it? If you want offshore hosting then absolutely, but do make sure to purchase one of the higher-tier plans as most of the complaints we've seen online are coming from users with cheaper-end shared hosting.