When the GPD pocket was first released, it was targeted as a direct contender against Macbook but they were not really successful back then. With GPD pocket 2, the scene is different now and it does pack great features like portability, looks and performance.
However, this device is not meant to replace a laptop or a smartphone but to be a bridge between them.
GPD pocket 2 also targets the tablets. The question though is, whether you want Android or Windows. It's definitely not built for gaming and such power hungry applications although Linus from LinusTechTips had some success with playing games on it.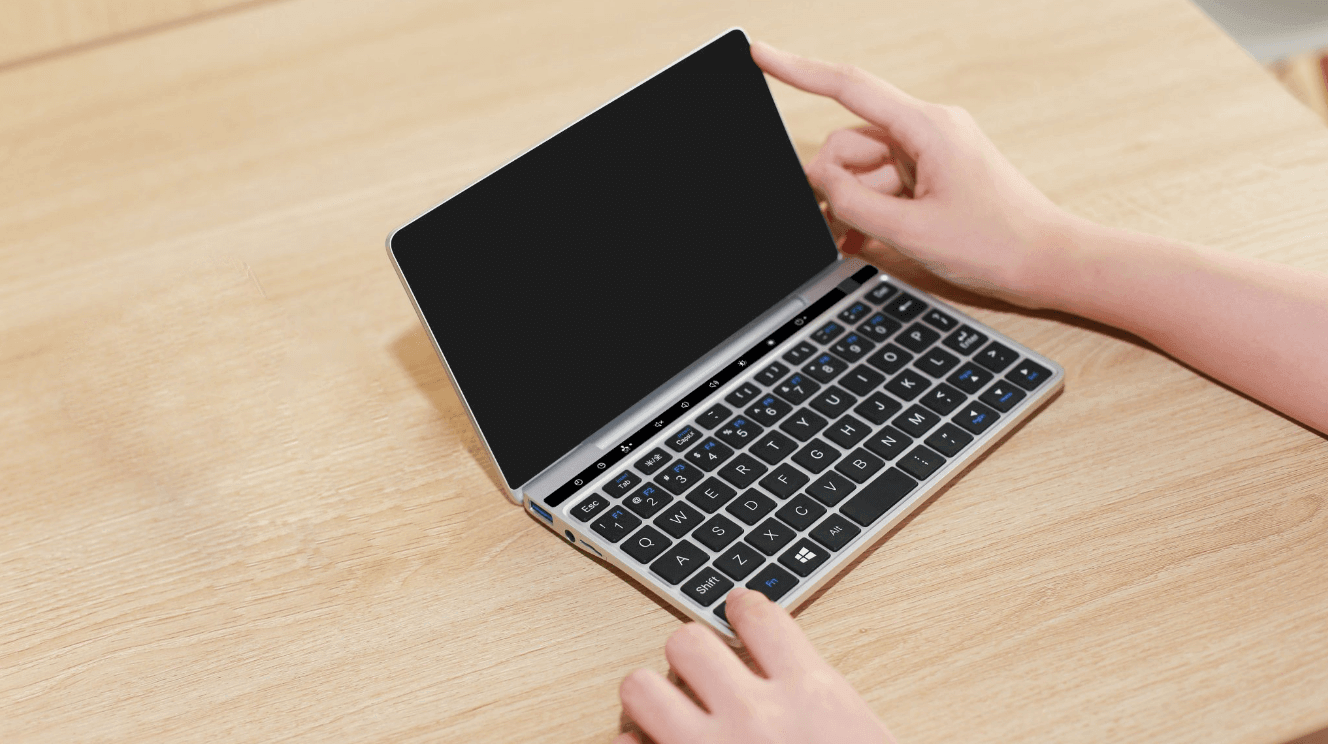 But what package does the GPD Pocket 2 actually provide? What are the pros and cons? And should you to get one? All these questions will be covered, first let's look at what we are getting from this device.
Design
The first thing which comes to mind when we see a 7 inch laptop is, was it made as a joke? But this device does have a premium build quality. If a premium brand like Apple or Razor ever built a 7 inch laptop, they will have a tough time making a better looking one. The pocket 2 is available in two colors – silver and black.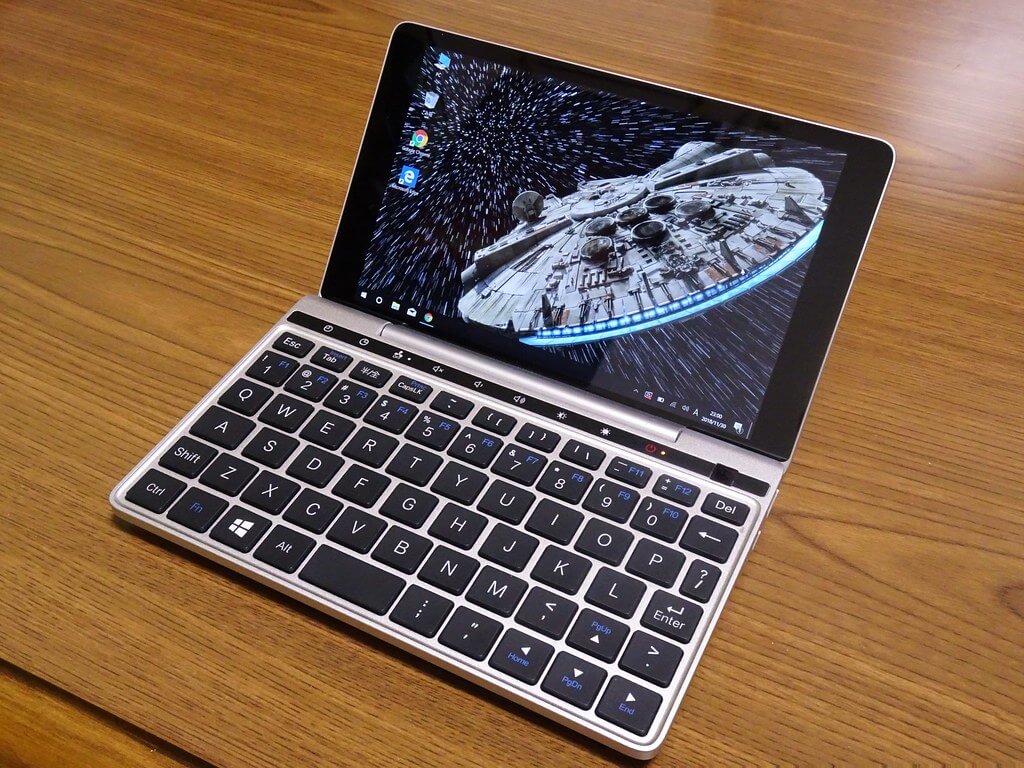 It comes with a uni-body aluminum and magnesium alloy design which is very sturdy with dimensions of 7.1*4.4* 0.3-0.5. The thickness of this device is 0.3" for the most part but for accommodating USB ports take more space and so it increases to 0.5″.
It weighs just 510g, and this makes the device extremely portable. The top is plain and the bottom comes with an air intake vent. The sides contains the ports which we will discuss in detail later, and on the back there is an air outlet vent.
Keyboard
The keyboard is arranged to accommodate bigger buttons, each button is individual and separated to prevent mistyping. Overall the keyboard is not too congested and it's surprising how well they managed with the limited space available.
There are some quick toggle buttons on top of keyboard and also an optical finger navigation for the cursor. The small optical finger navigator provides 360 degree control and also a left click.
The quick toggle buttons on the extreme left provide the left click and then the right click buttons. Other buttons on quick toggle are for switching on and off the fan, volume control and brightness control. The device is meant to be used with both hands. If you are not comfortable with optical finger navigator, you can navigate using the multi touch display.
Display
The GPD pocket 2 comes with a 7 inch display with a resolution of 1920*1200. The display is sharp and is comparable to Apple's retina display. The 324 PPI screen claims to have a viewing angle of 178 degrees. The bezels are very small too with a 0.15 inch border on either sides. The resolution is high for a 7 inch device and it provides an immersive experience.
This screen will be perfect for E-books and videos, and also to access internet. The bright display and high pixel density will make it easier to use outdoors. This device can easily provide better experience than a smartphone, also despite its small screen, the quality of screen is better than most laptops in the mid-range.
Sound
The sound however is not very loud. Even in indoor conditions the speaker is not loud and the sound is comparable to a phone, not a laptop. For outdoor use I don't think the sound from the speaker will even be noticeable, but we do have the headphone jack. As this ultra-portable laptop is meant to be used outside, you are going to prefer headphones, so that makes perfect sense why the speaker isn't very loud. The sound quality from speaker is however good.
Performance
We have to keep our expectations in check here as the internals are not that powerful – goes without saying considering the small form factor. It comes with Intel core M3 8100Y processor which is a dual core mobile processor by Intel (We get the same processor in the 12 inch Macbooks). The graphics is powered by Intel UHD 615 with 2 RAM and storage variables available are 4GB-64GB and 8GB-128GB. It uses LPDDR3 RAM and supports UHS 104 ultra high speed SD interface. The battery capacity is 6800 mAH and it comes with a 12W charger.
The CPU and GPU here are not meant for gaming, the primary purpose is media consumption and Microsoft office apps. This device can't be used for gaming and limited SSD means no heavy tasks like video editing. But the exhaust fans will work well in keeping the device cool and usable for a longer duration. The battery life of about 6-8 hours makes it great for watching movies.
Ports and connectivity
There are not many ports available here, a USB-3 port on either side, a 3.5 mm jack and Micro SD slot on left and a USB-C port on the right side. The USB-C port is used for charging, and it supports 12W fast charging. The Pocket 2 can also be charged using a power bank or phone charger.
The memory is expandable up to 3 TB by using a micro SD card. It comes with 2.4GHz/5GHz dual band Wi-Fi and Bluetooth 4.0.
Is GPD Pocket 2 for you?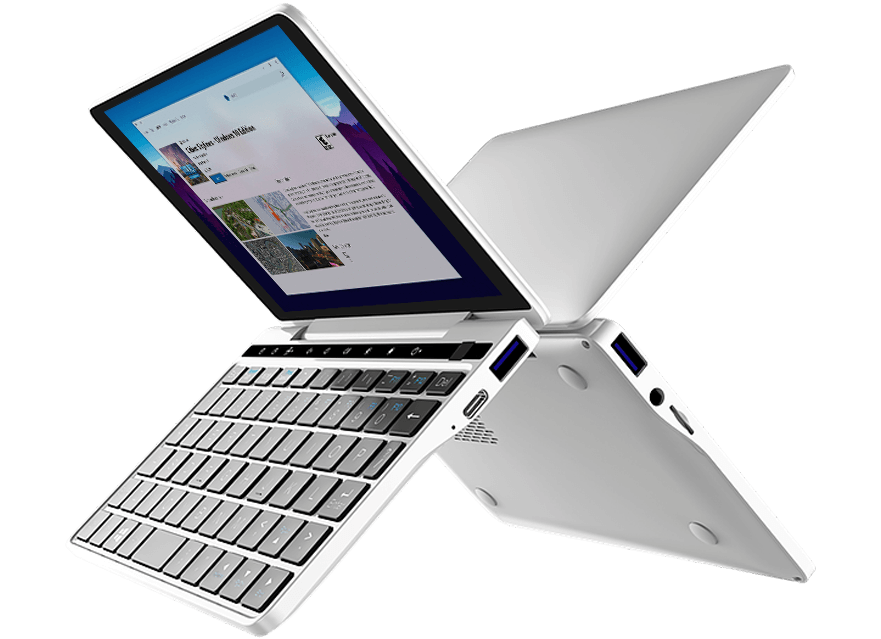 If you are looking for a secondary device and something compatible enough to carry in your pocket or a small handbag, then this device is perfect for you. This device has the potential to replace a tablet or a 12 inch Macbook. And can be great when you are traveling for a business meeting.
This can also be a replacement for kindle readers, the screen is bright enough for outdoor use and IPS screen is better than an E-ink display. The GPD pocket 2 is not meant for gamers or heavy users however we do get an amazing display and the Windows OS in a compact package.
If you are planning to get this as a primary device just because it's cheap for a laptop then scrap your plan. You won't be able to perform a lot of tasks which you can on a laptop of the same price range. There are not enough ports and space to keep all your content and media. Although the device is very attractive, heavy tasks will be a nightmare on it.
GPD pocket 2 does stand well on its catchphrase; a pocket sized laptop. This device does give Macbook 12 inch and Microsoft surface a run for their money and provides great value for money. An ultra portable and a handy device that is perfect to have in your travel backpack. Overall, the second generation of GPD pocket is showing us the significance of something between a mobile and a laptop. This can be the start of a whole new market of devices and GPD pocket 2 gives an idea of how aesthetically pleasing they'll look.