Windows 10 has made significant improvements to it's look and feel along with its new stock apps. The new music player app that comes with Windows 10 is Groove music and it's a major improvement from the old Windows Media Player. However, there are still more places where it could have been better, especially when it comes to playlist management and accessibility options.
Groove music, although a great music player for Windows 10, has its set of limitations. The good news is, you can always choose one from the dozens of great music players available for Windows 10. Some of them can even beat the stock music player in terms of integration and synchronization. Let's take a look at some of the best music players available for Windows 10.
Dopamine
Dopamine is arguably the best looking music player ever created for Windows 10. At a glance, it looks pretty similar to Microsoft's old Zune music player which failed to win users. The user interface of Dopamine is smooth and the app is extremely responsive compared to many other music players which tend to slow down over time. The color scheme and background are customizable and there's also a cool looking equalizer. The library management is especially good and can handle huge music collections easily. Dopamine is not all perfect though – it lacks some advanced features like automatic music organization and ripping. However, if you're looking for a lightweight, sleek and feel-good music player that does the job, Dopamine is definitely worth considering.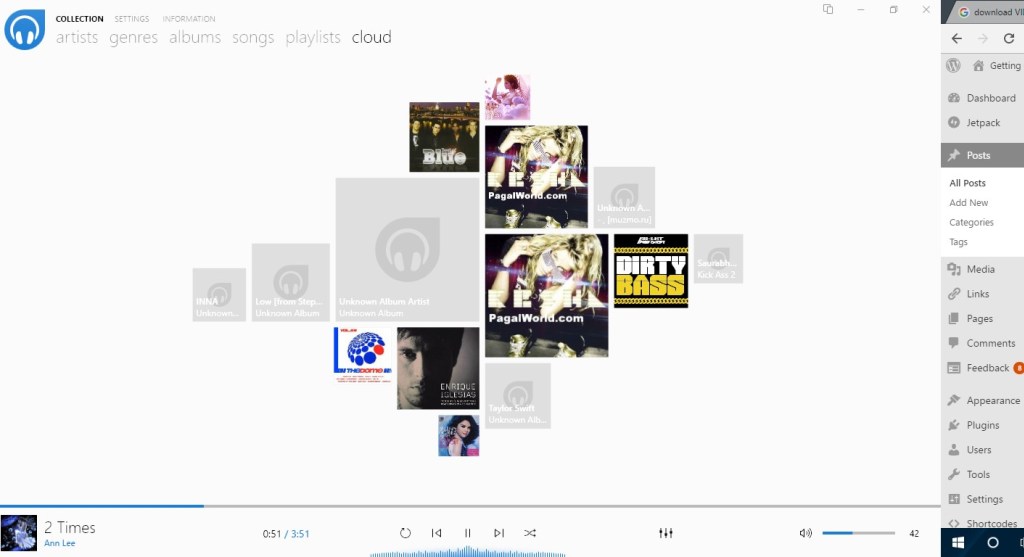 Media Monkey
Media Monkey excels at media management and that's the strong point of this music player. Media Monkey is a feature-rich music player and media management tool. It comes with pretty much everything that an Audiophile might be looking for from a music player app in its feature list. You can easily create and manage playlists, sync and sort your music files and among many other media management features. One of the best things about Media monkey is that its interface is skinnable. This means you can download themes for Media Monkey from the internet and apply them to make it look cooler. The media management interface is another thing worth mentioning as it can automatically rename and save media files to different sub-folders, automatically.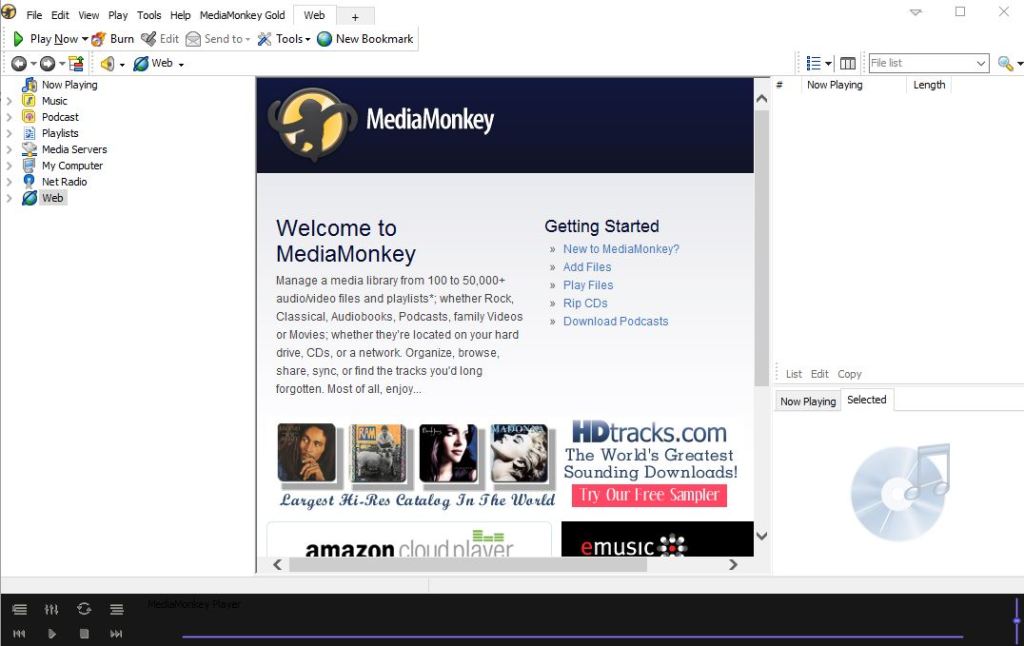 Although Media Monkey is exceptionally good at handling music, it's not that great for video playback. However, since it's specifically meant for music lovers, it has everything you'd expect from a desktop music player even in the free version. The paid version packs even more features and you can check it out if you need those.
Songbird
Claimed to be built by and for music fans, Songbird is a music player app that resembles Apple iTunes in its user interface. Like Media Monkey, Songbird also has a variety of music management features. It can even act as the music hub for your home as it has the functionality to stream music to any room in your house. Apart from just playing music, you can also use Songbird to follow artists and sync media files with your portable devices like smartphones and tablets.
Songbird is easy to set up and get going and completely free to use. You can give it a try if you're looking for music players for Windows 10.
Foobar2000
Foobar is an music player that's strictly meant for advanced users. It is an Open source music player software that's highly customizable annd lightweight. The core app looks plain and simple but you can easily style it according to your taste using extensions. As the player has been around for quite some time now, you can easily find plugins for foobar to make it more powerful and cool. It can be a bit confusing to use at first, but if you invest some time to learn the user interface, it can act as a powerful and flexible music player.
VLC Media Player
VLC Media Player is typically used to play videos and movies and it does an exceptionally job at it. It is even referred to as the Swiss Army Knife of media players and that means it can be a great music player too. If you are a FOSS supporter and want to experience great music without all the added visualizations and sleek design, VLC can be a great choice. And the best part is, it plays anything that you throw at it. VLC has a functional media library although not as flexible as that of Media Monkey. It also has support for online radio and podcasts and can also play music located in other computers in your local network. Another great reason to use VLC is it's snappiness –  it can handle large music libraries easily without any issues.
MusicBee
MusicBee is very similar to Media Monkey in terms of the features and user experience. It has features to sort and categorize your music files and supports themes. You can customize the interface to your liking and choose from different colors for the background. Music Bee also has an auto-tag feature which can fetch lyrics, album art and other details from the internet, automatically. The theater mode on MusicBee resembles the Windows Media Player's full screen mode but is sleeker than that.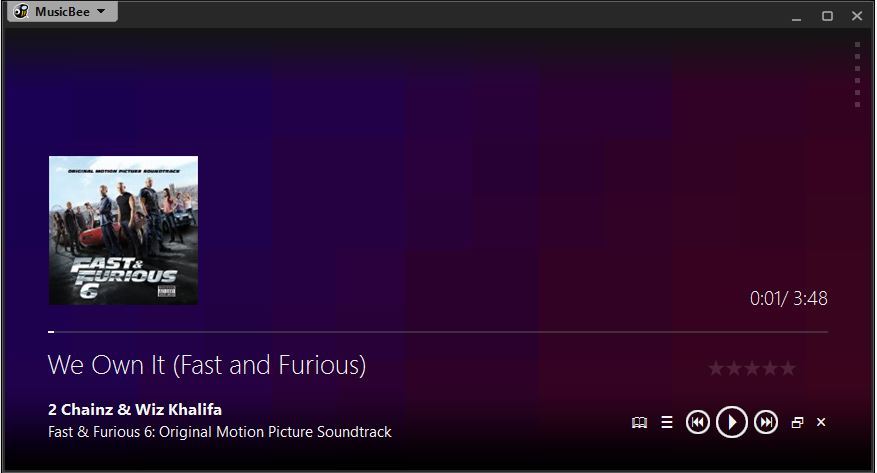 AIMP
AIMP is a stylish looking music player with a user interface similar to that of the good old WinAMP. AIMP looks different from most other players out there and has an easy to navigate UI that's also ergonomic and stylish. Their media library management features are also decent and the best part is, the app doesn't hog your system resources like some media players. AIMP is also skinnable, so you can give it a unique style by downloading skins from its official website.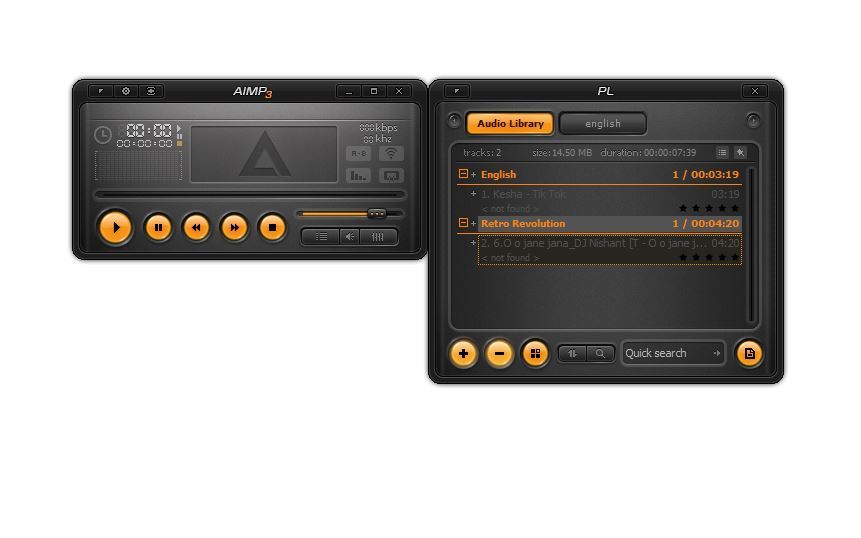 What is your favorite Music Player for Windows 10?
What app do you use to play music on your Windows 10 PC? Let us know your favorite music player through the comments below.